Help center
Coupons
You can save up to 10 coupons as you shop and apply up to 5 to a single order at checkout. Watch video.

Saving Coupons
When you see a coupon you like on Quill.com, click "Save to Clipboard" to save it to your Coupon Clipboard located in the Quill.com site header.
Your clipboard will remain at the top of every Quill.com page so you can easily reference your saved coupons as you shop.
At checkout, go to the Coupon Clipboard section located beneath the products in your cart, then click "View and Apply" to apply your saved coupons.
You can apply up to 5 coupons as long as the sum of their minimum spends are less than or equal to your merchandise total.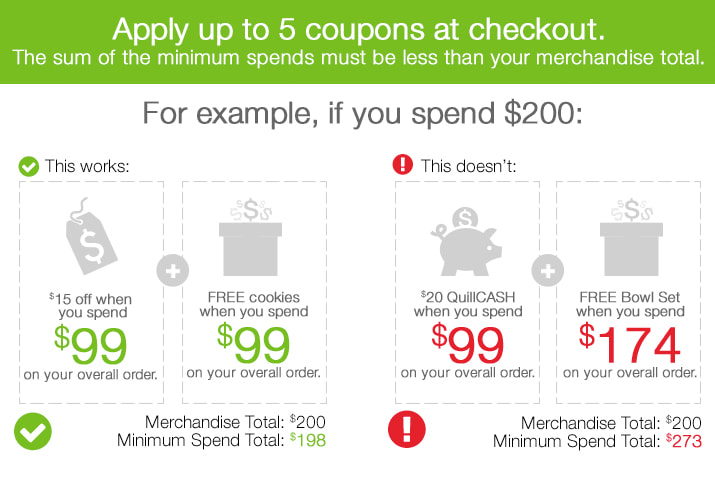 Each coupon must meet its individual requirements before minimum spend requirement is considered (for example, if a coupon can only be applied to certain products, that condition must first be met).
Select coupons may not be combined with other coupons.
Removing Coupons from Clipboard
You can remove coupons from your clipboard in one of two ways:
In an applied coupon, click "Undo" next to the coupon code.
Or, in the Clipboard, click the "X" on the right side of the offer.
Expired coupons will appear once after the expiration date, with a note that it is expired. The coupon will then be automatically removed the following day.
Coupon Disclaimers
Discount and QuillCASH coupons
Discount may not be used with other discounts or applied to sale prices, free offers, gift cards, QuillPLUS enrollment fee, QuillSUBSCRIBE orders, or refurbished and closeout merchandise; and excludes special order items beginning with the prefix "SPW" or "UNI". Not valid on Hot Buy paper, QuillPLUS paper, Apple® products, Google Chromecast, TVs, monitors, scanners, projectors, fax machines, copiers, printers, multifunction printers, e-readers, software, or desktop, netbook, laptop and tablet computers. Excludes Epson®, HP and Samsung. Other exclusions may apply as noted on specific products.
Within 2 business days of placing a qualifying order for QuillCASH, your Quill.com account will reflect that your QuillCASH has been added and is available for redemption. QuillCASH can then be redeemed at checkout on every product Quill.com sells when your merchandise total is $100 or more ($75 for QuillPLUS Members) after discounts are applied. QuillCASH must be used within 90 days unless otherwise noted. QuillCASH can only be applied to a new order and is not redeemable for cash. Not valid on prior purchases, or freight charges.
Premium Coupons
While quantities last. Premiums subject to availability. A substitution of equal or greater value may be made. BIOFREEZE® products, QuillSUBSCRIBE orders, special order items beginning with the prefix "SPW" or "UNI," and some free gift offers are excluded from these offers. Excludes Epson®, HP and Samsung.
General Coupon Terms
Unless otherwise noted, there is a $25 minimum spend requirement for coupons. Discount or minimum spend requirement applies to merchandise only; it does not include value of gift cards purchased, furniture assembly, packaging, applicable taxes or shipping & handling charges.
Coupons are non-transferable. Quill.com may refuse to redeem any instant coupon which it believes in good faith to be fraudulently or improperly obtained. Your savings will be reflected in your order confirmation e-mail or fax.