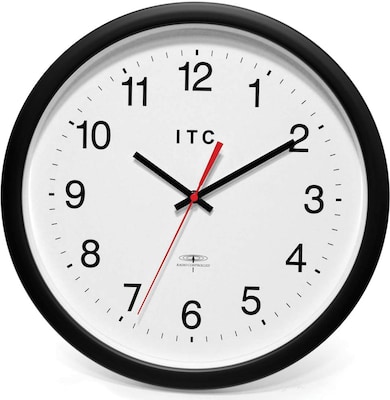 Infinity Instruments Time Keeper Wall Clock, Resin, 14" (90/RC14-1)
Infinity Instruments Time Keeper Wall Clock, Resin, 14" (90/RC14-1)
Item #: 901-949679INF
Model #: 90/RC14-1
Brand: Infinity Instruments
The black Infinity Instruments 90/RC14-1 Time Keeper Resin Analog Wall Clock is radio controlled and automatically sets the accurate time.
Functional and smart, the Infinity Instruments Wall Clock is a good accessory as well as a timepiece. With a resin case and a beautiful black finish, this clock has a high aesthetic appeal. Replace your old clock with this sophisticated 14-inch wall clock. The hands of this clock allow you to read the time from any corner of your room.
Color/Material: Brown, Resin
Dimensions: 14 in H x 14 in L x 1.75 in D
Radio-controlled for reliability
Battery for ease of use
Black Hands against a White Face
White face of the round wall clock makes the Arabic numerals clearly visible
Arabic Numbers Mark each Hour
Comes with a 2 Year Limited Warranty
The Infinity Instruments Time Keeper Wall Clock is an elegant and stylish accent for your office or home. It comes with radio controlled time, avoiding the need to set time manually. In between all the hassles of long working hours, meetings, and keeping deadlines and commitments at home, keeping track of the time is of utmost importance. Offering accurate readings based on the atomic clock settings in Fort Collins, Colorado, the Infinity Instruments Time Keeper Wall Clock is your answer to always staying on track. The casing in a bold black finish and over-sized black letters allow easy viewing.
Infinity Instruments
Wall Clock
AA
Black
Resin
Analog
White
Arabic
Contemporary
None
Wall
14
Battery
Black/White