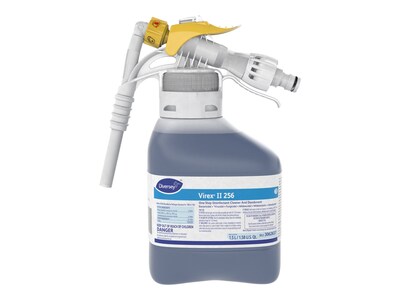 Virex II 256 Disinfectant for Diversey RTD, Minty, 1.5 L / 1.58 U.S. Qt., 2/Carton (3062637)
Virex II 256 Disinfectant for Diversey RTD, Minty, 1.5 L / 1.58 U.S. Qt., 2/Carton (3062637)
Item #: 901-915154DWC
Model #: 3062637
Brand: Virex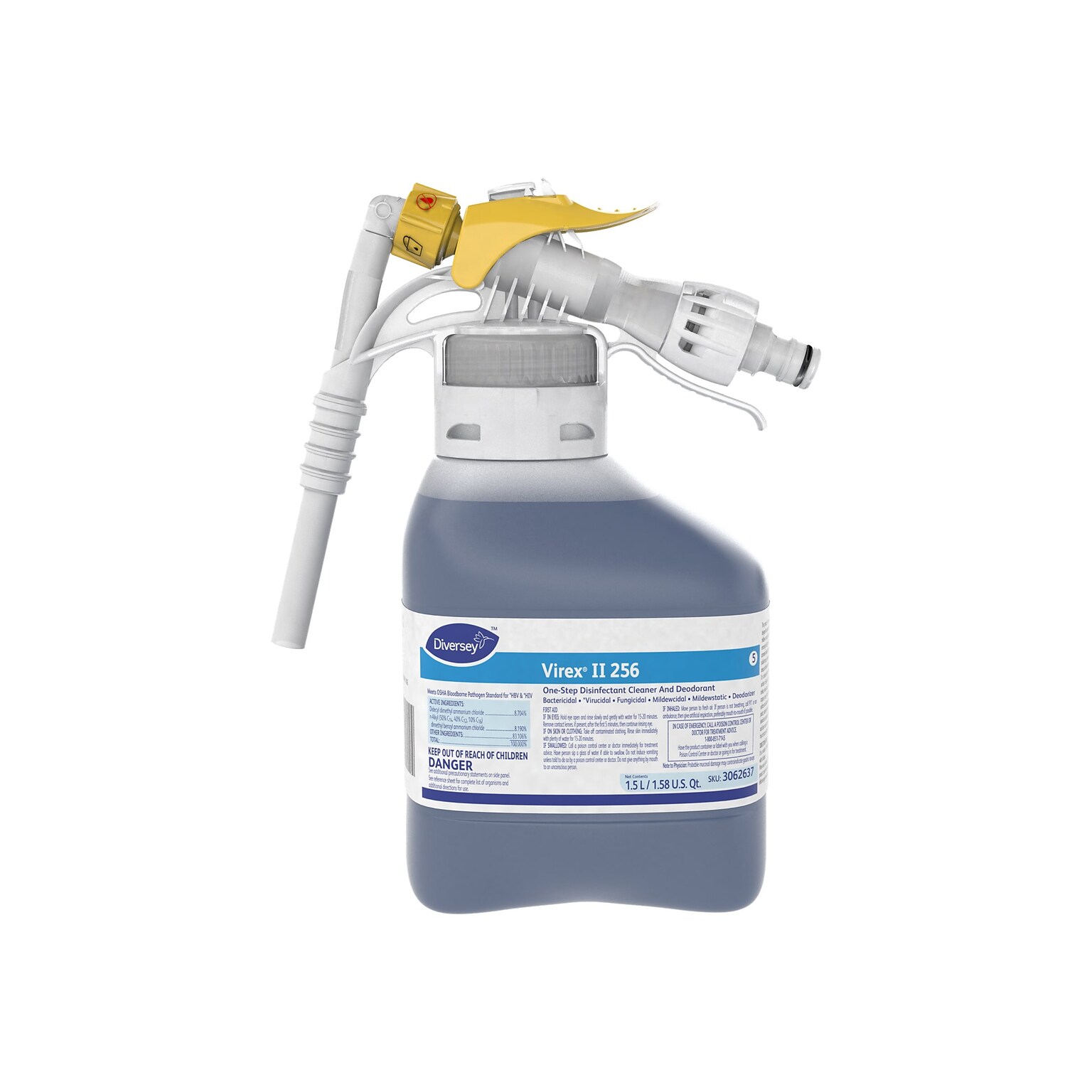 Shipping restrictions
We apologize. This item cannot be shipped to some destinations.
Please sign in to purchase by clicking the "Welcome" link at the top of the page and choose your shipping destination to determine if you can purchase this item
Decrease the spread of pathogens while freshening the air with this Virex II 256 minty scent one-step disinfectant cleaner and deodorizer.
Disinfect with this cleaner that targets bacteria, viruses, and VRE. This Virex II cleaner and deodorizer is ideal in healthcare settings to help protect those with compromised immune systems and meets bloodborne pathogen standards for decontamination.
One-step, quaternary-based disinfectant cleaner concentrate providing broad spectrum disinfection
Concentrate dilution ratio: 1:256
50.7 oz. RTD bottle; two bottles per carton
Contains active ingredients such as didecyl dimethyl ammonium chloride, n-alkyl dimethyl benzyl ammonium chloride, ethyl alcohol
Features minty scent
Certifications and standards: Meets or exceeds EPA and FDA standards
pH level: 10.2 (concentrate), 8.8 (use dilution)
Ideal for cleaning and disinfecting hard surfaces and for decontaminating blood and body fluids
Bactericidal, virucidal, and fungicidal - kills microorganisms, including HIV-1, VRE, MRSA, GRSA, MRSE, VISA, PRSP, herpes simplex types, influenza type A2, rotavirus, and many more
Highly concentrated quaternary formula provides excellent one-step, cost-effective cleaning, disinfection, and odor control
Solution is neutral to floor finish so it will not dull, pit, or soften floor finishes
Use in healthcare and other facilities where cleaning and prevention of cross-contamination are critical
36-month shelf life (concentrate), 1-year shelf life (use dilution)
To order secondary labels, contact Diversey Customer Service at 1-800-558-2332 option 3.
⚠ WARNING: This product exceeds the limits specified in the California Consumer Products Regulation for CARB. For more information visit
Safety Data Sheet

Virex
50.7
Chemical Active Ingredient(s)
didecyl dimethyl ammonium chloride, n-alkyl dimethyl benzyl ammonium chloride, ethyl alcohol
Dilution Control Chemical Type
Disinfectant
Diversey RTD
1:256
Yes
Ready to Dispense
Kill List of Bacteria, Viruses
HIV, VRE, MRSA, Influenza, Adenovirus, Acinetobacter, Klebsiella, and many more
2
Minty
Herbal
Virex II 256 Disinfectant