Tilex CloroxPro Disinfecting Instant Mold & Mildew Remover, Unscented, 32 oz., 9/Carton (35600CT)
Item #: 901-2440104
Model #: 35600CT
Brand: Tilex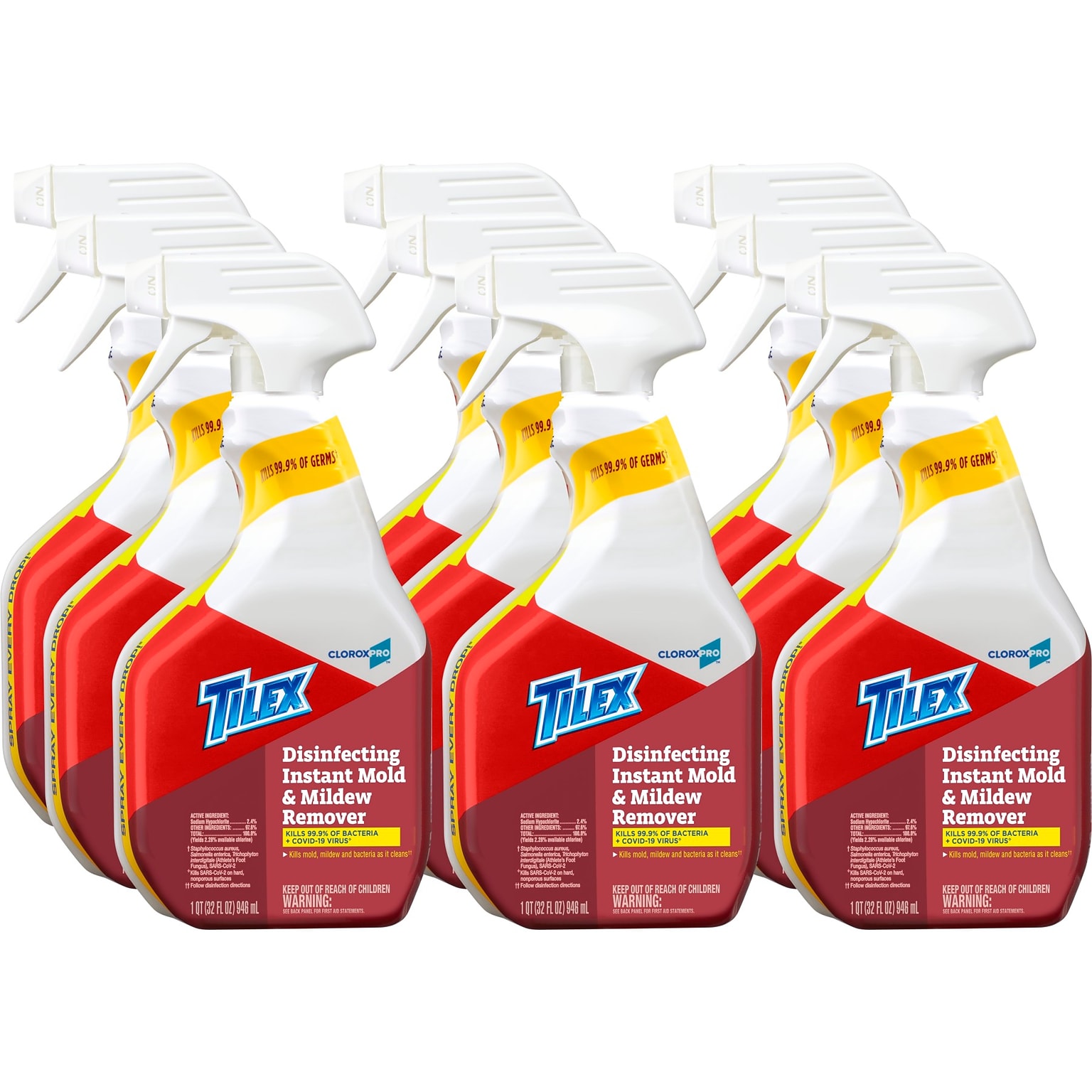 ---
---
Notify me when this product is back in stock
Please note: Pricing is subject to change.
Product details
Bulk Item
Capacity (oz.)
Capacity in Gallons
Certification & Standards
Chemical Active Ingredient(s)
Chemicals - Features
Cleaner Form Factor
Cleaning Chemical Type
Concentrated or Ready To Use
Container Types
Degreaser
Disinfectant
Dispenser Required
FDA Compliance
Kill Claim (%)
Level of Use
Natural
Pack Qty
Primary Active Ingredient
Refill
Sanitizer
Specialty Cleaner Use
Brand
Kill List of Bacteria, Viruses
Kill Time (Seconds)
Product Scent
Quick Ship
Series or Collection
True Color
Weight (lbs.)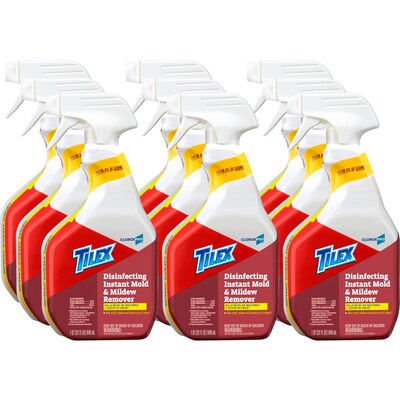 Toilet & Bathroom Cleaner
Staph, Salmonella, Strep, Athlete's Foot Fungus, Mold, Mildew
Clean, disinfect, and eliminate mold and mildew all with one product.
CloroxPro Tilex Disinfecting Instant Mold and Mildew Remover kills 99.9% of viruses* and bacteria, including the COVID-19 virus*. This disinfecting spray kills mold, mildew, and bacteria as it cleans*, removing mildew stains without scrubbing. The unique formula whitens tile and grout and dissolves soap scum as you spray. It removes and destroys mold spores and cleans tiles, grout, toilets and fiberglass. CloroxPro mildew remover is ideal for offices, day care centers, schools, hotels, restaurants and other commercial facilities. Refill your 32 ounce bottle and spray every drop with Smart Tube technology that reaches to the very bottom of the bottle. CloroxPro, where clean means everything. Packaging may vary. Staphylococcus aureus, Salmonella enterica, Trichophyton interdigital (Athlete's Foot Fungus), Influenza A virus. Kills SARS-CoV-2 on hard, nonporous surfaces. Follow disinfection directions.
DISINFECTANT SPRAY: Clean with CloroxPro Tilex Instant Mold and Mildew Remover spray bottle that eliminates 99.9% of mold and germs found outside and inside your facility; Package May Vary
KILLS COVID-19 VIRUS: CloroxPro Tilex Disinfecting Instant Mold and Mildew Remover is proven to kill SARS-CoV-2, the virus that causes COVID-19, on hard, nonporous surfaces
MOLD REMOVER: No scrubbing required; remove tough stains with this disinfectant spray with bleach that removes mold spores and whitens tile and grout and dissolves soap scum
MULTI-SURFACE CLEANER: Safe on kitchen and restroom surfaces where moisture builds, and mold can grow
GREAT FOR COMMERCIAL USE: This Clorox disinfecting spray is ideal for use in offices, day care centers, schools, hotels, restaurants and other commercial facilities
Cleans mildew stains without scrubbing
Whitens tiles as you spray
Spray every drop with Smart Tube® technology that reaches to the very bottom of the bottle
32 ounce spray bottle
Avoid Prolonged Breathing of Vapor. Use in well-ventilated areas. Open windows and turn on fans before use. If the vapors bother you, leave the room while this product is working
This product kills Staphylococcus aureus (Staph), Streptococcus pyogenes (Strep), Salmonella choleraesuis (Salmonella) Pseudomonas aeruginosa, Penicillium chrysogenum, Alternaria alternata, Cladosporium herbarum, Mucor Bainieri, Aspergillus niger and Trichophyton mentagrophytes (Athlete's Foot Fungus)
Works on glazed and unglazed ceramic tile, grout, tubs, fiberglass, shower doors, vinyl curtains, counters, sinks and no-wax floors
Rinse immediately after use on rubber, plastic and vinyl
Avoid prolonged contact with metal and old porcelain
Do not use on wood or painted surfaces
This product may not be able to remove mildew embedded in hard water deposits, old grout or silicone caulking
Avoid contact with aluminum, clothes, fabric, carpet or paper surfaces, as they will discolor
Active ingredient: sodium hypochlorite 2.40%, other ingredients 97.60%
Warnings: Causes substantial but temporary eye injury and can irritate skin. For sensitive skin or prolonged use, wear gloves. Do not get in eyes or on clothing. Vapors may irritate. Use only in well-ventilated areas. Avoid prolonged breathing of vapors
Not recommended for use by persons with heart conditions or chronic respiratory problems such as asthma, emphysema or obstructive lung disease
KEEP OUT OF REACH OF CHILDREN
a59f21298f13c289be9ae8531468f2b6
Tilex
Yes
32
0.25
Certification & Standards
EPA registered
Chemical Active Ingredient(s)
Sodium Hypochlorite
Fungicidal
Spray
Toilet & Bathroom Cleaner
Concentrated or Ready To Use
Ready to Use
Spray Bottle
Non-Degreasing
Yes
Dispenser Not Required
Non FDA Compliant
99.9
Kill List of Bacteria, Viruses
Staph, Salmonella, Strep, Athlete's Foot Fungus, Mold, Mildew
600
Medium
No
9
Primary Active Ingredient
Bleach
Low odor
No
Non-Sanitizing
Tile, Tub, Grout Cleaner
Pale Yellow
22.1