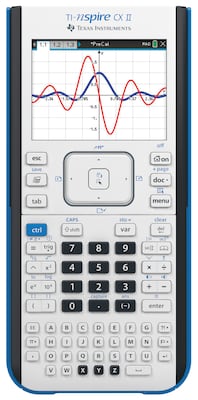 Texas Instruments CXII TI-Nspire Graphing Calculator, White (NSCX2/TBL/1L1)
Texas Instruments CXII TI-Nspire Graphing Calculator, White (NSCX2/TBL/1L1)
Item #: 901-321965
Model #: NSCX2/TBL/1L1
Brand: Texas Instruments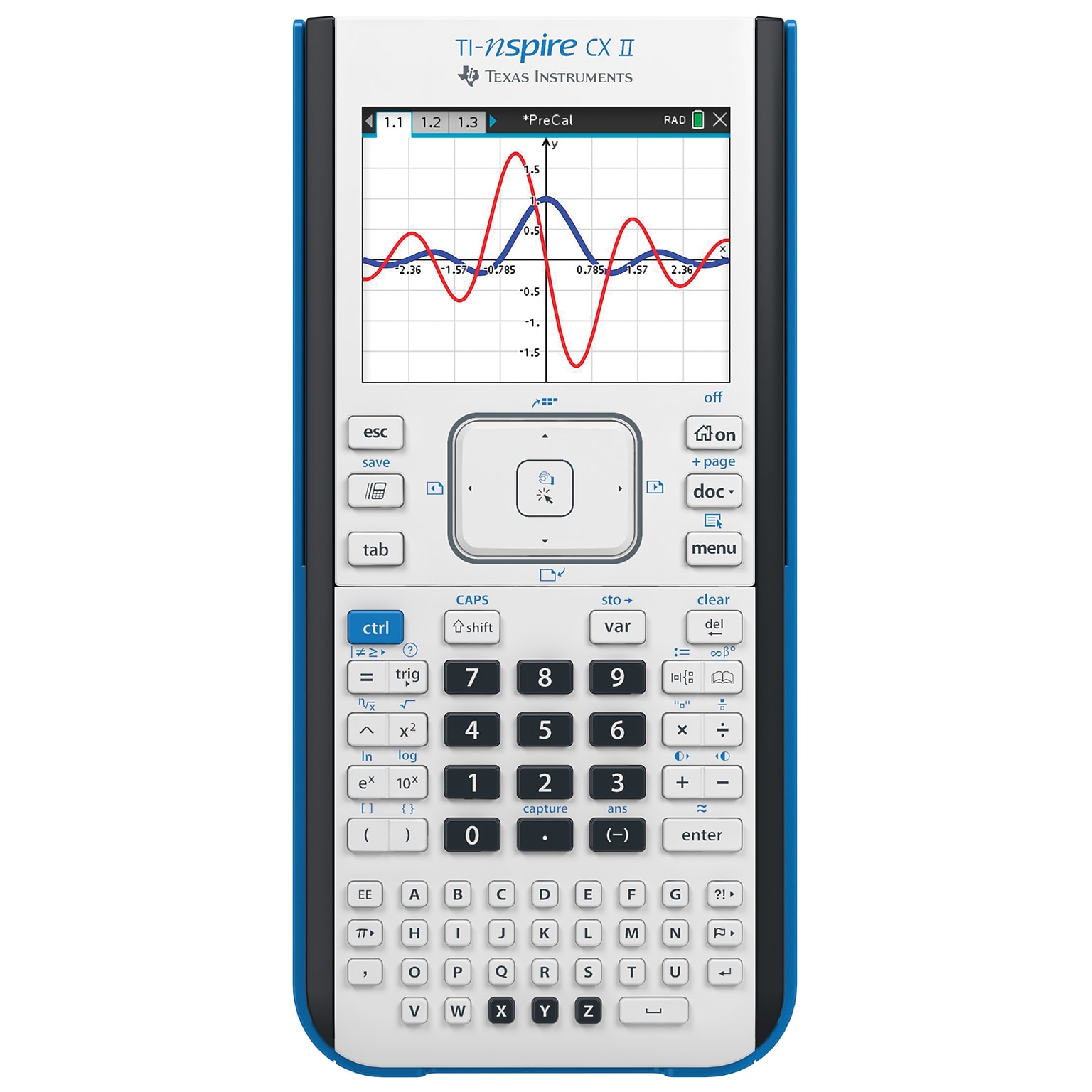 Frequently bought together
Protection plans available
Bring peace of mind to your purchase.
Learn more
Perform complex calculations with this Texas Instruments TI-Nspire CX graphing calculator.
Plot functions and calculate equations with this handheld calculator. The backlit color display shows geometric figures and animates points on graphs in vivid detail. Import digital images, including JPEG and BMP files, and then overlay equations and graphs to visualize how math interacts with the world. Drop-down menus and an intuitive operating system allow for easy document and page creation. Approved by multiple standardized testing organizations, this calculator is approved for certain state exams and SAT, AP, ACT, IB, and PSAT testing. Connect this Texas Instruments TI-Nspire CXII handheld calculator to a docking station, wall charger, or USB cable to recharge the lithium-ion battery, designed to last for up to three years.
Graphing calculator offers 3.5" LCD display for showing graphs and charts
Explore math expressions in symbolic form, see patterns, and understand the math behind the formulas
Dimensions: 0.79"H x 3.54"W x 7.48"D
Battery-operated for portability
102400KB ROM memory and 65536KB RAM memory to tackle complex computing
Streamline financial calculations with amortization, cash flow, time value of money (TVM), net future value (NFV), and modified internal rate of return (MIRR) functions
Graphing functions including 3D graphing, polar, sequence, zoom, trace, parametric plot, bar plots, and much more
Hexadecimal, octal, binary, random number, trigonometry, permutation, combination, scroll, and other functions help you solve a variety of mathematical problems
Package contents: hard case, USB cable, unit-to-unit USB cable
Preloaded apps include Notes, Calculator, Geometry, Lists & Spreadsheet, Data & Statistics, and Vernier DataQuest
Built-in USB port makes data transfer to your computer easier than ever, for deeper data analysis
Comes in white color
1-year manufacturer limited warranty


Powerful Calculator Handles Complex Problems
Far from a mere electronic slide rule, the Texas Instruments TI-Nspire CXII Graphing Calculator has the power to run lightning-fast calculations, generate graphs, and store JPEGs and other image types to give you unparalleled flexibility in a calculator, helped by 100MB of storage memory and a 64 MB operating memory. The built-in touchpad lets you input data with maximum ease.

Easy to Carry in Backpack, Purse, or Pocket
The Texas Instruments TI-Nspire CXII Graphing Calculator is extremely slim and light, meaning that you can easily leave it between the pages of a math book or carry it in your pocket. You can even save what you're doing on the calculator and upload your work to a Mac or PC so that it can be included in other projects.

Large Color Screen Offers a Rich Data Presentation
The Texas Instruments TI-Nspire CXII Graphing Calculator delivers output on a large 320- by 240-pixel display. Graphics are delivered in color to give your data a richer presentation that's easier to read and understand.

Package Contents
Texas Instruments TI-Nspire CXII Graphing Calculator, rechargeable battery, wall adaptor, USB unit-to-unit Cable, unit-to-computer cable, student software, and owner's manual.

6
AAA
Texas Instruments
TI-NSPIRE
Black
USB port for computer connectivity
7.48
Programmable; upgradable firmware
102400
Graphing Calculator Types
Non-CAS
10.70
Hard case, USB cable, unit-to-unit USB cable
Number of Digits Displayed
10
1
1
Battery Powered
64
0.60
Rechargeable
3.20
CX
Software and Applications
Cabri Jr. and Periodic Tabl
Black
LCD
1 Year
1.19
2.00