TerraCycle Gloves Zero Waste Box, Plastic Recycling Container, 15" x 15 " x 37", White (50912)
TerraCycle Gloves Zero Waste Box, Plastic Recycling Container, 15" x 15 " x 37", White (50912)
Item #: 901-1932801
Model #: 787
Brand: TerraCycle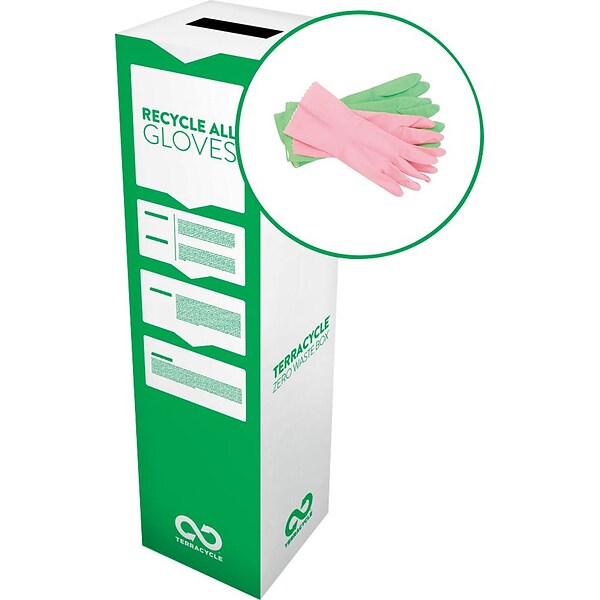 Customers Also Viewed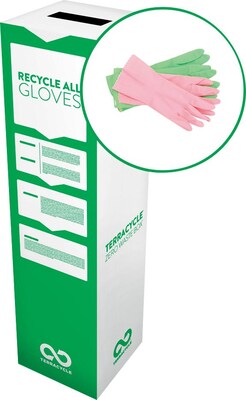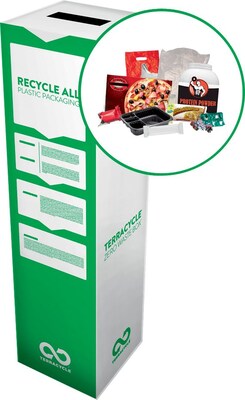 Use this box to recycle disposable gloves including plastic, nitrile and latex gloves.
Processing: The collected waste is mechanically and/or manually separated into the various forms of plastic that make it up. The separated plastics then undergo extrusion and pelletization to be molded into new recycled plastic products.
Accepted Waste: Please send us your used plastic, nitrile and latex gloves
Unaccepted Waste: Please do not include hair nets, ear plugs, and/or lab coats and garments. We will also not accept household hazardous waste such as pressurized canisters, pesticides, oil based paint or medical sharps, organics, broken glass, bio-medical waste, soiled diapers or expired medication. In addition, we also will not accept any item that is classified as sharps, flammable, reactive, corrosive, ignitable, radioactive, toxic, infectious, or pathogenic.
How it Works: Please choose the size box you'd like to purchase. When you receive your box fill it with the appropriate waste streams. Once full, bring your box to any UPS location to ship your items back to TerraCycle using the pre-paid UPS shipping label which is already affixed to your box. When we receive your box, we'll safely recycle all of the collected materials.
Includes: One black cartridge
Certification and standards: ISO/IEC 19752
Dimensions: 15" x 15" x 37"
TerraCycle
6
White
15
Without Handles
15
Indoor
No
Cardboard
Open
Rectangular
None
Single-Stream Recycling
Recycle Any Plastic Tape Dispenser Or Plastic Tape Core.
White/Green
Recycling Box
2
37