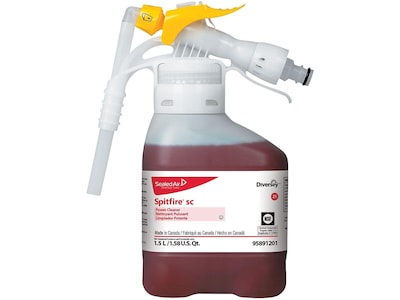 Spitfire SC Multipurpose Cleaner for Diversey RTD, Pine, 1.5 L / 1.58 U.S. Qt., 2/Carton
Spitfire SC Multipurpose Cleaner for Diversey RTD, Pine, 1.5 L / 1.58 U.S. Qt., 2/Carton
Item #: 901-167343DWC
Model #: 95891201
Brand: Spitfire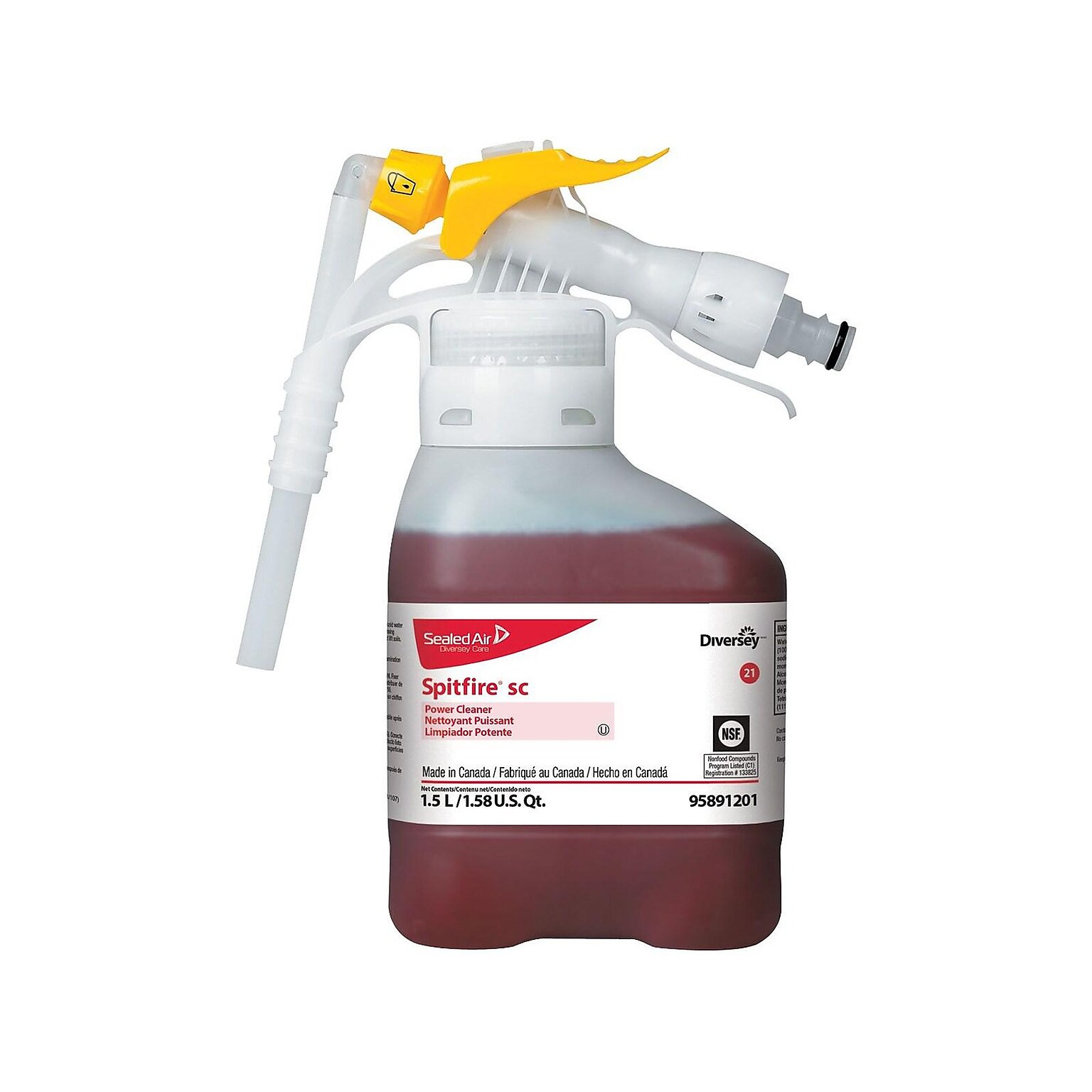 Shipping restrictions
We apologize. This item cannot be shipped to some destinations.
Please sign in to purchase by clicking the "Welcome" link at the top of the page and choose your shipping destination to determine if you can purchase this item
Eliminate stains from grease, petroleum products, and soil with this strong and effective Spitfire SC RTD power cleaner.
Remove greasy stains and petroleum product residue with this cleaner made for a variety of surfaces. This Spitfire power cleaner features a no-residue formula and has a fresh pine scent.
Multipurpose cleaner concentrate removes the toughest stains from a wide variety of surfaces
Concentrate dilution ratio: 1:16
50.7 oz. RTD bottle; two bottles per carton
Contains active ingredients, including benzyl alcohol, sodium xylene sulfonate, diethylene glycol monoethyl ether, alcohol ethoxylates, monoethanolamine, potassium hydroxide, tetrasodium salt
Delivers a remarkable cleaning with a pleasant pine scent
Certifications and standards: Meets or exceeds CFIA, Kosher, NSF standards
pH level: 13.5 (concentrate), 12.1 (use dilution)
Power cleaner super-strength formula eliminates grease, petroleum, and a wide variety of soils without leaving residue
No-rinse formula can lift grease, ink, crayon, marker, adhesive, gum, food soils, scuff marks, graffiti, and oil
Ideal for kitchens, schools, offices, break rooms, day care centers, restaurants, and other commercial facilities
Can be used on counters, walls, stove tops, appliances, restroom fixtures, cabinets, floors, doors, and concrete
Not for use on water-based paint, aluminum, or glass
To order secondary labels, contact Diversey Customer Service at 1-800-558-2332 option 3.
Safety Data Sheet

Kitchens, Schools, Offices, Break Rooms, Day Care Centers, Restaurants
Spitfire
50.7
0.39
Chemical Active Ingredient(s)
benzyl alcohol, sodium xylene sulfonate, diethylene glycol monoethyl ether, alcohol ethoxylates
Dilution Control Chemical Type
Multipurpose Cleaner
Diversey RTD
1:16
Ready to Dispense
2
Pine
Woodsy
Spitfire Multipurpose Cleaner