Rolo Caramel Milk Chocolate Pieces, 1.7 oz., 36/Box (HEC24400)
Rolo Caramel Milk Chocolate Pieces, 1.7 oz., 36/Box (HEC24400)
Item #: 901-244003
Model #: 24400
Brand: Rolo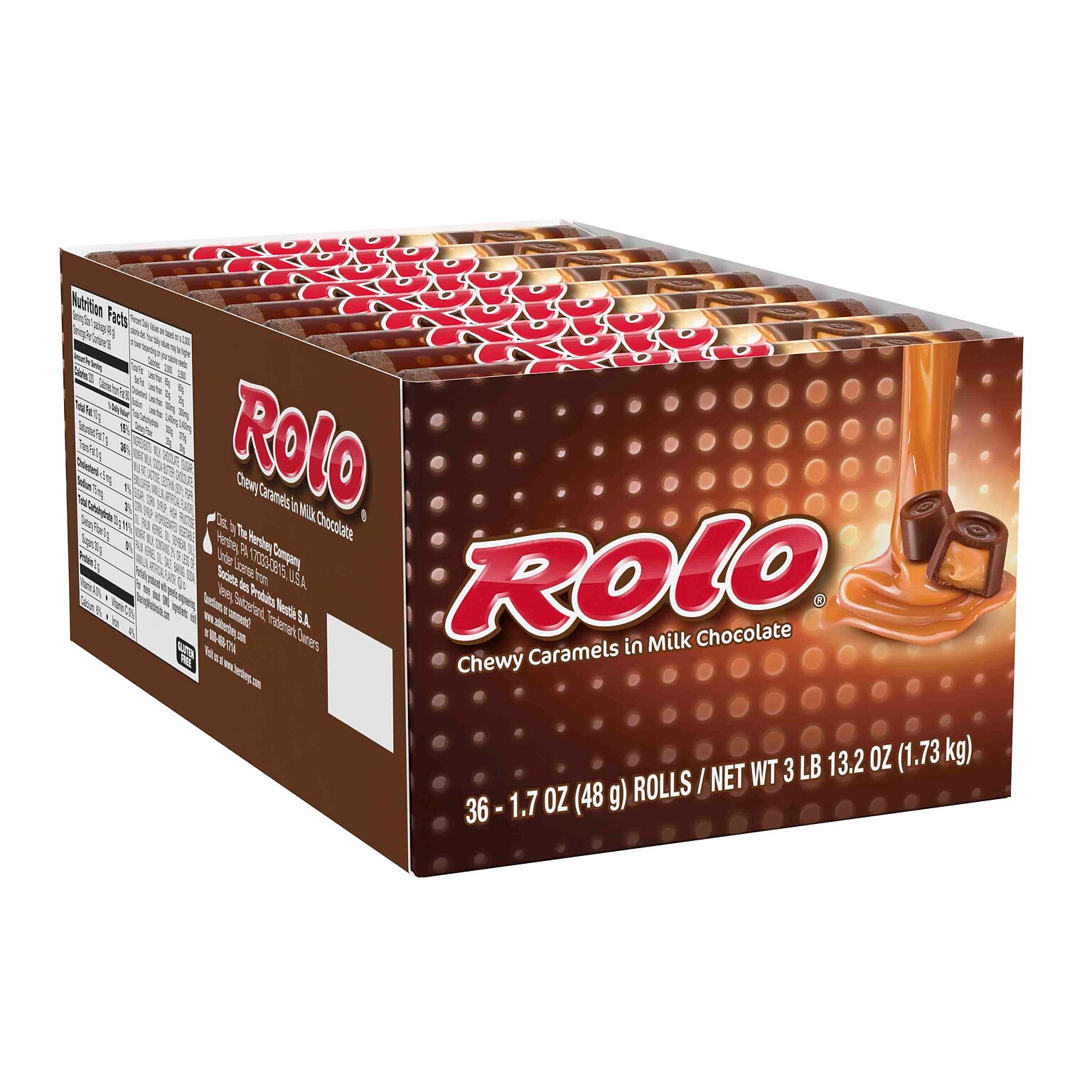 Frequently bought together
Get Your Smooth On at the workplace with ROLO® Chewy Caramels in Milk Chocolate!
Rich chocolate, creamy caramel and nougat
Soft creamy ROLO® caramel coated in smooth, rich chocolate for an unbeatable flavor combination
Includes 36 rolls of kosher-certified, gluten-free chocolate and caramel candy individually wrapped for lasting freshness inside a bulk box
Contains thirty-six (36) 1.7-ounce rolls of ROLO® Chocolate Caramel Candy in a bulk box
Keep your pantry shelves, snack drawers and candy dishes stocked with chocolate and caramel ROLO® candies for convenient on-the-go snacking and sharing
Craft ROLO® pretzel delights with just three ingredients for a quick and easy pretzel, pecan and caramel chocolate treat guests will love
Do your coworkers love caramel candy? Share rolls of ROLO® Chewy Caramels in Milk Chocolate and you'll be the star of the office!
Why share donuts, when you can treat coworkers or employees to ROLO® Pretzel Delights? Just stack ROLO® Chewy Caramels in Milk Chocolate on top of pretzels, then heat in the oven for a few minutes and top each with a pecan.
These bulk chocolate candies are the "gold standard" in promotional giveaways and trade show handouts!
"Roll" into the delicious flavors of ROLO® chocolate caramel candy. Tear this bulk box open to uncover tiny, blissfully delicious treats, then pour them into your favorite candy dish to share with friends, co-workers and family members. These well-loved candy morsels are individually wrapped and convenient enough to pack into your purse, briefcase, car, lunchbox and even front pocket for quick snacking moments. And as if ROLO® chocolate caramel candies weren't already amazing on their own, you can add them to your favorite homemade desserts for a unique spin on delectable classics. Try placing a ROLO® candy onto individual pretzels. Put them in the oven for a subtle melt, then pop a pecan on top for an easy treat that gets everyone talking. Pass these pretzel delights around during your next work meeting or movie night. You can chill ROLO® candies, use them on baked goods or eat them straight from the bag. They're sure to fill your holidays with tiny, special moments of joy, too! Fill Valentine's Day baskets, plastic Easter eggs, Halloween candy bowls and Christmas stockings to the brim with these unforgettable chewy caramel chocolate candies.
No
Rolo
Caramel
Full Size
Milk
Nut Free
Contains Dairy
No
Caramel
Yes
Individually Wrapped
Yes
No
1.7
Number of Chocolates Included
36
Everyday
36
Box
No
Pieces