Ready America™ Grab 'N Go 4 Person 3 Days Backpack Deluxe Emergency Kit
Ready America™ Grab 'N Go 4 Person 3 Days Backpack Deluxe Emergency Kit
Item #: 901-206071RAM
Model #: 70385
Brand: Ready America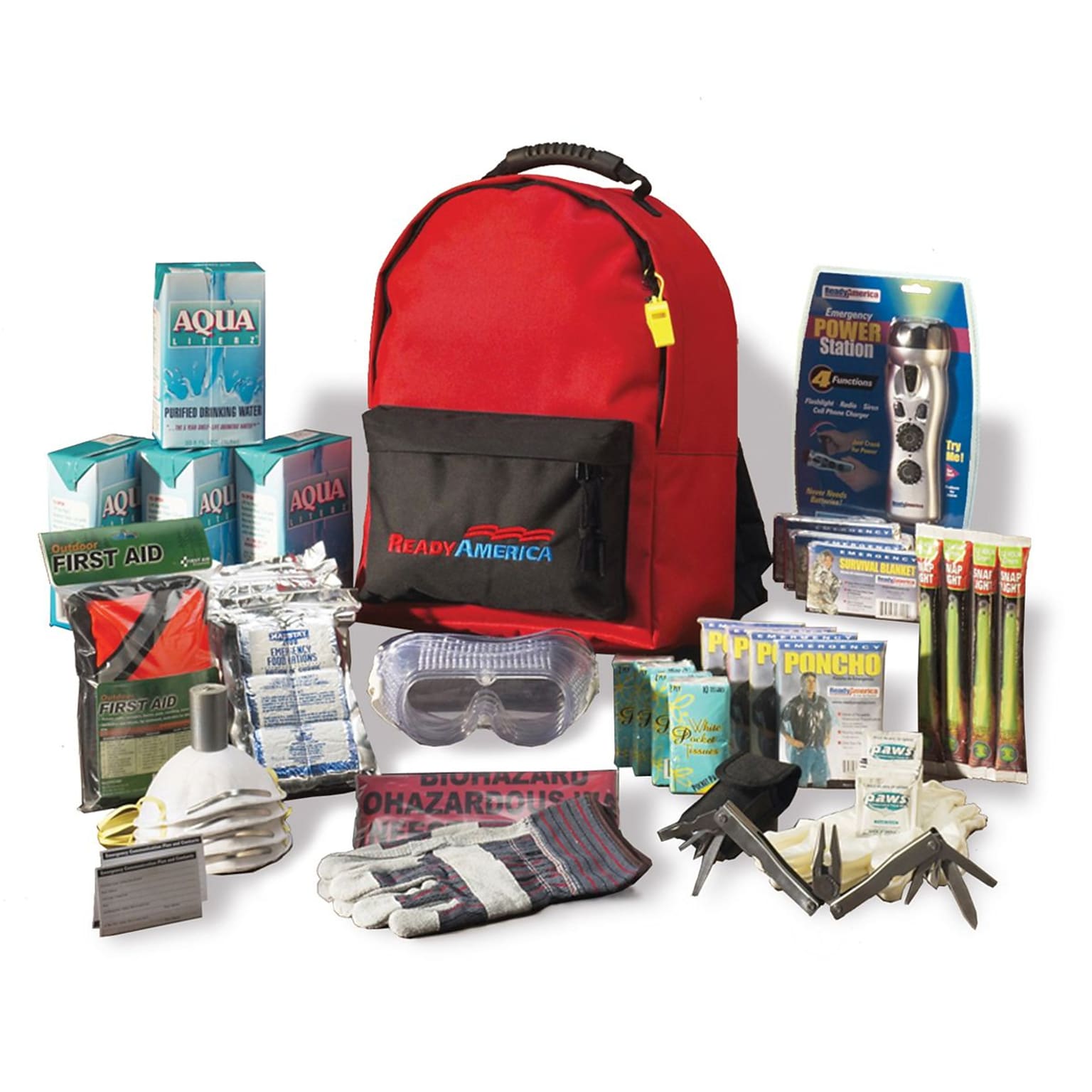 Frequently bought together
Ready America™ Grab 'n Go 3 Day deluxe emergency backpack kit for 4 persons comprises lifesaving supplies to survive for essential 72 hours after a disaster.
Ready America™ Grab 'n Go Deluxe emergency backpack kit for 4 persons allows self-reliance for at least the first 3 days after a disaster. Kit includes water pouches, water purification tablets, emergency power station and a lot more.
Emergency kit case type: Backpack
People count: 4 person
Unique to the deluxe 4-person emergency kit
3-day deluxe emergency kit
Includes: 4 2, 400 calorie food bars (5-year shelf life), 4 liter sized waters (5-year shelf life), 4 emergency ponchos, 4 survival blankets, 1 emergency power station, 10 yards of duct tape, 1 multi-function pocket tool w/pliers, 1 first aid kit
Also includes: 4 x 12-hour emergency light sticks, 4 pairs of nitrile gloves, 4 pair safety goggles, 4 Niosh N95 dust masks, 4 packs of pocket tissues, 1 pair of leather work gloves, 1 emergency whistle, 12 pre-moistened towelettes, bio hazard bags

Multi-Person Supply
This Ready America grab 'n go deluxe emergency kit has enough supplies for four people. The backpack includes a four-pack of the most essential items, including food, gloves, and survival blankets. Ensure that each person has the basics with this handy emergency kit. Food and Water
Food and water for four people are included in this Ready America grab 'n go deluxe emergency kit. This emergency backpack also includes water purification tablets so you can have safe, clean water once the initial supply runs out. The food bars and water are good for 5 years, so you don't have to worry about the supplies going bad. General Emergency Supplies
This kit has a variety of emergency staples, including masks, glow sticks, medical supplies, and duct tape, so you are prepared for multiple scenarios. A multi-tool and emergency power station give you the ability to repair items, light up an area, and access radio broadcasts.
Ready America
Multiple
Emergency Preparedness Kit
3
9-Jan
4
40
1
Each
Deluxe
Supplies Included