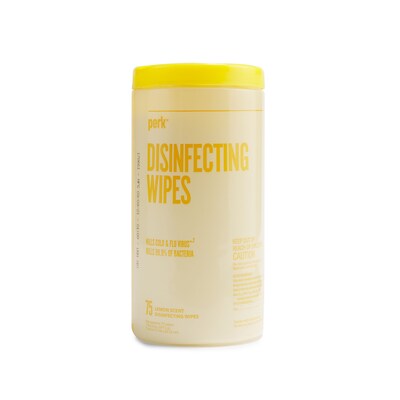 Perk™ Disinfecting Wipes, Lemon, 75 Wipes (PK56665)
Perk™ Disinfecting Wipes, Lemon, 75 Wipes (PK56665)
Item #: 901-24411134
Model #: STPL01
Brand: Perk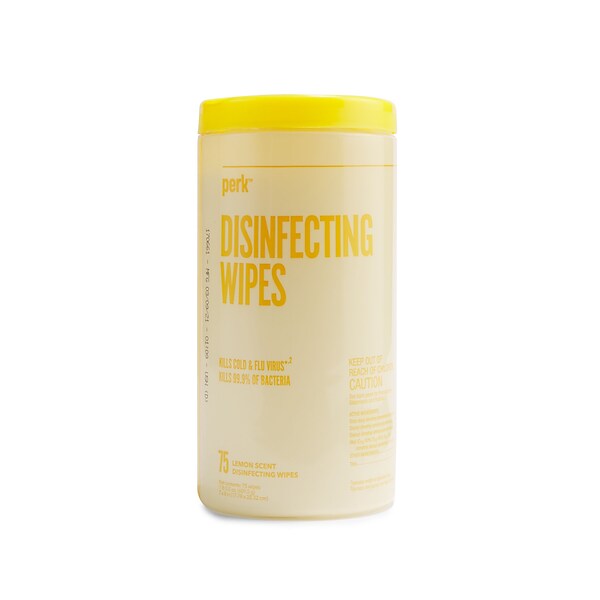 Frequently bought together
Obliterate bacteria with one quick swipe of this pack of Perk™ lemon-scented disinfecting wipes.
Clean and disinfect your workplace in one easy swipe with Lemon-scented Perk Disinfecting Wipes. These disinfecting wipes are proven to kill 99.9% of germs, including cold and flu viruses, E.Coli, Staph, Strep and Salmonella. Conveniently and safely take on every task from first sheet to last by cleaning, deodorizing, and disinfecting hard, nonporous, non-food-contact surfaces. These premoistened wipes remove common allergens, germs, and messes leaving behind a light lingering fragrance. They quickly clean and disinfect high-touch surfaces, such as doorknobs and faucets. Ideal for offices, classrooms, dorms, day care centers, hotels and other commercial facilities. This product will not harm most surfaces including acrylic, sealed fiberglass and vinyl. Sealed to prevent liquid loss, these Perk wipes easily stores away, staying moist and effective.
Lemon-scented disinfecting wipe kills germs and deodorizes in one swipe
Comes with 75 wipes per pack
Kills cold and flu viruses and inhibits growth of mold and mildew
Kills 99.9% of bacteria
Wipes are disposable and makes cleanup simple
4 minute kill time
Perk Disinfecting Wipes have demonstrated effectiveness against viruses similar to Monkeypox virus on hard, non-porous surfaces. Therefore, Perk Disinfecting Wipes can be used against Monkeypox virus when used in accordance with the directions for use against Norovirus on hard, non-porous surfaces. Refer to the CDC website at www.cdc.gov/poxvirus/monkeypox for additional information.
Cap colors may vary
Restricted from sale in Puerto Rico
Cleaning and Disinfection/ Virucidal Directions: Wipe hard, nonporous surface with wipe until surface is visibly wet. Allow surface to remain wet for 4 minutes. Mold and mildew stain control, this product will effectively inhibit the growth of mold and mildew and the odors caused by them when applied to hard, nonporous surfaces. Wipe surface and let it remain wet for 4 minutes. Repeat treatment every seven days, or more often if new growth appears.
Perk
Disinfecting
Wipes
Concentrated or Ready To Use
Ready To Use
Canister
Yes
Non FDA Compliant
99.9
Kill List of Bacteria, Viruses
Human Coronavirus, Flu Virus, RSV, Staph, E.Coli, Strep, Klebsiella, Salmonella, Pseudomonas
240
No
Number of Wipes per Container
75
1
Primary Active Ingredient
Quat
Lemon
Yes
Lemon
8
7
75
White
Non Refillable
51-100