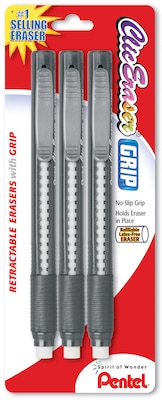 Pentel Clic Eraser w/ Grip, White, 3/Pack (ZE21BP3-K6)
Pentel Clic Eraser w/ Grip, White, 3/Pack (ZE21BP3-K6)
Item #: 901-ZE21BP3
Model #: ZE21BP3K6
Brand: Pentel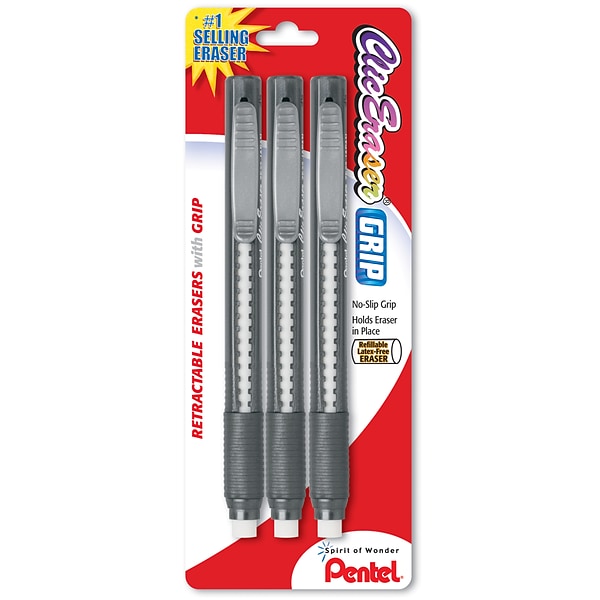 Frequently bought together
Pentel Clic erasers let you quickly and conveniently fix simple mistakes.
Whether you're writing with pencils or erasable ink pens in the office, these Pentel Clic erasers ensure you can quickly erase mistakes for clean, error-free copy. The convenient pen-like design is easy to grip and control, and the retractable design helps minimize waste and keeps your eraser primed and ready to use. This convenient pack of three erasers gives you the option to stock your personal desk drawer or add to the office supply closet.
Easy-to-use Clic erasers have a pen-like body and a white eraser
Works with pencils and erasable pens for versatility
White
4.92"H x .59" W x .62" D
Contains 3 erasers per pack
Non-abrasive materials and white color prevent damage to paper
Latex free eraser
Convenient advance retract system lets the eraser fit in your pocket or bag
Refillable design helps reduce waste
Easy To Use
These convenient pen-like erasers let you target specific areas with precision, so you can easily fix small errors without accidentally erasing the writing you want to keep. The built-in ergonomic grip helps reduce hand strain and prevents the eraser from slipping, and the simple retractable design lets you get just the right amount of eraser for the job.

Reduced Smudging
The simple white color of these erasers helps reduce color transfer and prevent discoloration for a cleaner end result. The tip is small and precise enough to avoid accidental peripheral smudging.

Portable and Practical
These retractable erasers are small enough to fit easily into most pockets, so you can always keep one with you as you move around the office or warehouse. The body also features a simple clip that allows you to attach the eraser to clipboards or folders, which makes it easy to carry one around without worrying about misplacing it. The convenient refillable design helps cut down on supply costs and reduce waste to support an environmentally friendly office.
Pentel
White
0.75
3/Pack
Stick
7.25
7.25
Yes
Clic Eraser
White
0.281
2.8125