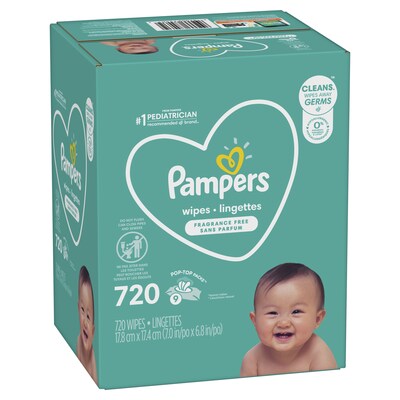 Pampers Unscented Complete Clean Baby Wipes, 720 Wipes/Pouch, 9 Pouches/Carton (75461)
Pampers Unscented Complete Clean Baby Wipes, 720 Wipes/Pouch, 9 Pouches/Carton (75461)
Item #: 901-24325791
Model #: 75524
Brand: Pampers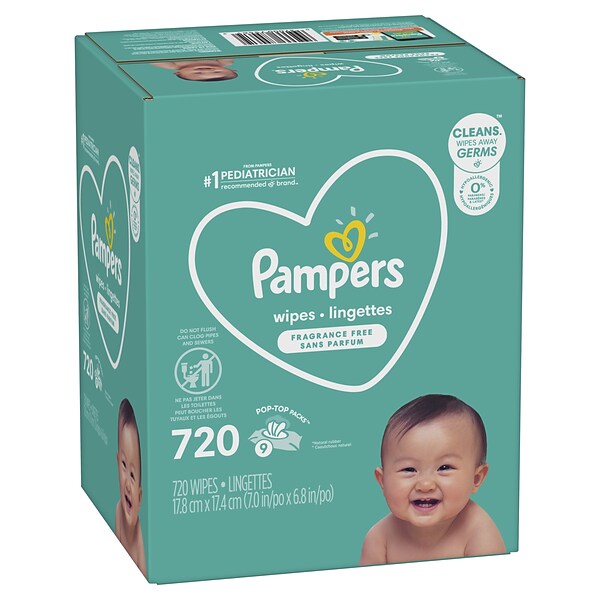 Frequently bought together
Made with skin loving natural fibers, gently cleans and protect baby's delicate skin and is hypoallergenic and dermatologically tested
Pampers Complete Clean wipes clean from top to bottoms. A soft touch and durable strength make these versatile wipes tough enough to tackle messy hands and diaper changes, yet gentle enough to clean your baby's delicate face.
One box contain 9 pop-top-pouches, each pouch includes 720 wipes
4X stronger for a durable, yet gentle cleaning
Unscented for a fragrance-free clean
Free of alcohol, perfume, parabens, phenoxyethanol, and dyes
Dermatologist tested and hypoallergenic
Refill packs are designed for use with Pampers tubs
Promising a gentle and effective protection, Pampers Baby Wipes Complete Clean Unscented 720ct wipes are a handy way of keeping your baby refreshed and happy at all times. These baby wipes are gentle enough to soothe baby's bottoms during a diaper change. The wipes can also be used to gently cleanse baby's skin. These wipes ensure that the baby remains bacteria-free throughout the day. It is also an ideal thing to use when travelling. Made of perfume-free and hypoallergenic products, these baby wipes leave baby's skin fresh and moisturized whole day long.
Get your child this amazing wipes pack and be ensured that they always feel fresh. While your little bundle of joy is a lot of fun to have around, cleaning them could get tough especially when you've got to deal with situations that could get smelly. These baby wipes not only take away all the smell, but they also kill germs and keep your baby healthy. Whether you want to wipe their face post a feed to clean their tushy during a diaper change, this is a great thing to invest in.
Safety Data Sheet
Baby Wipe
pampers
720
Yes