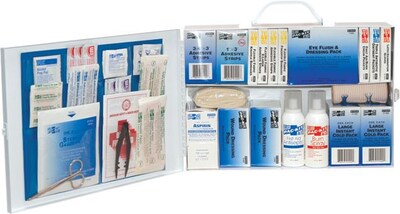 Pac-Kit Industrial Station Metal for Standard Workplace First Aid Kit (579-6155)
Pac-Kit Industrial Station Metal for Standard Workplace First Aid Kit (579-6155)
Item #: 901-777863ORS
Model #: 579-6135
Brand: Pac-Kit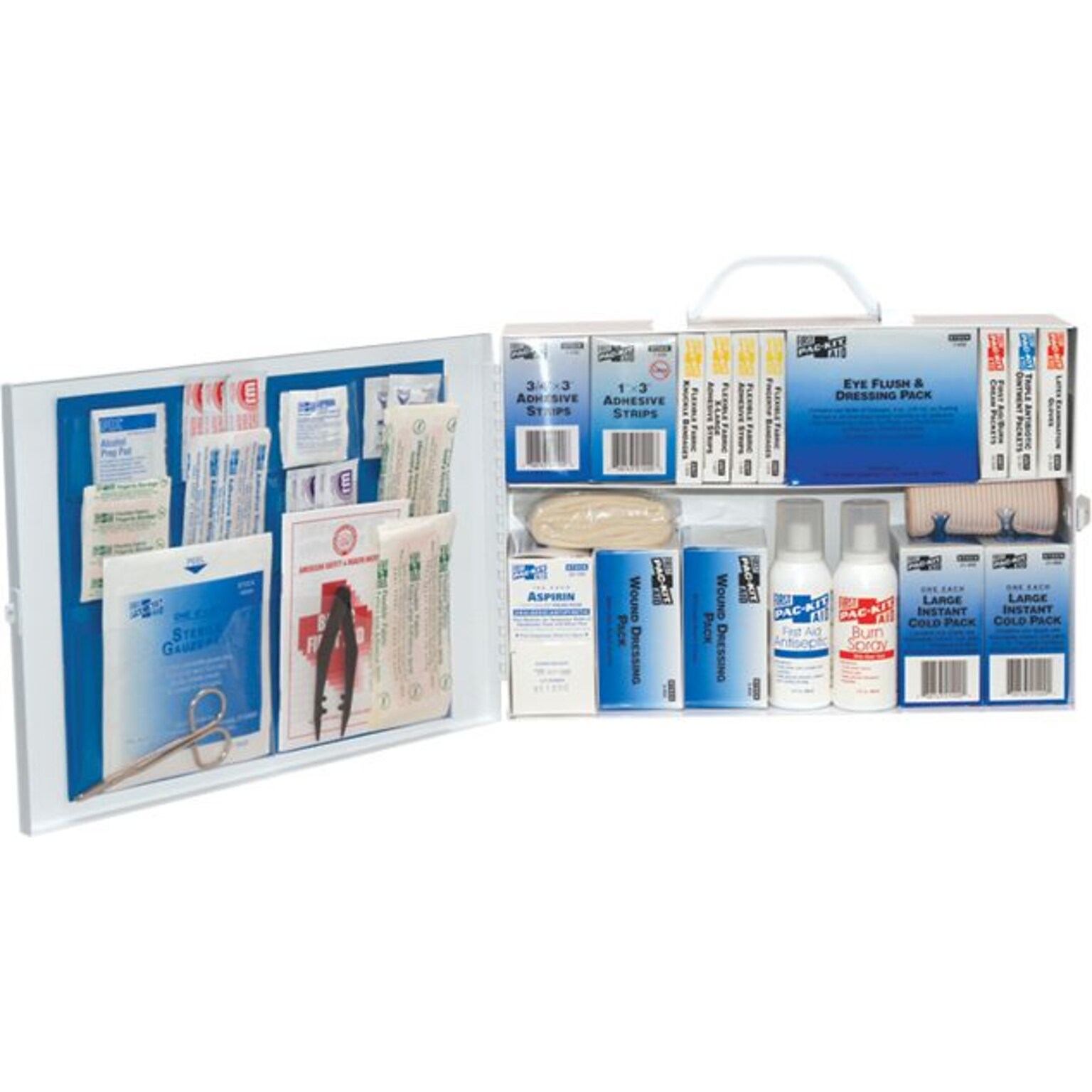 Frequently bought together
---
---
Limited quantity available:
19 remaining
---
---
---
---
---
The Pac-kit industrial first aid station contains all the required items with ANSI Z308.1-2009 certification and is sufficient for 100 people
The Pac-Kit industrial first aid station measures 11 x 15.5 x 4.75 inches and has enough contents for 75 people. This steel box first aid station includes 0.75 x 3 inches adhesive strips, 3 x 3 inches gauze pads, 1 x 3 inches adhesive strips, fabric fingertip bandages and much more.
Usage: It is a perfect buy for every workplace
Recommended for: 75 people
Kit Contains: Adhesive strips, adhesive tape, antiseptic towelettes, eye flush/pads/strips, fabric fingertip bandages, fabric knuckle bandages, fabric x-large adhesive strips, gauze pads, Hema-flex, x-large bandages, sterile triangular bandage/wipes and triple antibiotic ointment packets
Dimensions: Adhesive Strips: 0.75" x 3", Adhesive Strips: 1" x 3", Gauze Pads: 3" x 3", Triangular Bandage: 40", Cotton Tip Applicators: 3" and Elastic Bandage: 4" x 5"
Packaging: Case
Case size: (H x W x D) 11" x 15.5" x 4.75"
Material: Steel (non-gasketed) case
Contains all required items from ANSI Z308.1-2009 as well as many recommended items
Comes with 2 shelves, door pouch and bilingual reorder forms
No. of Pieces: 443
Complete Refill Available: Stock
Weight: 10 lbs.
Sufficient for 100 persons

Large Size
This large Pac-Kit industrial two-shelf first aid station contains enough supplies to treat at least 100 employees with minor injuries or to stabilize other injuries until an individual can get to a doctor. All supplies are conveniently packaged inside a durable steel case, which makes it easy to transport the first aid kit within your company to reach the injured person. Meets Industry Standards
You can meet the ANSI safety standards for to first aid kits by keeping this item on hand because it comes with all required items and many recommended items for added safety for your employees and clients. Easy Refills
Refilling this Pac-Kit industrial two-shelf first aid station is easy when you use the reorder forms located in the door pouch. These bilingual forms also allow you to order a complete refill in case you want to keep extra items on hand.
Pac-Kit
First Aid and Medical Type
First Aid Kits
White