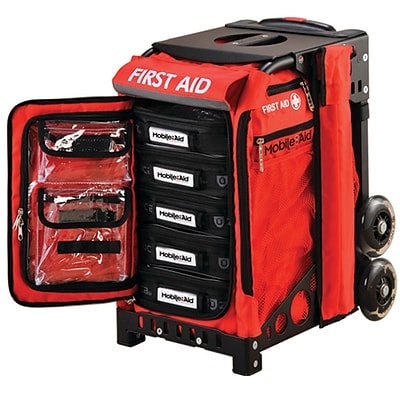 MobileAid Trauma Pro200 EASY-ROLL Modular First Aid Station, Load-Your-Own (31570)
MobileAid Trauma Pro200 EASY-ROLL Modular First Aid Station, Load-Your-Own (31570)
Item #: 901-31570Q
Model #: 31570
Brand: MobileAid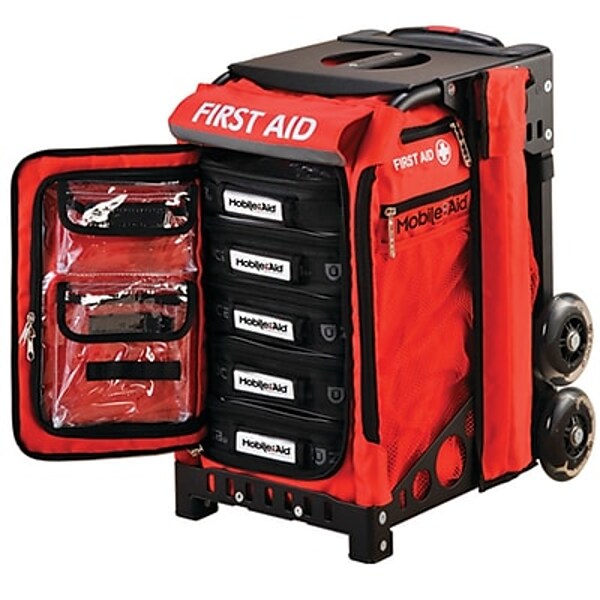 This mobile trauma station provides superior mobility, organization and functionality for the medical professional who needs the flexibility to carry his or her own unique medical aid supplies to an incident. Includes an integrated gear and seating platform, 5 Quick-Access utility pouches with customizable handle IDs and clear vinyl lids for easy supply identification, an 8-foot extendable first aid flag, and flexible evac stretcher. (Medical supplies not included)
EASY-ROLL TRANSPORT: dual 4" polyurethane wheels aid in rapid response and climb stairs or curbs with little effort
CUSTOMIZED QUICK-ACCESS: 5 quick-access ballistic nylon/clear vinyl utility pouches allow for customization of supplies and quick visual access; each pouch has a customizable ID slip on the front handle
COMPREHENSIVE/COMPACT STATION — Includes flexible evacuation stretcher; stores in 2 cubic feetSeating and gear platform: allows for patient to be seated while being treated or to aid in the transport of additional medical equipment (e.g. AED, oxygen tank, etc.)
EASY IDENTIFICATION — high visibility markings and 8 foot extendable First Aid flag
DURABLE PROTECTION for SUPPLIES — super-durable, light-weight frame construction (supports up to 300 lbs.) and heavy-duty weather resistant bag safeguard contents
Dimensions: 12.25"W x 18.5"H x 14.0"D
15 lbs.