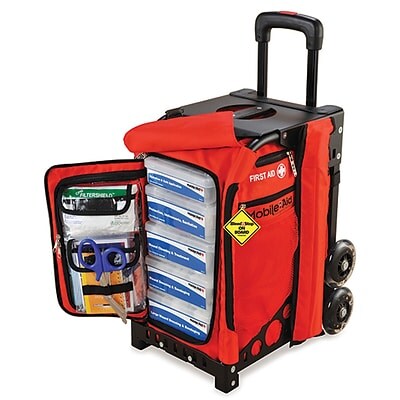 MobileAid EASY-ROLL Modular Trauma First Aid Station with BleedStop Compact 100 BLEEDING CONTROL & Gunshot Wound Kit (31500)
MobileAid EASY-ROLL Modular Trauma First Aid Station with BleedStop Compact 100 BLEEDING CONTROL & Gunshot Wound Kit (31500)
Item #: 901-31500Q
Model #: 31500
Brand: MobileAid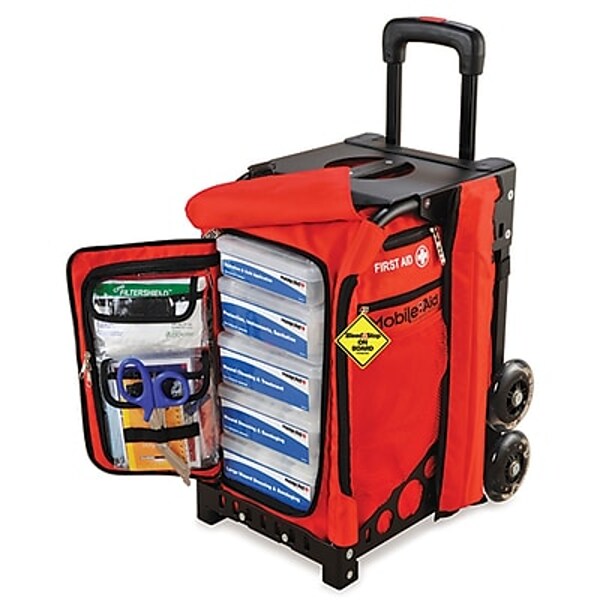 Extensive 260-piece mobile Modular Trauma First Aid Station with an additional Bleeding Control Kit for greater ability to treat bleeding wounds from accidents, disasters, or active shooter situations. Includes a MobileAid BleedStop Compact 100 Bleeding Control Kit with a SWAT-T tourniquet, a mini-compress bandage, QuickClot blood clotting gauze, petroleum gauze for chest wounds, and other bleeding wound supplies.
COMPACT/COMPREHENSIVE FIRST AID STATION — 260-piece first aid station that meets OSHA guidelines (ANSI/ISEA Z308.1-2015 Class A, Type II); includes flexible evacuation stretcher; stores in 2 cubic feet
QUICK-ACCESS MODULAR ORGANIZATION — extensive first aid supplies organized in quick-response modules for fast access and effective treatment
BLEEDING CONTROL: Comprehensive bleeding wound trauma first aid supplies.
EASY-ROLL TRANSPORT — dual 4" polyurethane wheels aid in rapid-response and curbs with little effort
SEATING AND GEAR PLATFORM: allows for patient to be seated while being treated or to aid in the transport of additional medical equipment (e.g. AED, oxygen tank, etc.)
EASY IDENTIFICATION — high visibility markings, 8-foot extendable flag, and flashing (red/blue) LED wheels
DURABLE PROTECTION for SUPPLIES — super-durable, light-weight frame construction (supports up to 300 lbs.) and heavy-duty weather resistant bag safeguard contents
27 lbs.
Dimensions: 7" x 5.5" x 1.5"