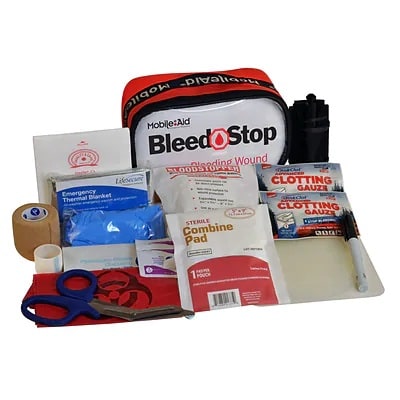 MobileAid BleedStop Single Bleeding Control & Gunshot Wound 8-Person Trauma Bag (32716)
MobileAid BleedStop Single Bleeding Control & Gunshot Wound 8-Person Trauma Bag (32716)
Item #: 901-32716MA
Model #: 32716
Brand: MobileAid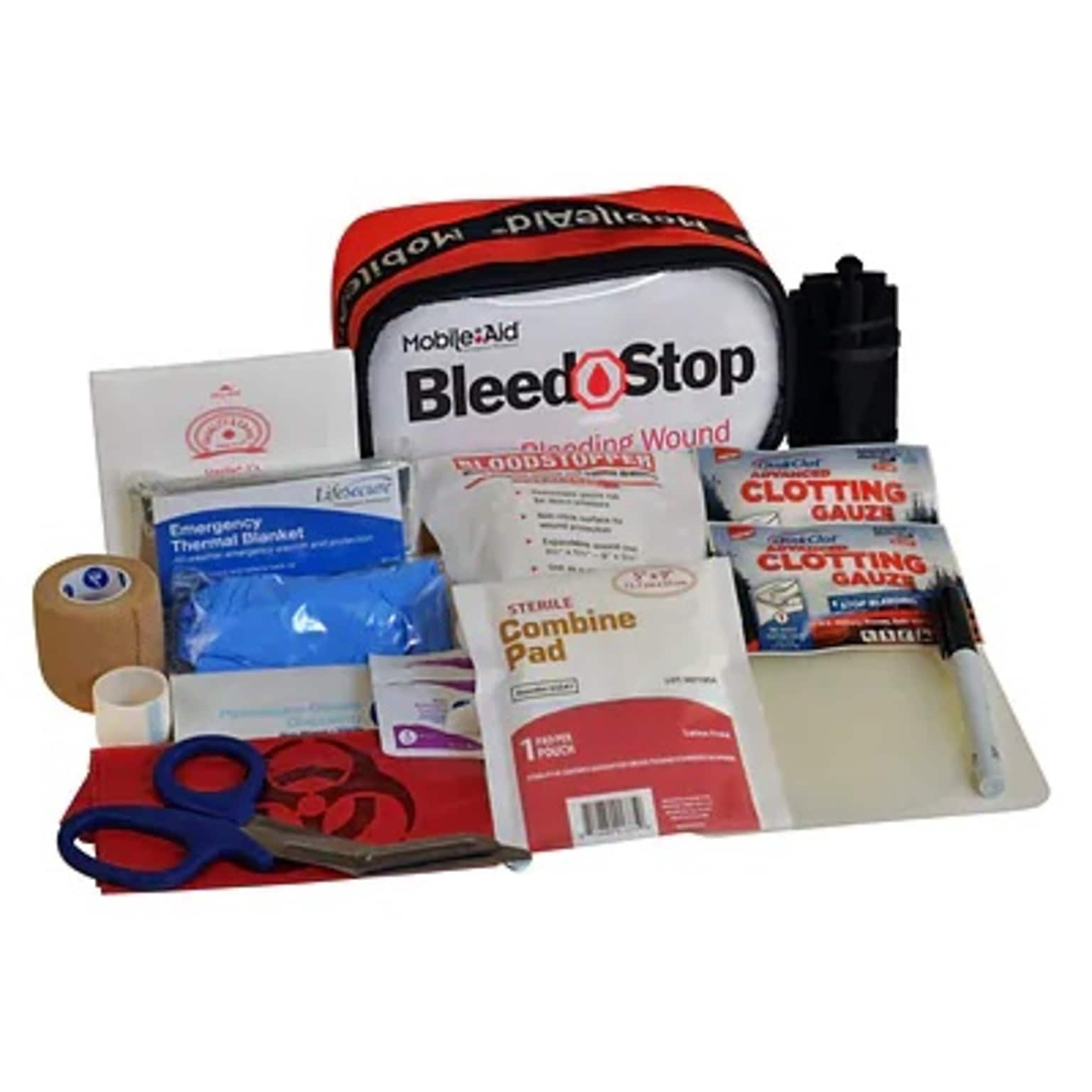 Frequently bought together
BleedSTOP IMMEDIATE RESPONSE 300 Bleeding Control & Gunshot Wound Trauma First Aid Kit (32716)
Stop severe bleeding fast with these comprehensive bleeding wound trauma first aid supplies. This active shooter/disaster wound kit includes a SOFT-W tourniquet, a BloodStopper compress bandage, QuickClot blood clotting gauze, chest seals, and other bleeding wound supplies.
COMPREHENSIVE BLEED STOPPING SUPPLIES: SOFT-T tourniquet, QuickClot blood clotting gauze, Blood Stopper bandage, petroleum gauze for chest seal, and other essential supplies.
COMPACT CARRYING POUCH: Clear-view Immediate Response Pouch.
FOR CARRYING: MobileAid IR (Immediate Response) Clear-View Pouch
FOR PREP: (1) Instructions, (1 pair) Blue Nitrile Gloves, (1 pair) EMT Scissors
FOR APPLYING BLOOD-CLOTTING GAUZE: (2) QuickClot Hemostatic GAUZE, (4) Gauze pads 4" x 4"
FOR BANDAGING: (1) Blood Stopper bandage, (1) ABD combine pad 5" x 9", (1) Self-adherent wrap 2" x 5 yd.
FOR APPLYING TOURNIQUET: (1) SOFT-W tourniquet, (1) Permanent Marker
FOR TREATING FOR SHOCK: (1) Emergency thermal blanket
FOR CHEST WOUNDS: (2) Chest seals, (1) Petroleum gauze, (1)Tape
FOR CLEAN-UP: (2) Moist Towelettes, (1) Biohazard Bag
7.5" x 4" x 3.5"
1 lbs.
MobileAid
Trauma Bag
9-Jan
8
1
Each
BleedStop Single Bleeding Control & Gunshot Wound
Supplies Included