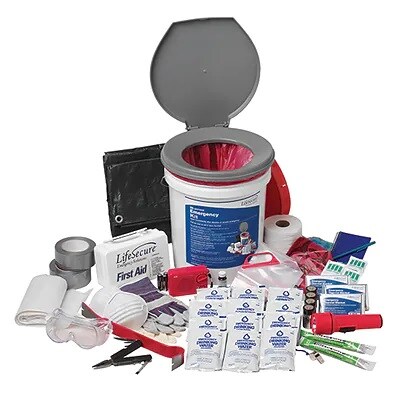 MobileAid 25-Person Shelter-In-Place Emergency Kit (31001)
MobileAid 25-Person Shelter-In-Place Emergency Kit (31001)
Item #: 901-31001G
Model #: 31001
Brand: MobileAid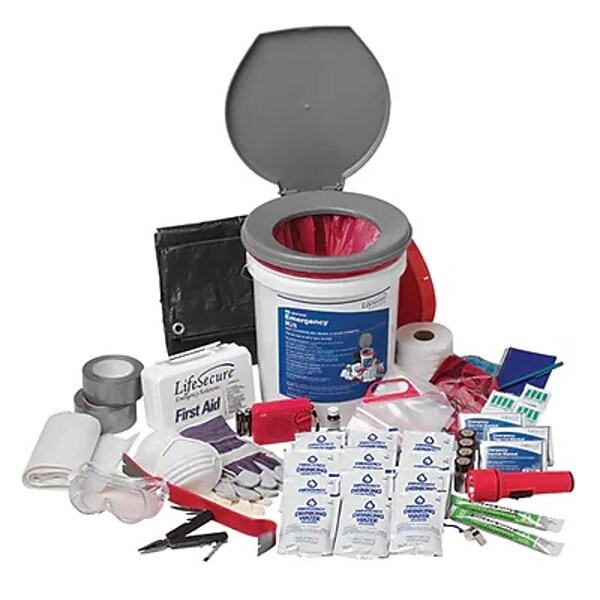 Compact, waterproof emergency survival kit with essential emergency supplies for the first several hours of support for up to 25 people. Storage bucket converts to emergency toilet.
Emergency supplies recommended by US Government for the workplace
Sealed 5–gallon bucket for compact, airtight storage
Tamper evident, bright orange lid for emergency identification and security while stored
Snap–on toilet seat and supplies convert bucket to emergency toilet, Waterproof documents pouch attached to outside for quick access to vital information
Long life: Water, batteries have 5–year shelf life
Including: (1) pair leather palmed work gloves, (1) pair safety goggles, (1) pry bar, (1) multifunction tool [needle nose pliers, regular pliers, wire cutter, file/cutter, flat file, pointed screwdriver, mini–screwdriver, small screwdriver, screwdriver, Phillips screwdriver, can opener, bottle opener, punch, knife blade
Breathing protection: (25) dust masks, (1) first aid kit, (6) pairs vinyl gloves
Communication and Light: (1) whistle and lanyard, (1) emergency AM/FM radio with two sets of batteries, (1) flashlight with two sets of batteries, (2) 12-hour light sticks
Warth and shelter: 8' x 10' tarp/ground cover, (3) emergency thermal blankets, (2) rolls duct tape, (1) roll plastic sheeting
Hydration: (25) 4oz. Emergency water pouches, (1) collapsible 2-gallon water bag of carrying, purifying and storing water, (50) water purification tablets
Hygiene and Sanitation: (5) gallon toilet bucket, (1) snap-on toilet seat, (12) biohazard bags, (12) toilet deodorizer packets, (1) toilet paper roll, (100) moist towelettes
15" x 13.5" x 13"
24 lbs.