Method Products Squirt + Mop Floor Cleaner, Almond, 25 Oz. (00562)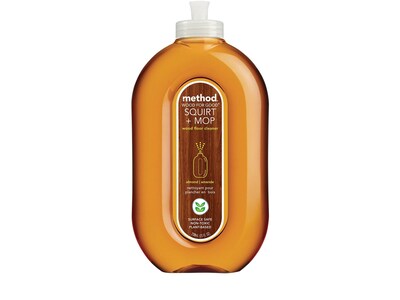 This product contains an ingredient identified by California Proposition 65.
Description
Stock the supply closet with this Method Products Squirt + Mop almond-scented wood floor cleaner.
Remove dirt and grime from floors quickly and completely with this plant-based floor cleaner. Specially formulated for use on laminate and sealed hardwood floors, this nontoxic wax-free cleaner pairs with a dry mop for rinse-free cleaning, and the almond scent leaves clean rooms smelling sweet and nutty. This 25-ounce bottle of Method Products Squirt + Mop floor cleaner features an ergonomic spray nozzle for even floor coverage.
General-purpose cleaner with almond scent

25 oz. capacity

Liquid cleaner is sold individually

Active chemicals: ethanol, methoxyisopropanol, sodium sesquicarbonate, sodium bicarbonate, laureth-7, DMDM hydantoin
We used to reserve our floor cleaning for very special occasions—like limbo night or the queen's visit. But this non-toxic and biodegradable no-wax wood floor cleaner turns a chore into an almond-scented delight. Just squirt, mop and bask in the glow of a gleaming clean. Formulated for sealed hardwood and laminate floors.