Ink vs Toner: What's the Difference?
Ink is liquid and made for inkjet printers. Toner is a very fine powder (composed mostly of polyester), made for laser printers. Inkjet printer cartridges are typically cheaper than laser printer cartridges, but toner (laser printer ink) tends to last longer. Laser printers are ideal if you tend to print mostly text-based documents because they can print text two or even three times faster than most inkjet printers. Lots of offices use laser printers, whereas inkjet printers are popular for home use.
Here's how to select ink and toner cartridges that accommodate your printing needs as well as maximize their longevity to get your money's worth and reduce waste.

Ink versus Toner
Many people use the words ink and toner interchangeably, but in reality they're two very different products. While ink and toner are both used for the same purpose (printing), they differ significantly in terms of printer compatibility, functionality, and physical characteristics. Here's a brief overview of respective uses, benefits, and downsides.
Ink Cartridges
Ink is a liquid used in inkjet printers. To apply the ink to paper, the printer squeezes small amounts of ink through tiny nozzles and onto the paper as it rolls out of the printer. Most inkjet printers can print in all black or color, and they use several ink cartridges at a time–namely black, cyan, magenta, and yellow.
Inkjets are by far the most common printer type used by ordinary consumers, partly because they tend to be less expensive than laser printers. Inkjets are also useful for printing images, graphics, and text. One downside to ink cartridges is that they tend to print fewer sheets of paper than toner cartridges, meaning consumers need to purchase new cartridges or refill existing cartridges more frequently than they do with toner.
A Note on Ink Ribbon Printers
While inkjets and ink cartridges have become very common, some businesses still choose to utilize ink ribbon printers.
There are several types of ink ribbon printers, among them: dot matrix printers, cash registers and point of sale systems, thermal transfer printers, and electric typewriters–basically, anything that is capable of printing onto a roll of paper. These printers typically rely on different types of ink ribbons. Some may even use a different type of ribbon for certain print jobs. For example:
Dot matrix printers use cloth or plastic ink ribbons. These printers operate via a printhead that strikes the ink ribbon in order to transfer ink onto paper. They're mainly used for high-volume label or form printing.

Cash registers and point-of-sale systems may use nylon ribbons for simple jobs or wax thermal ribbons for printing detailed receipts, coupons, and so on.

Thermal transfer printers melt ink in order to transfer it to paper. These printers may use a different type of ink ribbon–namely wax thermal ink ribbons, wax/resin thermal ink ribbons, or resin thermal ink ribbons–for each task. Wax thermal ink ribbons are typically used for printing on paper products such as price tags; wax/resin thermal ink ribbons are used for smudge-resistant print jobs such as bar codes; and resin thermal ink ribbons are generally used in industrial fields like manufacturing.
Toner Cartridges
Toner is a very fine powder (composed mostly of polyester) that is used in laser printers. The powder is statically charged, which is how it adheres to paper. The laser in the printer creates an electrostatic template of a given printout on a metal drum inside the printer; it then releases the toner, which sticks to the places on the drum that have been electrostatically charged. As the paper passes over the drum, the image imposes onto the paper's surface. Most consumer-grade laser printers only print in black, although more expensive units can utilize different colors.
While laser printers and toner cartridges are usually more expensive than inkjet printers and ink cartridges, toner tends to last longer than ink. (This means toner may be a more cost-effective choice over the long term, but it requires a bigger up-front investment.) Laser printers are ideal if you tend to print mostly text-based documents because they can print text two or even three times faster than most inkjet printers.
Ultimately, the choice of whether to purchase an ink- or toner-based printer depends on your financial situation, printing needs, and personal preference.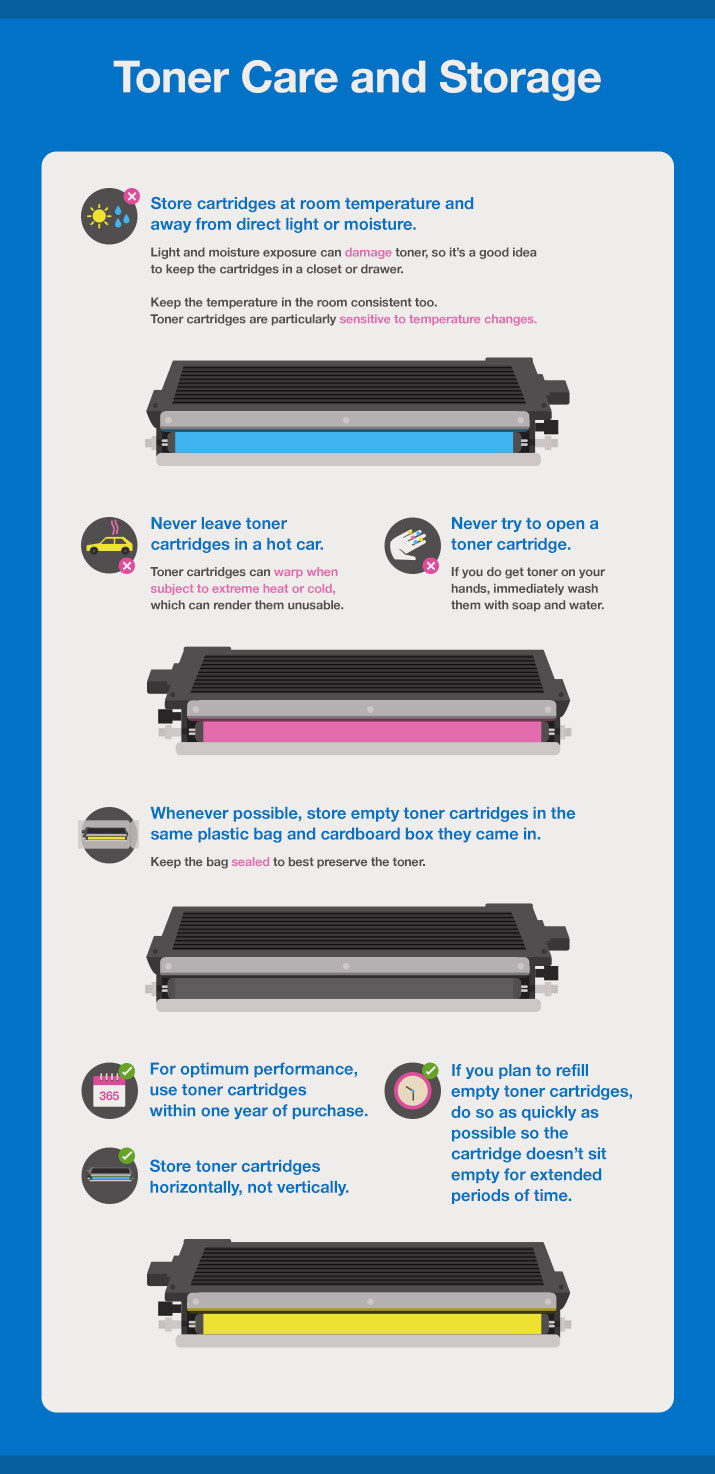 Differences Between OEM, Remanufactured,
and Compatible Cartridges
Once you've determined whether you will use ink or toner, it's time to decide between original, remanufactured, or compatible cartridges. Here's what you need to know.
Original Equipment Manufacturer (OEM) Cartridges
These are brand-new cartridges. They're designed and distributed by specific printer manufacturers for use in the same manufacturer's printers (HP cartridges are designed for use in HP printers, for example). They're generally the most expensive type of cartridge, but they come with the benefit of a manufacturer's warranty and are guaranteed to work with your printer, providing you purchased cartridges by the same brand that made your printer.
Remanufactured Cartridges
These are used cartridges that have been cleaned and/or repaired before being refilled with ink or toner. Any printer that uses cartridges should be compatible with remanufactured cartridges.
Compatible cartridges
These can be either new or remanufactured. New compatible cartridges are made from new parts that are meant to copy the OEM cartridge design. Remanufactured compatible cartridges are made up of a combination of new and recycled parts. Like remanufactured cartridges, compatible cartridges tend to be cheaper than their OEM counterparts and should be compatible with any printer that uses cartridges.
Benefits of Remanufactured Cartridges
There are several benefits to purchasing remanufactured cartridges:
They tend to be cheaper than OEM cartridges. Per copy, remanufactured cartridges can cost anywhere from 15 to 30 percent less than new cartridges. And the benefits don't stop there–you may be able to recycle used remanufactured cartridges back to Quill.

They're an environmentally friendlier option because they keep used cartridges from being tossed into landfills. Up to 97 percent of a cartridge's components can be recycled, so there's no reason to contribute to landfill waste by purchasing new cartridges every time you run out of ink or toner.

They're safe to use. Remanufactured cartridges are thoroughly inspected prior to sale. In the process, any worn or damaged parts are replaced, and the whole cartridge is cleaned before being reassembled. Additionally, it is illegal for a printer's warranty to be voided by the use of remanufactured cartridges, so there's no need to worry about missing out on a warranty.
Quill Brand® Ink & Toner Cartridges
Quill Brand® Ink & Toner cartridges come in both Remanufactured and Compatible versions depending on the specific cartridge. Some benefits to purchasing Quill Brand products are:
Performance
Rigorous testing ensures that Quill Brand® delivers optimal performance and results.
Satisfaction & Quality
Each and every Quill Brand® cartridge is guaranteed for life. If you're not 100% satisfied with your Quill Brand® product, we'll replace the item with a national brand or refund your money.
Value
Quill Brand® cartridges are always priced at least 10% below national brands.
Assortment
With more than 900 Quill Brand® Ink & Toner products available, we're sure to have a smart solution for every area of your office. Search your cartridge number to see if it has a low-cost Quill Brand® alternative. Search now
The Quill Brand® Toner & Ink Guarantee
Quill Brand® Toner and Ink cartridges are guaranteed to meet the O.E.M. (Original Equipment Manufacturer) yield and performance standards. Quill imaging products are manufactured to the highest standards in materials and workmanship. If you are not completely satisfied, Quill will replace the product, refund your money or credit your account. Should a defect in our product necessitate a repair to your machine, Quill will reimburse you for the cost of repair (with proper documentation).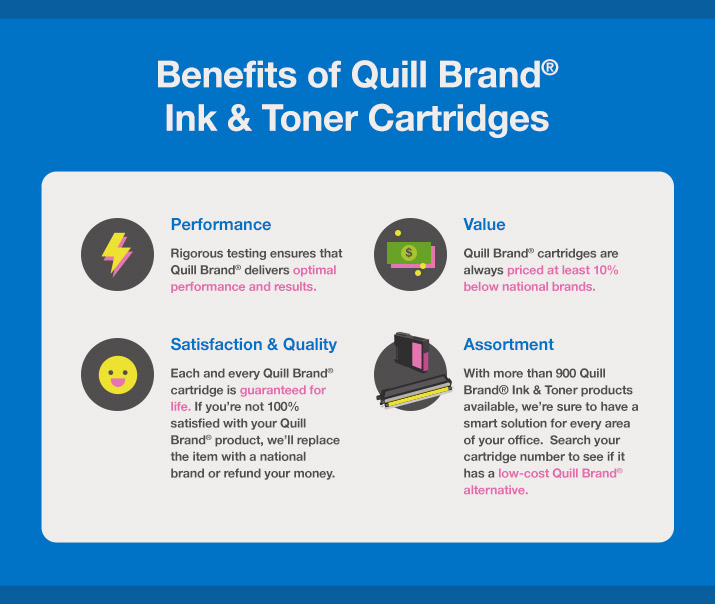 What About MICR Toner?
If you've searched for information on toner, you may have come across the term "MICR." The acronym stands for Magnetic Ink Character Recognition, a toner that can be magnetized and then translated into characters by a specialized machine. You might have observed banks using MICR toner to print the routing numbers on checks. MICR toner is used exclusively for these types of specialized printing applications.
What You Need to Know About Cartridge Yield and Warranties
If you're spending money on toner or ink cartridges, you'll probably want to know how long they'll last. That's where cartridge yield and warranties come into play.
Cartridge Yield
The printing industry determines a cartridge's longevity by measuring its page yield, or the estimated number of pages you can print with one cartridge. This factor has a big impact on printer operating costs.
Cartridges come in varying yields–namely standard, high, and super high–and most printers are equipped to use cartridges with different yields. Here's a sense of what this looks like in practical terms:
A standard toner cartridge prints approximately 2,000 to 3,000 pages

A standard ink cartridge prints approximately 200 to 300 pages

A high yield toner cartridge prints approximately 8,000 to 10,000 pages

A high yield ink cartridge prints approximately 600 to 1,000 pages
The higher the cartridge yield, the more expensive the cartridge, but you're also likely to save on the cost per page.
Printer cartridge manufacturers tend to assume approximately five percent page coverage when determining cartridge yield. So if you regularly print jobs that cover more than five percent of the page, you may experience less than the projected page yield.
Cartridge Warranties
In general, warranties vary depending on whether you've purchased an ink cartridge or a toner cartridge.
Ink cartridges are typically sold with a "best before," "use by," or "warranty ends" date on the packaging. This date communicates the date after which best performance is no longer guaranteed.

Toner cartridges are generally not sold with "best before" or "use by" dates, probably because their shelf life is often longer than that of ink cartridges (although we still recommend using toner cartridges within one year of purchase, if possible).
When to Replace Ink or Toner
When it comes to replacing ink or toner, every printer is different. Some printers warn users when a cartridge is getting low. Even if your printer doesn't notify you when a cartridge is almost empty, you'll start to notice a decrease in the quality of printing. When a cartridge is about ready to be replaced, the print may start to look uneven or faded. (If the print is streaky but not faded, this may be the result of a cartridge clog or a dirty printhead.)
It's a good idea to keep a replacement cartridge on hand so your work is never delayed due to an unexpected ink or toner shortage. When you're ready to install a new cartridge, refer to your printer's user manual; every machine works a little bit differently. Then check out our guide to learn how to recycle used ink and toner cartridges.
A Quick Overview of Relevant Printer Components
If you want to be an informed ink or toner buyer, it's helpful to know a little bit about the parts of your printer that are most relevant to the printing process. Here's a quick breakdown.
For Inkjet Printers
Printhead

This is arguably the most critical component of an inkjet printer. It's the piece that contains the nozzles that are responsible for spraying droplets of ink onto the paper.
For Laser Printers
Drum

This is a critical element of laser printers and photocopiers, and as such it experiences a lot of wear and tear. It works by helping transfer the image from the laser onto the paper. The drum has a big impact on print quality, so it's important to repair it right away if it becomes scratched or dented. Even if a drum doesn't get damaged, it still has a limited life span, which is generally dictated by page yield. Some smaller laser printers combine the drum and toner into one product, while larger printers generally require separate drums and toner cartridges.

Printer Transfer Roll

Like the drum, printer transfer rolls (aka "transfer belts" or "transfer assemblies" in color laser printers) also help transfer images onto the paper. Additionally, they route excess toner to the proper place so it doesn't pool inside the printer. In the event that the transfer roll fails to work correctly, the printer will not print. The good news is that transfer rolls are cleanable and replaceable.

Fuser Unit

A printer's fuser unit (aka fuser assembly) is a pair of heated rollers that's responsible for making sure images and text fully adhere to the page. It's also the reason why paper is warm when it comes out of the printer. Because it experiences a lot of wear and tear, the fuser unit may need to be replaced every so often. If you see lines on the pages you print, this is a good indication that the fuser unit needs to be replaced.
Together, these components help ensure the printing process goes smoothly and that the printout is high quality. If you notice your printer's quality starts to decline, one or more of these components may be in need of a cleaning or replacement.
Conclusion
Ink and toner each come with their own set of challenges and benefits. Regardless of which option you choose, properly caring for the cartridges (and replacing them as soon as they start to run out) helps ensure the longevity of both the cartridges and your printer.