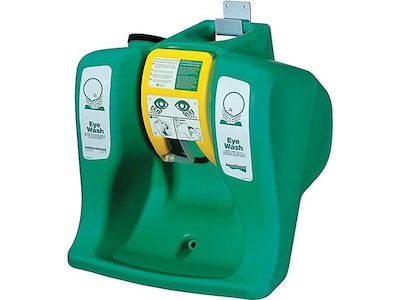 Guardian AquaGuard Gravity-Flow Portable Eyewash Single Station (G1540)
Guardian AquaGuard Gravity-Flow Portable Eyewash Single Station (G1540)
Item #: 901-698723ORS
Model #: 333-G1540
Brand: AquaGuard
Frequently bought together
Flush irritants from the eyes quickly with this 16-gallon Guardian AquaGuard gravity-flow eye wash.
Provide a gentle yet effective flow of water to injured eyes with this eye flushing station. This gravity-fed eye wash mounts to a wall or countertop for easy access in an emergency and requires no additional plumbing. The highly visible yellow tray folds down easily from this eye wash to immediately begin the flow of water. This Guardian AquaGuard comes with a bacteriostatic additive to help prevent further eye injury.
Portable gravity-flow eyewash station is ideal for use in low-traffic areas, and where a continuous supply of potable water is unavailable for plumbed units
Dimensions: 20.5"H x 22"W x 20"D; capacity: 16 gal.
Green polyethylene tank features built-in carrying handle, heavy wall construction, and reinforced ribs to support weight of unit
Water flow is activated by pulling down on bright yellow eye wash tray, integral full-flow nozzles deliver a soft spray of water, swing tray up to storage position to stop water flow
Waste water is directed into drain opening in tank basin, furnished with 3' long drain hose in basin to direct discharge into floor drain, storage tank, or other receptor
Furnished with zinc plated steel bracket for mounting unit on wall; unit can also be placed on countertop or other flat surface
To operate unit, fill with clean potable water and add bacteriostatic additive (supplied with unit), additive protects against growth of bacteria, fungus, algae, and acanthamoeba
Unit should be inspected regularly and water should be changed at least once every six months
Eyewash delivers over 0.5 gal. per minute for 15 minutes
Unit is completely assembled and water-tested prior to shipment

Portable Design
The AquaGuard heavy-duty portable eye wash station uses gravity to start the flow of water, so you don't need to worry about installing electric pumps or working near a power outlet. The unit features a heavy-wall polyethylene tank and reinforced ribs for maximum support, so it lasts for years in the toughest environments. High Capacity
The AquaGuard heavy-duty portable eye wash station holds up to 16 gallons of eye wash fluid, which reduces the risk that it will run dry during an emergency situation. It disperses water through dual spray heads, so you can wash both eyes in a short period of time. Easy Operation
In an emergency, simply pull down the high-visibility yellow tray—doing so automatically starts the flow of water. The unit has a 3-foot drain opening that connects to a storage tank or existing drain for convenient waste water removal.
AquaGuard
20
Single Station
20.5
AquaGuard
22