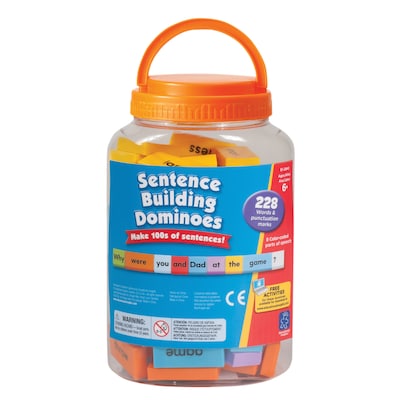 Educational Insights® Sentence-Building Dominoes, 228 Pieces (EI-2943)
Educational Insights® Sentence-Building Dominoes, 228 Pieces (EI-2943)
Item #: 901-JV42627
Model #: EI-2943
Brand: Educational Insights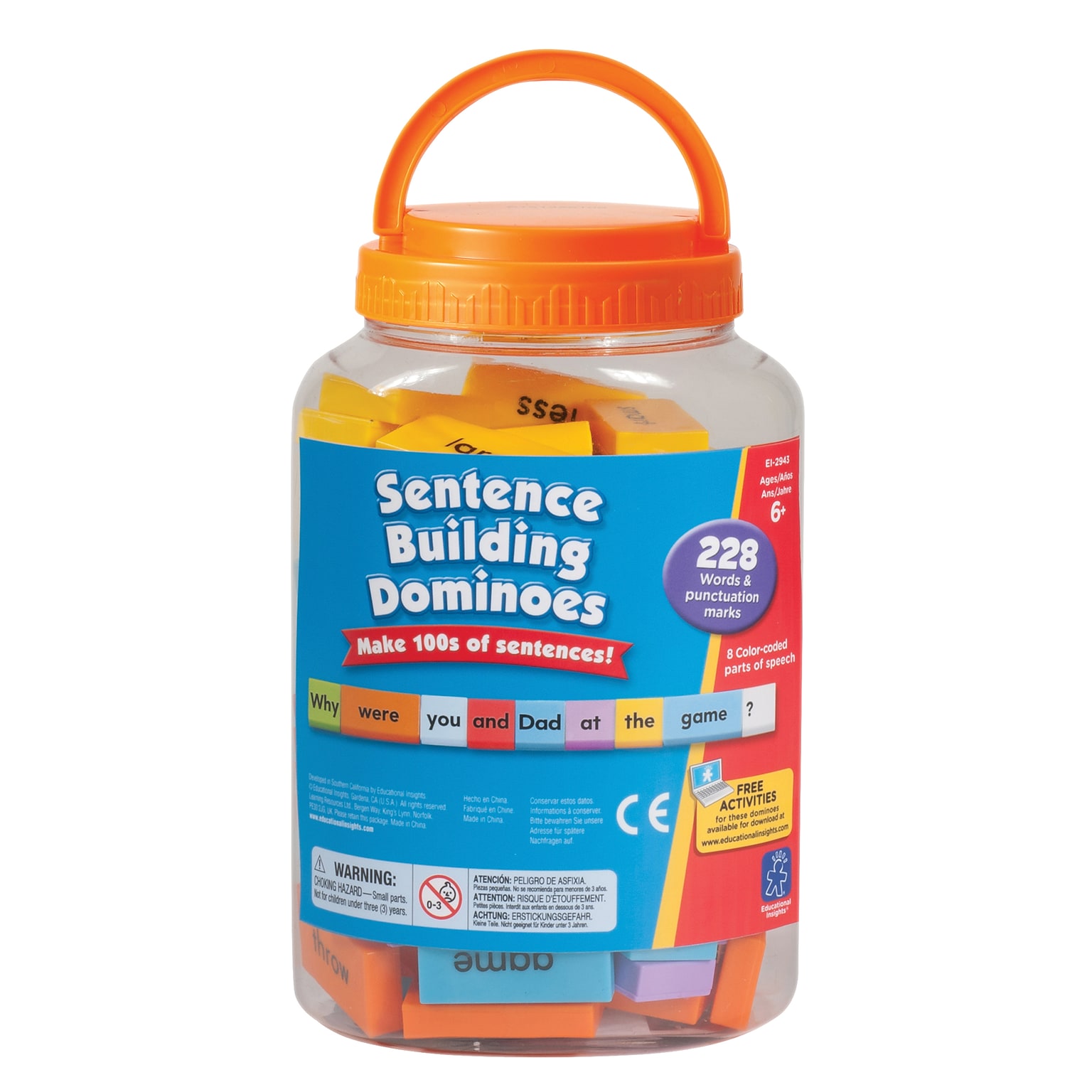 Frequently bought together
Sentence-building dominoes includes 114 double-sided, color-coded dominoes featuring nouns, pronouns, verbs, adjectives, adverbs, conjunctions and prepositions, plus punctuation marks.
Spark more engaged learning! This colorful, playful, hands-on learning set includes 114 double-sided, colored-coded dominoes (228 words) featuring nouns, pronouns, verbs, adjectives, adverbs, conjunctions, and prepositions. Plus, it includes common punctuation marks: period, question mark, and exclamation point. Perfect for practicing vocabulary, spelling, parts of speech, punctuation, sentence building, and reading at home or in classroom small groups, guided reading exercises, literacy centers, reading intervention activities, and more. Comes packaged in a handy storage bucket. Classroom must have for elementary school, 2nd grade classroom must have, 3rd grade classroom must have to work on classroom alphabet.

At Educational Insights we've been helping kids learn through play for the last 60 years. We take great pride in working with experts in many distinct fields—from scientists to teachers to artists—to ensure that our products are always the very best they can be. We see the limitless possibilities that you see in your child. Our award-winning toys and games help moms, and all those who mom, ignite the spark within and build their confidence so they can build their world. Our award-winning, best-selling toys and games introduce new interests, unleashing limitless possibilities and passions including Hot Dots, Design & Drill, Playfoam, GeoSafari, Kanoodle, and BrainBolt.
Engage visual and tactile learners with this set of colorful, playful, hands-on dominoes!
A fun way to practice vocabulary, spelling, parts of speech, punctuation, sentence building, and reading
Set features 114 double-sided, color-coded dominoes including nouns, pronouns, verbs, adjectives, adverbs, prepositions, conjunctions, and punctuation marks, packed in a sturdy, clear storage container. Dominoes are double-sided for extra words and punctuation marks and color-coded by part of speech
Use for at-home practice or small groups practice, guided reading exercises, literacy centers, reading intervention, and other classroom activities

Ages 7 - 10 years
Educational Insights
Grammar
Elementary
1
Each