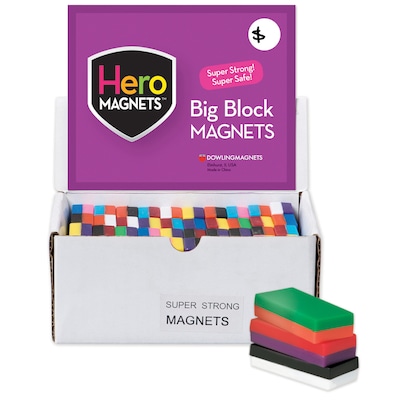 Dowling Magnets 2"(H) x 1"(W) x 1/2"(D) Big Block Magnets, Assorted Colors, 40/Pack (DO-710D)
Dowling Magnets 2"(H) x 1"(W) x 1/2"(D) Big Block Magnets, Assorted Colors, 40/Pack (DO-710D)
Item #: 901-JV42477
Model #: DO710D
Brand: Dowling Magnets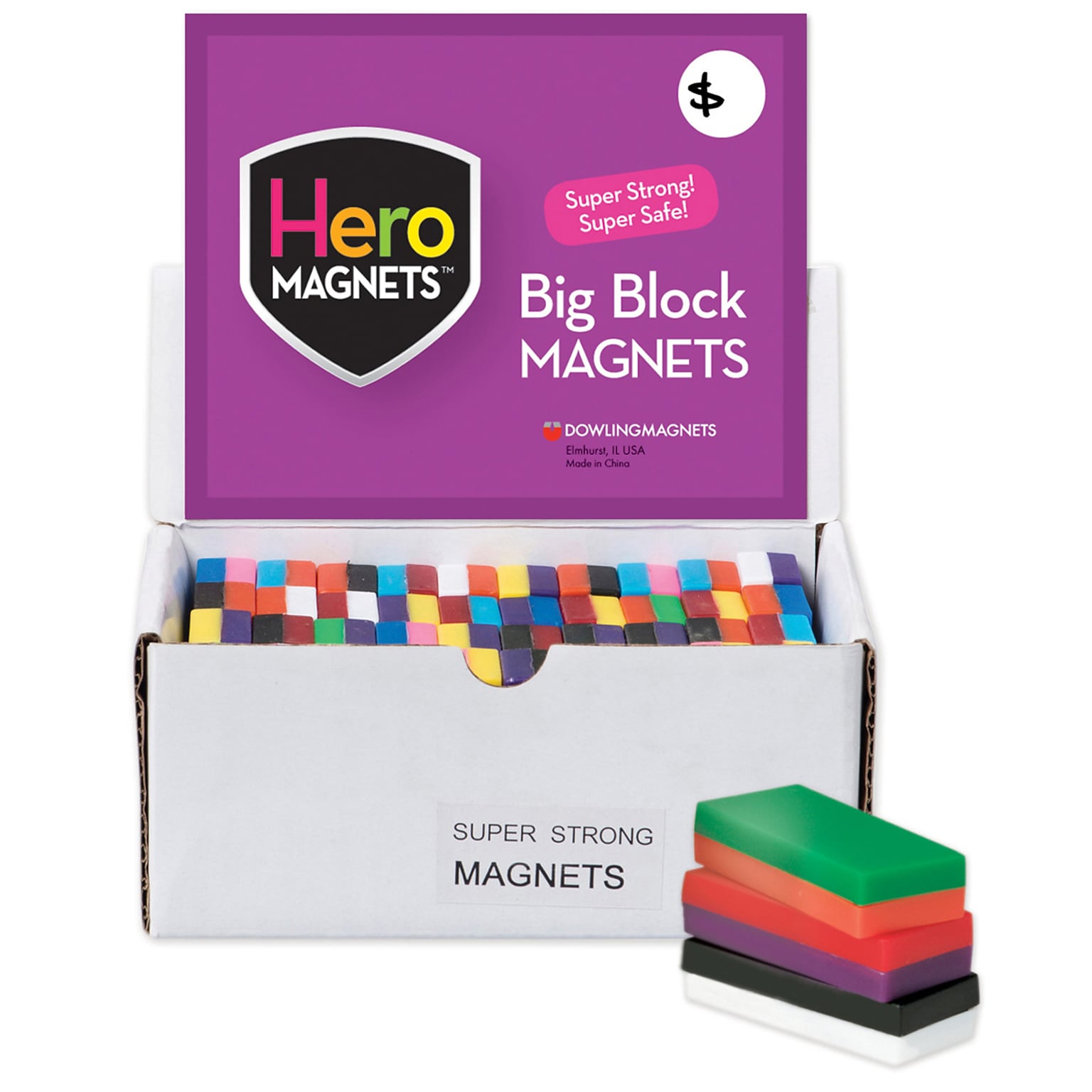 Frequently bought together
Block magnet displays make perfect testing, experimenting and holding magnets.
In search of safe magnets to use in the classroom or in a children's environment" Hero Magnets to the rescue! Chunky size with magnets completely encased in plastic. Strong display magnets help you get, and stay, organized. Great for whiteboards, filing cabinets, fridges, and more. Big Blocks measure 2"L x 1"W x 0.50"T and hold 20 pieces of paper. Flip them over to see a different bright color! Each set includes 40 magnets in a display box.
Display box containing 40 block magnets
Assorted Colors
2"(H) x 1"(W) x 1/2"(D)
Magnet
Box of 40

Sturdy Box
The sturdy cardboard container of this Dowling Magnets block magnet display withstands the inevitable swarm of young hands reaching in and out as your customers try out the goods, so your display stays intact longer. The white display box contrasts with the colors of the magnets to make your merchandise stand out to your customers. Eye-Catching Label
A colorfully designed label attracts customers to this display. Clear notices of statutory warnings, safety conformity markings, and age restrictions on the display mean your customers can make an informed choice about the product before they buy. Convenient Open Display
The open-style of this Dowling Magnets block magnet display conveniently allows your customers to handle and try out the merchandise before they make a decision to buy and lets those shoppers in a rush have quick access to your goods, making you more likely to make that sale.
Magnets/Clips
Dowling Magnets
0.5
2
Plastic
40
Assorted
1