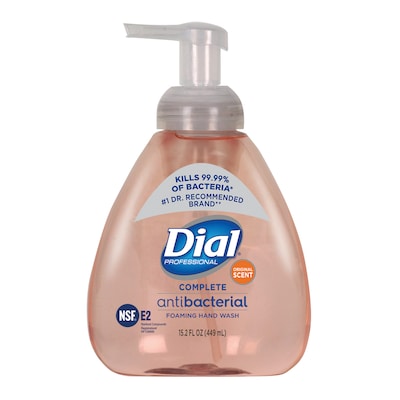 Dial Complete Antibacterial Foaming Soap, 15.2 Oz. (DIA98606)
Dial Complete Antibacterial Foaming Soap, 15.2 Oz. (DIA98606)
Item #: 901-98606
Model #: DIA 98606
Brand: Dial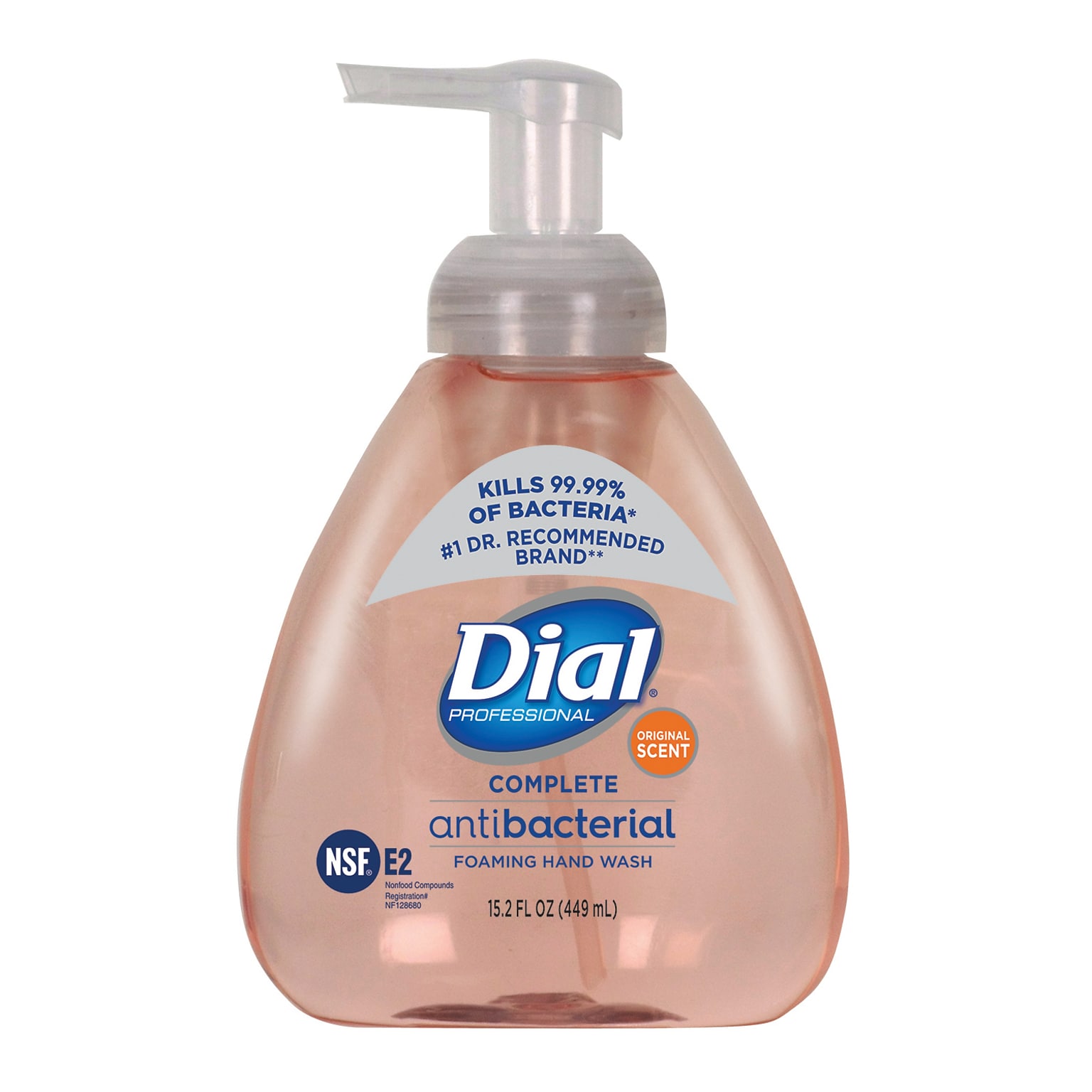 Frequently bought together
Kill harmful bacteria by using this Dial Complete antibacterial foaming hand wash.
Fight the spread of germs by placing this foaming hand wash on bathroom and kitchen sinks. Antibacterial agents destroy 99.9 percent of the germs that cause colds and flu, as well as strains that may cause outbreaks like E. coli and salmonella. Moisturizing agents help keep skin soft to keep them from drying out from frequent washings. Dial Complete comes in a convenient pump bottle for easy dispensing.
Soap provides an efficient way to maintain hygiene levels
Original Scent
15.2 oz. pump bottle
Provides a high level of germ-killing action to stop spread of infection
Hypoallergenic, so it has less of a chance of causing flare-ups of skin allergies
Germ Killing Power
Dial antibacterial foaming hand wash has 10 times the germ-killing power of soap alone. It destroys E. coli, staph, strep, and salmonella, all of which can cause food poisoning. This antibacterial hand soap also destroys the germs that cause common illnesses, such as colds and the flu.
Convenient Dispenser
This Dial antibacterial foaming hand wash comes in a handy 15.2 ounce container with a pump dispenser, so you don't have to pour it into a separate dispenser for use. Simply leave it out on the counter in your break room, kitchen or restroom and let employees and visitors use the soap whenever they need it.
Fun Foaming Action
This hand wash foams up to give you a thick lather that reaches deep to get all the germs and dirt on your hands. The foam is also gentle on your skin.
Safety Data Sheet

Yes
Antimicrobial
Dial
450
15.2
0.12
Foaming Soap
Pump Bottle
Dispenser Not Required
Non FDA Compliant
99
1
Original
Yes
No
No Scent
Pink