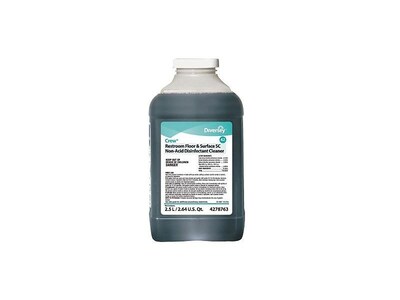 Crew Disinfectant for Diversey J-Fill, Fresh, 2.5 L / 2.64 U.S. Qt., 2/Carton
Crew Disinfectant for Diversey J-Fill, Fresh, 2.5 L / 2.64 U.S. Qt., 2/Carton
Item #: 901-910584DWC
Model #: 101102190
Brand: Crew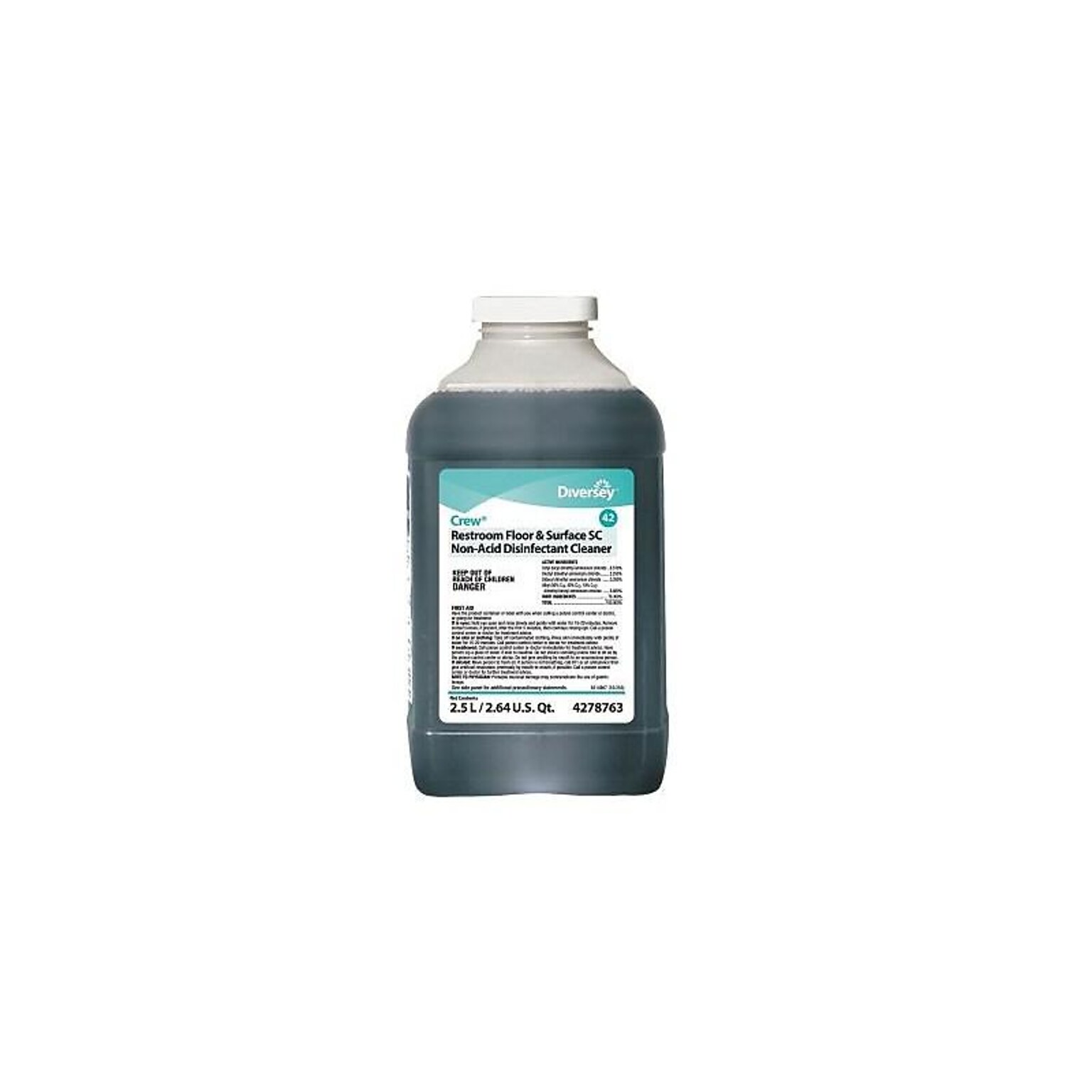 Shipping restrictions
We apologize. This item cannot be shipped to some destinations.
Please sign in to purchase by clicking the "My Account" link at the top of the page and choose your shipping destination to determine if you can purchase this item
Promote good hygiene and health with these two 84.5-ounce bottles of Crew restroom floor and surface cleaner.
Reduce the spread of germs and bacteria with this surface cleaner. This acid-free cleaner deodorizes as it disinfects hard, nonporous surfaces and kills HIV-1, staphylococcus, salmonella, E. coli and other microorganisms. Crew surface cleaner comes ready to use and doesn't require additional time for preparation.
Non-acid restroom disinfectant cleaner concentrate that cleans, disinfects, and deodorizes bathroom surfaces
Concentrate dilution ratio: 1:256
84.5 oz. J-Fill bottle; two bottles per carton
Contains active ingredients as alcohol ethoxylates, n-alkyl dimethyl benzyl ammonium chloride, and octyl decyl dimethyl ammonium chloride
Comes in dark green color and deodorizes as it cleans with pleasant fresh fragrance
Certifications and standards: Meets or exceeds EPA standards
pH level: 6.0-8.0
Disinfectant cleaner concentrate to be diluted and dispensed using the Diversey J-Fill system
Versatile cleaner designed to provide effective cleaning, deodorizing, disinfection in hospitals, nursing homes, hotels, schools, and restaurants
For use on hard, nonporous inanimate environmental surfaces such as floors, walls, porcelain, glazed ceramic tile, plastic surfaces, shower stalls, bathtubs and cabinets
Provides broad spectrum efficacy against common microorganisms, kills HIV-1, Staphylococcus aureus, Salmonella choleraesuis, E coli, Trichophyton mentagrophytes and other microorganisms
Mildewstatic controls the growth of mold and mildew
Effective in hard water; disinfects in up to 400 ppm hard water
To order secondary labels, contact Diversey Customer Service at 1-800-558-2332 option 3.
⚠ WARNING: This product exceeds the limits specified in the California Consumer Products Regulation for CARB. For more information visit
Safety Data Sheet
Complete Manufacturer Specifications

alcohol ethoxylates, n-alkyl dimethyl benzyl ammonium chloride, octyl decyl dimethyl ammonium
Restrooms
Crew
84.5
Chemicals - Size (Ounces)
84.5
Dilution Control Chemical Type
Disinfectant
Diversey J-Fill
1:256
Yes
Refill
Kill List of Bacteria, Viruses
HIV-1, Staphylococcus aureus, Salmonella choleraesuis, E coli, Trichophyton mentagrophytes
2
Fresh
Yes
Clean
Crew Disinfectant
Refill
2