Bullying isn't just for kids. Far from being confined to the playgrounds of our youth, bullies roam the halls of our offices and other places of work as adults. In fact, workplace bullying is so common that up to 35 percent of workers in the U.S.—or around 54 million people—report being bullied in the office, while 15 percent report witnessing workplace bullying.
Whether you're a target, a witness, or a supervisor of a bully, here's what you need to know to cope with bullying in the workplace successfully (and professionally).
What Is Workplace Bullying?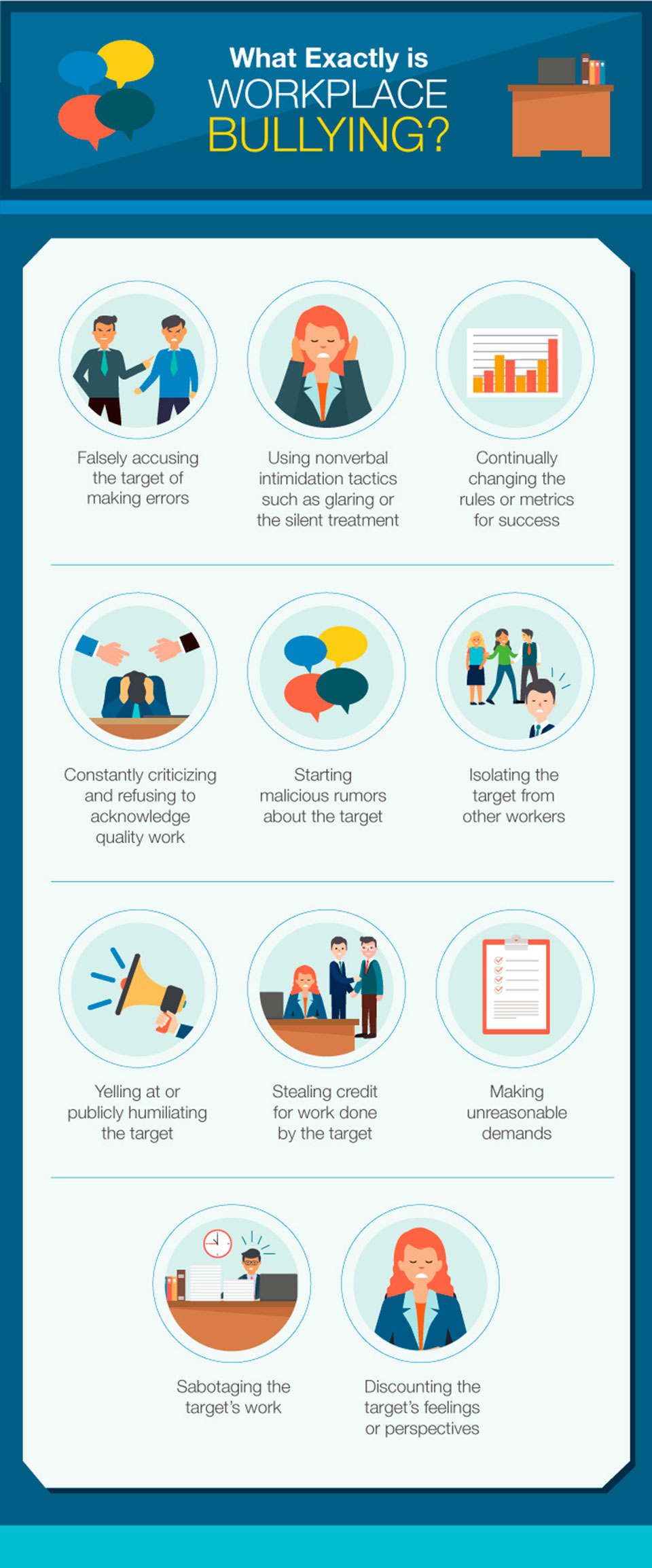 According to the Workplace Bullying Institute, workplace bullying consists of repeated, harmful mistreatment by one or more perpetrators who target their victims with conduct that is threatening, humiliating, abusive, isolating, and/or sabotaging. More than 50 percent of bullying is committed by perpetrators who outrank their targets; around one third is conducted by the target's peer(s).
Common bullying behaviors may include:

While anyone can be a target of bullying, typically targets possess positive traits such as being kind, cooperative, well educated, well liked by upper management, or skilled at their jobs. Perhaps partly as a result of their amicable demeanors, targets suffer greatly at the hands of bullying coworkers. Symptoms of workplace bullying include:
The important thing to remember is that no matter how miserable a target may feel, they still have worth and agency. Read on to learn how to cope.
How to Cope with a Workplace Bully if You're in Charge
As a supervisor, you may be responsible for regulating workplace bullying even if you aren't directly involved in it. If you notice an employee is either the target or the perpetrator, it's your responsibility to step in and create a healthier work culture for the whole team. Here are some tips to initiate that process:
How to Cope with a Workplace Bully if You're the Target
When you're the victim of a workplace bully, it's easy to feel helpless—in fact, bullying is designed to conjure feelings of vulnerability. But there are ways to address bullying and create a better work environment. Start with the actions below.

Workplace bullying is serious business, especially for the targets of abuse. Whether you're the supervisor of a bully or you've been singled out by one, it's important to prioritize the wellbeing of the victim and the office as a whole. Make it a policy that bullying won't be tolerated at work, life, or anywhere in between—whether that means advocating for yourself or your employee or walking away.
Share this infographic on your site
Laura Newcomer
Laura Newcomer is a writer, editor, and educator with multiple years of experience working in the environmental and personal wellness space. Formerly Senior Editor at the health site Greatist, Laura now lives and works in Pennsylvania. Her writing has been published on Washington Post, TIME Healthland, Greatist, DailyBurn, Lifehacker, and Business Insider, among others. She has taught environmental education to students of all ages in both Pennsylvania and Maine, and prioritizes living an environmentally sustainable lifestyle. She's a big proponent of creating self-sustaining communities and accessible healthy food systems that care for both people and the earth. An avid outdoorswoman, she can often be found hiking, kayaking, backpacking, and tending to her garden.