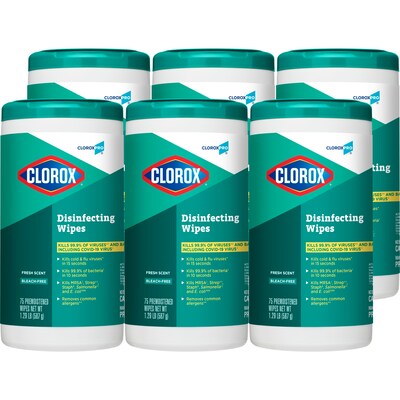 CloroxPro Disinfecting Wipes, Fresh Scent Scent, 75 Wipes/Container, 6/Carton (CLO15949CT)
CloroxPro Disinfecting Wipes, Fresh Scent Scent, 75 Wipes/Container, 6/Carton (CLO15949CT)
Item #: 901-15949QCT
Model #: CLO15949CT
Brand: CloroxPro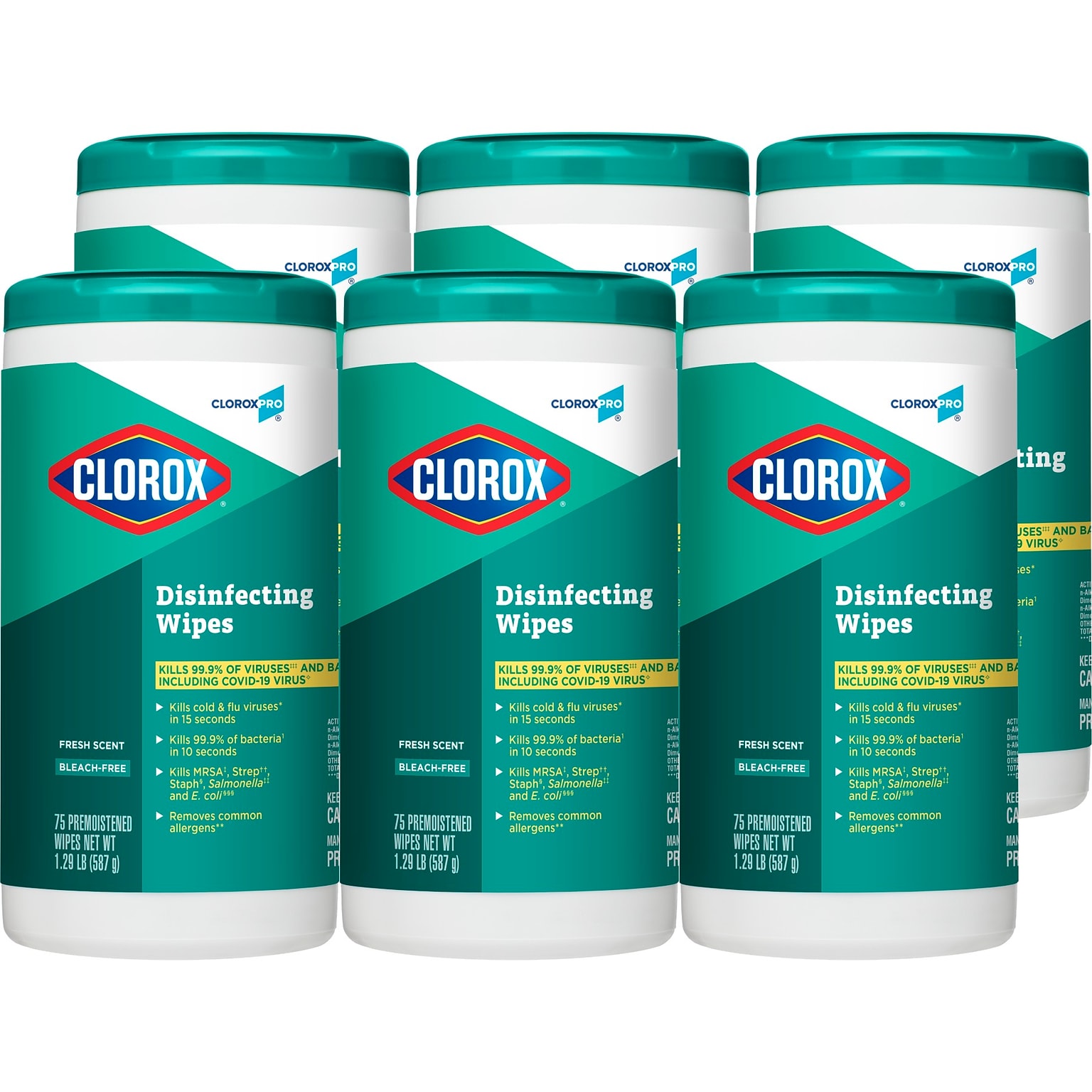 Frequently bought together
Clean and disinfect all in one swipe with Clorox Disinfecting Wipes from Clorox Commercial Solutions.
Clorox® Disinfecting Wipes clean and disinfect in one easy step. These sanitizing wipes are EPA-registered to kill 99.9% of germs including cold and flu viruses, E. coli, Salmonella, Staph, Strep, MRSA and the organism that can cause whooping cough. They also remove common allergens like pet dander, pollen particles and grass. One antibacterial wipe can kill bacteria in just 10 seconds, which is three times faster than before. In addition, these wipes meet EPA criteria for use against SARS-CoV-2, the virus that causes COVID-19, on non-porous surfaces The premoistened, thick, texture wipes are perfect for spills and dirt on a variety of hard, nonporous surfaces including acrylic, glass and vinyl. They quickly clean and disinfect high-touch germ hot spots such as doorknobs, handrails and faucets and are suitable for use on phones, keyboards and mouse. Ideal for offices, day care centers, schools, hotels, restaurants and other commercial facilities. Packaging may vary.
DISINFECTING WIPES: EPA registered to kill 99.9% of viruses and bacteria; Meets EPA criteria for use against SARS-CoV-2, the virus that causes COVID-19, on non-porous surfaces
VERSITILE CLEANING WIPE: Create clean public spaces with these wet wipes that breakdown grease, soap scum and grime so you can tackle messes on a variety of surfaces, bleach-free.
ALL PURPOSE WIPE: Quickly sanitizes bacteria and kills most viruses in as little as 15 seconds; removes common allergens and deodorizes, preventing the odor causing bacteria for up to 24 hours
MULTI-SURFACE DISINFECTANT AND SANITIZER: Germs occur on more than breakroom and restroom surfaces; safely wipe down desks, remotes, doorknobs or clean up spills.
Usage Directions:Open lid and pull out wipe from center of roll. The next sheet pops up automatically. When finished, close lid to retain moisture. Directions for Use: It is a violation of Federal law to use this product in a manner inconsistent with its labeling. Not for cleaning or sanitizing skin. Do not use as a diaper wipe or for personal cleansing. For surfaces that may come in contact with food, a potable water rinse is required. Do not use on glasses, dishes or utensils. These wipes will not harm most surfaces, including acrylic, fiberglass and vinyl. Not recommended for use on unpainted wood. TO CLEAN AND REMOVE ALLERGENS: Wipe surface with a wipe. Let air-dry. Allergens: Cat dander, cockroach debris, cockroach matter, cockroach particles, dog dander, dust mite debris, dust mite matter, dust mite particles, pet dander, timothy grass, pollen particles, grass. TO SANITIZE AND DEODORIZE: Use to sanitize/deodorize hard, nonporous non-food contact surfaces. Wipe surface. Use enough wipes for treated surfaces to remain visibly wet for 10 seconds. Let surface dry. For highly soiled surfaces, clean excess dirt first. Sanitizing organisms: Klebsiella pneumoniae, Staphylococcus aureus. TO DISINFECT: Use to disinfect hard, nonporous surfaces. Wipe surface to be disinfected. Use enough wipes for treated surface to remain visibly wet for 4 minutes. Let surface dry. For highly soiled surfaces, clean excess dirt first.

Ingredients:Active ingredients: n-Alkyl (C14 60%,C16 30%, C12 5%, C18 5%) dimethyl benzyl ammonium chloride 0.145%, n-Alkyl (C12 68%, C14 32%) dimethyl ethylbenzyl ammonium chloride 0.14 5%, other ingredients 99.710%. CONTAINS NO PHOSPHORUS.

Warnings:KEEP OUT OF REACH OF CHILDREN.CAUTION: Causes moderate eye irritation. Avoid contact with eyes or clothing. Wash thoroughly with soap and water after handling and before eating, drinking, chewing gum, using tobacco or using the toilet. Wear gloves for prolonged or frequent use.
CloroxPro
Yes
Antibacterial
Wipes
Concentrated or Ready To Use
Ready to Use
Canister
Yes
Non FDA Compliant
99.9
Kill List of Bacteria, Viruses
Cold and flu viruses, E. coli, Salmonella, Staph, Strep, MRSA, SARS-CoV-2, and the organism that can cause whooping cough
240
No
Number of Wipes per Container
75
6
Primary Active Ingredient
Other
Fresh Scent
Yes
Clean
CloroxPro
8
7
450
Non Refillable
51-100