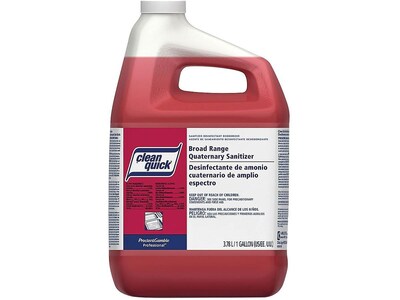 Clean Quick Broad Range Quaternary Sanitizer for P&G Professional & Pro Line, Sweet Scent, 128 Fl.Oz., 3/Carton
Clean Quick Broad Range Quaternary Sanitizer for P&G Professional & Pro Line, Sweet Scent, 128 Fl.Oz., 3/Carton
Item #: 901-2070541
Model #: 07534
Brand: Clean Quick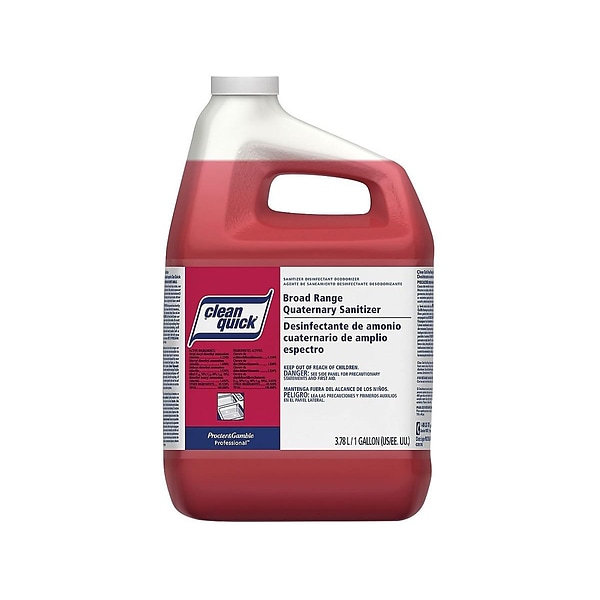 Fill up select dispensers with this carton of three Clean Quick 1-gallon broad-range dilution control quaternary sanitizer.
Outfit kitchens and dining rooms with this 3-pack of broad-range quaternary sanitizer to keep sanitation easily accessible. Each gallon bottle can be diluted to create 704 gallons of ready-to-use solution, minimizing the amount of storage space required. This Clean Quick quaternary sanitizer is safe for use on countertops, porcelain and a host of other nonporous surfaces, providing high flexibility.
Quaternary, non-rinse, liquid sanitizer
Use 1 oz. per 5.5 gal. of water to obtain 200 ppm sanitizer concentration
128 fl. oz. per container, three containers per carton
Features sweet scent and doesn't leave chlorine bleach odors
Meets or exceeds EPA standard
For third-sink sanitizing of dishes, glasses, silverware, and cooking utensils, and sanitizing hard (non-porous) surfaces, such as chopping blocks and countertops
Effective against avian influenza A when used as a disinfectant
This product is intended for professional use. It is not intended for use in residential environments such as households, preschools, or daycare facilities.

Clean Quick
128
Dilution Control Chemical Type
Multipurpose Cleaner
P&G Professional & Pro Line
3
Sweet
Bakery
Broad Range Quaternary Sanitizer