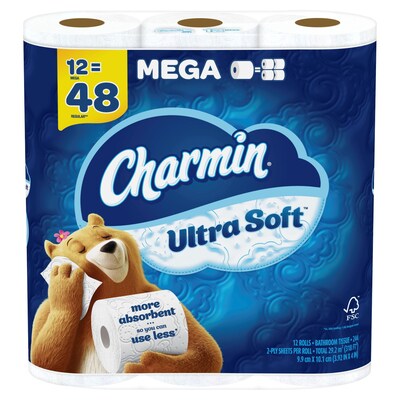 Charmin Ultra Soft Toilet Paper, 2-Ply, White, 244 Sheets/Roll, 12 Mega Rolls/Pack (61789)
Charmin Ultra Soft Toilet Paper, 2-Ply, White, 244 Sheets/Roll, 12 Mega Rolls/Pack (61789)
Item #: 901-1680378
Model #: 61789/79546
Brand: Charmin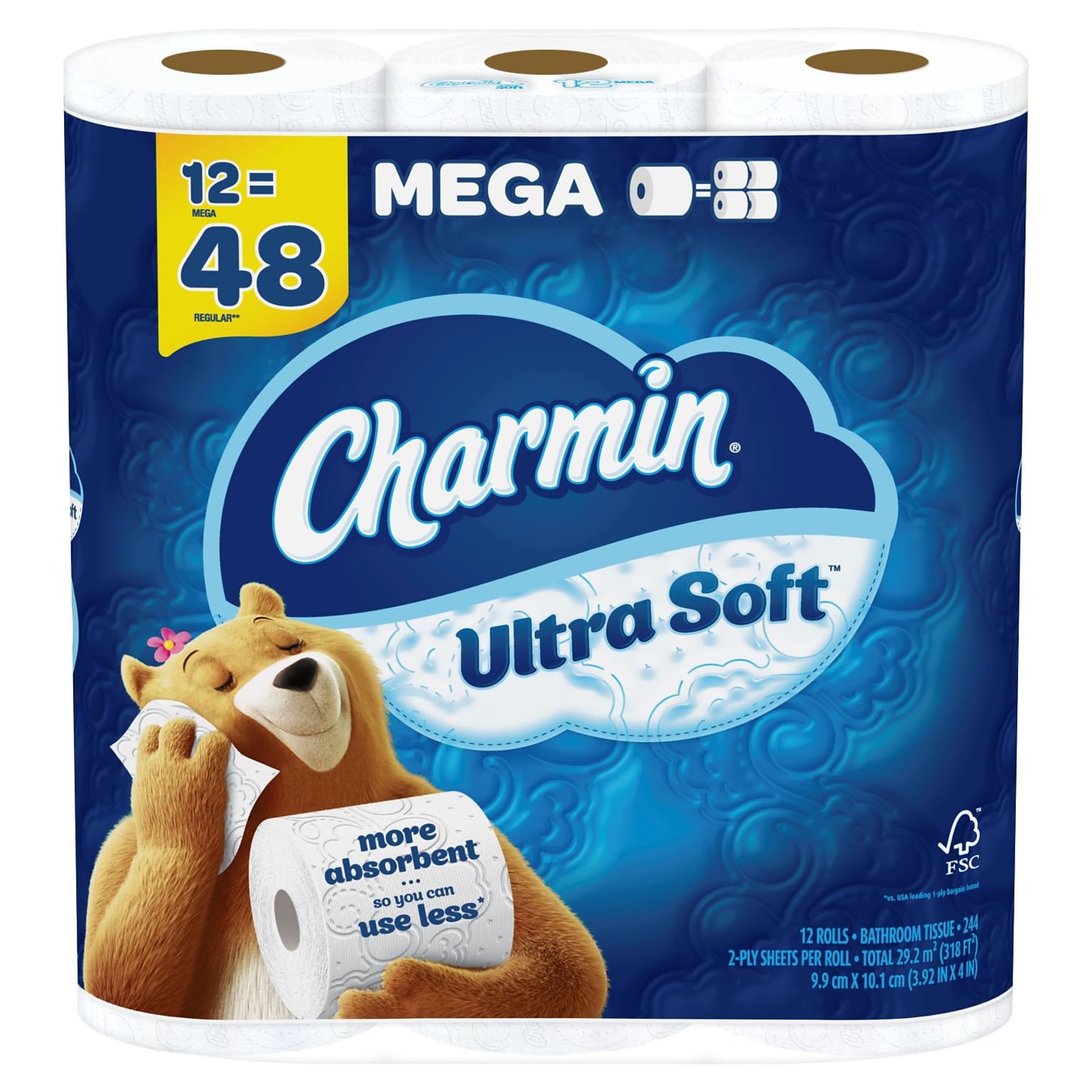 Frequently bought together
Stock your restroom with this cost-effective, super-absorbent 12-pack of white Charmin ultra soft toilet paper mega rolls.
Replace toilet paper rolls less often when you stock the office with this cost-saving 12-pack of Charmin ultra soft toilet paper. Each mega roll contains 308 two-ply sheets for superior strength and durability that lasts four times longer than the leading bargain brand. Charmin's innovative comfort cushion design provides plush softness against your skin, and the super absorbent toilet paper is clog-free and safe for use with septic systems. This white, unscented toilet paper is gentle enough for people with chemical sensitivities and allergies. Charmin ultra soft mega roll is the same great softness you love, but just more of it. More convenient, more value and more 'gos' per roll than our double roll so you can change the roll even less often. Charmin ultra soft is our softest toilet paper ever so it is harder than ever to resist! It is 2X more absorbent.
Pack contains 12 Rolls (244 sheets per roll) of Charmin Ultra Soft Toilet Paper
Charmin's softest 2-ply toilet paper ever made
Clog-safe and septic-safe; Roto-Rooter approved
More absorbent so you can use less vs. the leading bargain brand
1 Charmin Mega Roll = 4 Regular Rolls based on number of sheets in Charmin Regular Roll bath tissue
We all go to the bathroom, those who go with Charmin Ultra Soft toilet paper really Enjoy the Go!
Soft and AbsorbentEnjoy the go with Charmin Ultra Soft toilet paper and its unique comfort cushioning pattern. This paper is 75 percent more absorbent than leading bargain brands. It's gentle enough for people with allergies, and it won't chafe or irritate your sensitive skin.Safe for All BathroomsNo one wants to deal with clogs and backups in the company restroom. They're time consuming, embarrassing and sometimes costly. This Charmin toilet paper is safe for use in septic systems, and it's clog-safe to keep your bathroom up and running.Streamline PurchasingSave money over time by buying 12 rolls of this cost-effective toilet paper at a time. It lasts longer than other leading brands, and you can use up to four times less.
284
Charmin
3.9
Yes
371
12
Ultra Soft Mega Roll
2-Ply
11-20
Standard
White
4