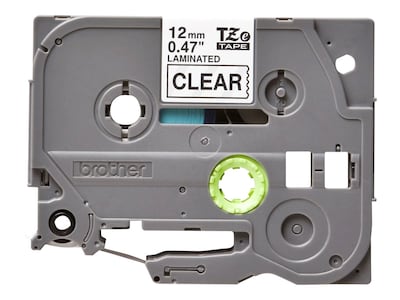 Brother TZ-ES131 Label Maker Tape, 1/2"W, Black On Clear
Brother TZ-ES131 Label Maker Tape, 1/2"W, Black On Clear
Item #: 901-TZES131
Model #: TZE-S131
Brand: Brother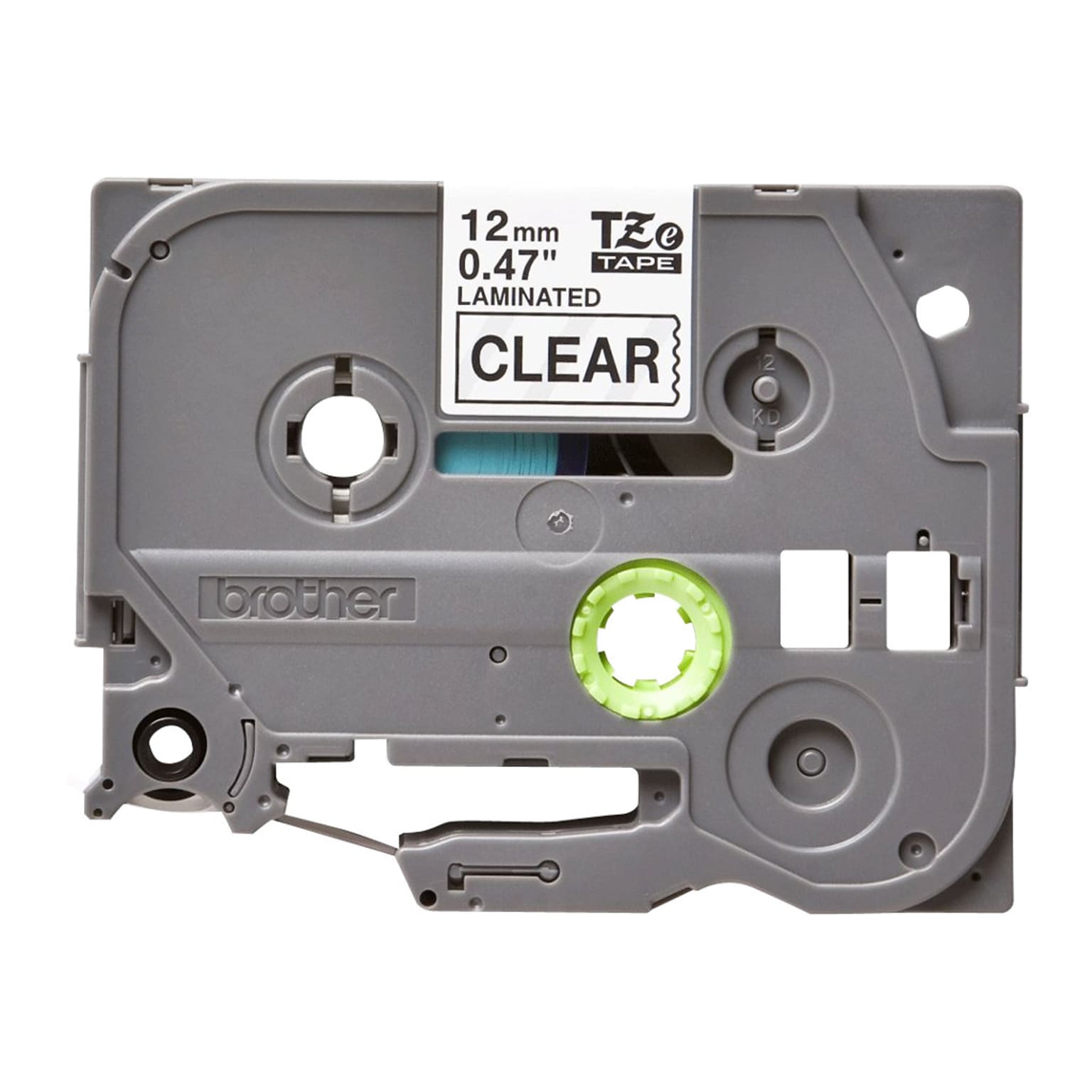 Frequently bought together
Mix & Match Total
(

0

item)
| | | | |
| --- | --- | --- | --- |
| Item | Unit price | Qty | Total price |
Get a fast, sturdy label with these Brother TZES extra-strength black-on-clear industrial tape cartridges.
Label file containers, office supply bins, and other materials with these tape cartridges. With a high-quality adhesive, these Brother TZES extra-strength black-on-clear industrial tape cartridges make it easy to secure labels to uneven and rough surfaces.
Create labels for home, work, or school with this 0.47" wide & 26.2' yield label tape
Black print on clear tape for legibility
Compatible with: p-Touch GL-H100, H105, pt-1005, PT-1010, 1080 (see expanded description for more)
Thermal print technology requires no ink or toner with extra strength adhesive backing for quick application
One tape in pack
For use with: Brother GL-100, PT-1000, PT-1000BM, PT-1010, PT-1010B, PT-1010NB, PT-1010R, PT-1010RDT, PT-1010S, PT-1090, PT-1090BK, PT-1100, PT-1100QL, PT1100SB, PT-1100SBVP, PT-1100ST, PT-1120, PT-1130, PT-1160, PT-1170, PT-1170S, PT-1180, PT-1180SC, PT-1180SP, PT-1190, PT-1200, PT-1230PC, PT-1280, PT-1280BT, PT-1280SP, PT-1280SR, PT-1280VP, PT-1290, PT-1290BT, PT-1290BT2, PT-1300, PT-1400, PT-1500, PT-1500PC, PT-1600, PT-1650, PT-1700, PT-1750, PT-1750SC, PT-1800, PT-1810, PT-1830, PT-1830C, PT-1830SC, PT-1830VP, PT-1880, PT-18R, PT-1900, PT-1900C, PT-1910, PT-1950, PT-1960, PT-200, PT-2030, PT-2030AD, PT-2030VP, PT-2100, PT-2110, PT-2200, PT-2210, PT-2300, PT-2310, PT-2400, PT-2410, PT-2430PC, PT-2500PC, PT-2600, PT-2610, PT-2700, PT-2710, PT-2730, PT-2730VP, PT-300, PT-300B, PT-310, PT-310B, PT-320, PT-330, PT-350, PT-3600, PT-520, PT-530, PT-540, PT-550, PT-580C, PT-9200DX, PT-9200PC, PT-9400, PT-9500PC, PT-9600, ST-1150, ST-1150DX, ST-5

Brother
Clear
P-Touch PT-1000, 1010, 1090, 11, 1100, 1170, 1190, 1230, 1280, 1290, 18, 1830, 1880, 2030, 2100, 2110, 2430, 2730, 3600, 7100, and other models
Permanent
Each
Label Maker Tape Width (inches)
1/2" to 1"
Label Maker Tapes Width (mm)
12+
Standard Laminated
Labeler Tape & Printer Label Type
Label Maker Tapes
Not Laminated
26.2
314.4
Maximum Tape Width (inches)
1/2"
1
Yes
Yes
1
TZE
For use on textured, rough or uneven surfaces
Black on Clear
0.47