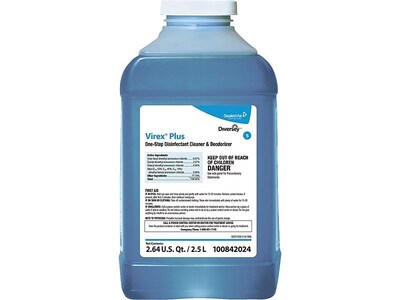 Virex Plus Disinfectant for Diversey J-Fill, Surfactant, 2.64 U.S. Qt. / 2.5 L, 2/Carton (101102926)
Virex Plus Disinfectant for Diversey J-Fill, Surfactant, 2.64 U.S. Qt. / 2.5 L, 2/Carton (101102926)
Item #: 901-1572000
Model #: 100842024
Brand: Virex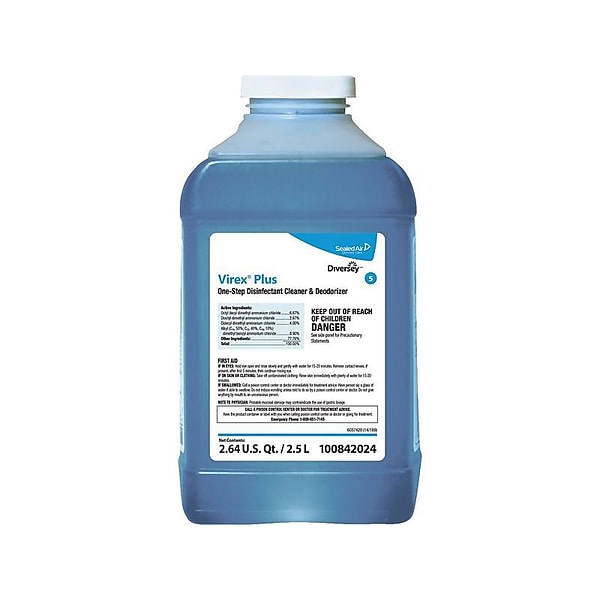 Disinfect and protect against harmful pathogens with this Diversey J-Fill 2-count 84.5-ounce Virex Plus solution.
Kill bacteria, viruses, and fungus while eliminating harmful pathogens with this powerful solution. This cleaning solution decontaminates surfaces that contain blood and other bodily fluids and targets bacteria such as MRSA and VRE. This Virex cleaning solution features a neutral formula with a low characteristic scent and is suitable for use in hospitals or other professional settings.
One-step, quaternary-based bactericidal and virucidal disinfectant cleaner concentrate for use on non-food contact surfaces
Multiple dilution rates (1:128 - kills norovirus in five minutes, 1:256 - bactericidal, virucidal, and fungicidal, kills HIV-1 in three minutes and influenza type A in one minute)
84.5 oz. J-Fill bottle; two bottles per carton
Contains active ingredients including n-alkyl dimethyl benzyl ammonium chloride, tetrasodium salt of EDTA, octyl decyl dimethyl ammonium chloride, alcohol ethoxylates
Hazy blue in color with a low characteristic surfactant scent
Certifications and standards: Meets or exceeds EPA standards
pH level: 12.75 (concentrate), 10.3 (use dilution 1:43)
For use on hard, nonporous surfaces such as floors, walls, porcelain, and plastic surfaces in hospitals, nursing homes, schools, colleges, hotels, and public areas
Effective against a broad spectrum of bacteria and viruses, including HIV-1, hepatitis B virus, hepatitis C virus, norovirus, rotavirus, Gram-positive and negative bacteria, enveloped and non-enveloped viruses
Heavy-duty disinfectant cleaner cleans, disinfects, and deodorizes in one labor-saving step, also delivers non-acid disinfectant and cleaning performance in an economical concentrate
Inhibits the growth of mold and mildew and their odors
To order secondary labels, contact Diversey Customer Service at 1-800-558-2332 option 3.

n-alkyl dimethyl benzyl ammonium chloride, tetrasodium salt of EDTA, octyl decyl dimethyl ammonium
Food
Virex
84.5
Dilution Control Chemical Type
Disinfectant
Diversey J-Fill
1:128, 1:256
Yes
Refill
No
Kill List of Bacteria, Viruses
HIV-1, Hepatitis B Virus, Hepatitis C Virus, Norovirus, Rotavirus, Gram-Positive and Negative Bacteria, Enveloped and Non-Enveloped Virus
2
Surfactant
Yes
Other
Virex Plus Disinfectant