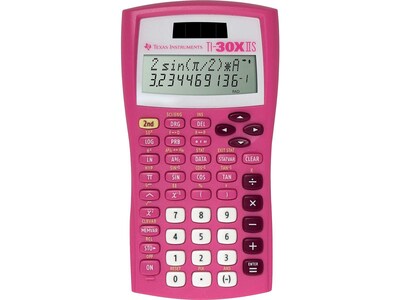 Texas Instruments TI-30XIIS 10-Digit Scientific Calculator, Pink
Texas Instruments TI-30XIIS 10-Digit Scientific Calculator, Pink
Item #: 901-862871
Model #: TI-30XIIS PINK4
Brand: Texas Instruments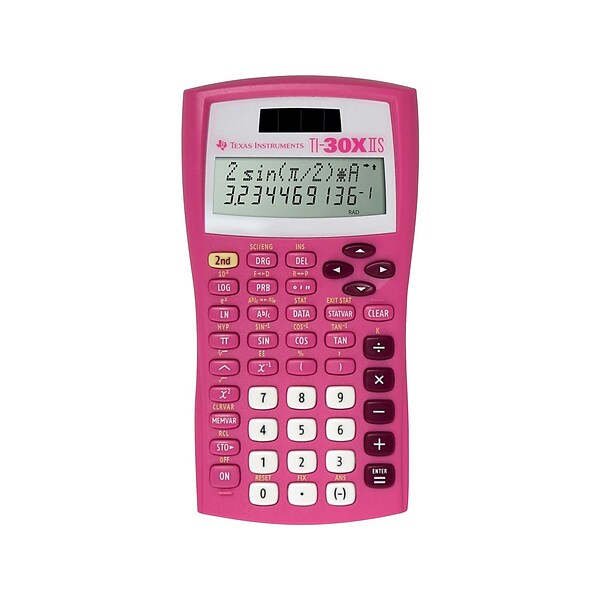 Limited quantity available:
10 remaining
---
Set your students up for success with this Texas Instruments pink 10-digit scientific calculator.
Handle complex equations with this Texas Instruments scientific calculator, which is approved for use on SAT, ACT and AP exams. The two-line display shows formatted equations and mixed equations for easy readability. Clearly labeled function keys and numbers allow for effortless operation, so you can find the right option for basic math, algebra, geometry and statistics. Advanced scientific functions make this calculator ideal for use in chemistry and physics courses. Use the dedicated function keys to turn mixed fractions into decimals or to simply fractions, and solve for X with up to 23 levels of parenthesis. This Texas Instruments scientific calculator comes with an impact-resistant cover to defend against damage.
Scientific calculator two-line LCD display: 10-digit answer & two-digit exponent line
Perfect choice for general math, statistics, pre-algebra, general science
Calculator works from solar cell and one CR2025 battery
Has built-in memory for five variables
Calculator provides: fraction calculations, fraction/decimal conversions, hyperbolic functions, random number and random integer generator, trigonometry, log and antilog functions
Review and edit previous entries, negation key, menu settings, change improper fractions to mixed numbers, automatic simplification of fractions, one constant
Calculator has hard plastic body and color-coded keys
1-year manufacturer limited warranty
Safety Data Sheet

2025
Texas Instruments
Pink
No
0.7
Color-coded buttons, 5 memory registers, impact-resistant protective cover
6.1
Number of Digits Displayed
10
2
Solar Powered
Rechargeable
Pink
General math, trigonometry, statistics, algebra I and II, pre-algebra, geometry, physics
1 Year
0.385
3.2