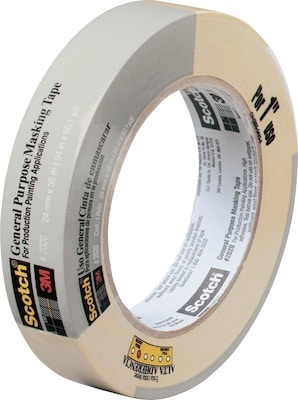 Scotch Commercial-Grade Masking Tape for Production Painting, 0.94" x 60 yds. (2020-24A-BK)
Scotch Commercial-Grade Masking Tape for Production Painting, 0.94" x 60 yds. (2020-24A-BK)
Item #: 901-202024ABK
Model #: 2020-1A-BK
Brand: Scotch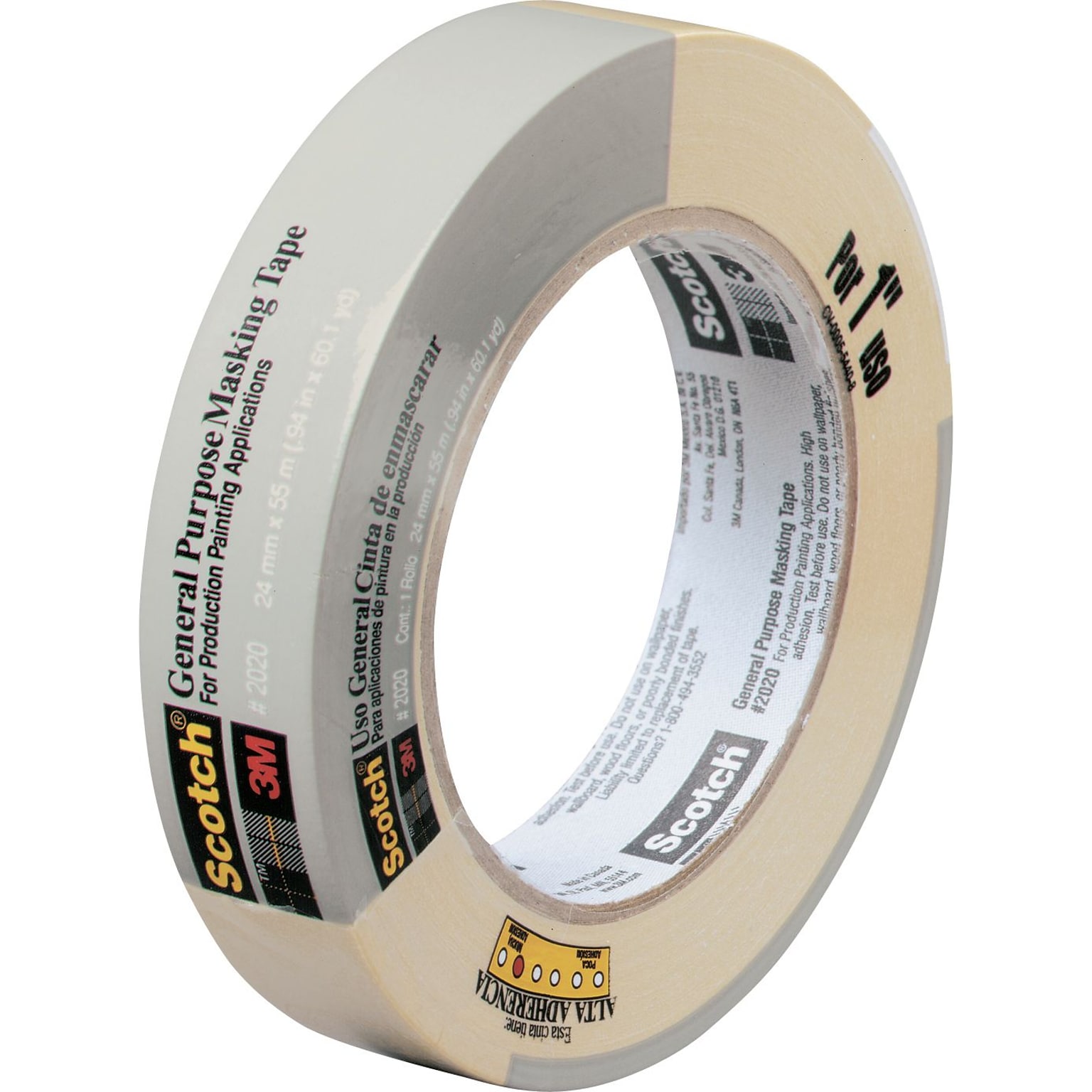 Frequently bought together
Scotch commercial-grade masking tape sticks securely to keep paint from seeping underneath
Make your next painting task easier with this Scotch commercial-grade masking tape. The tape is made from natural colored crepe and features a nine percent break elongation to provide a discrete look and reliable adhesion. Each roll measures 0.94 inches wide and is 60 yards long, making it ideal for a range of commercial purposes. The tape resists splitting and peels off cleanly without leaving sticky residue behind, which also makes it suitable for labeling food items in restaurants or samples in labs.
Commercial-grade masking tape makes it easy to paint cleanly
Measures 0.94 inches x 60 yards
Natural color crepe masking tape
.94" x 60 yd.
20 lb/inch of width tensile strength
5.2 mil thickness
Ideal for paint masking, light-duty bundling and packaging
General purpose masking tape
3" Core
9% elongation at break


Multipurpose Use
This 3M Scotch commercial-grade masking tape is perfect for use in any workspace, from a school to a restaurant or warehouse. Use it to tape off areas for painting, secure open packages, hang signs, make temporary repairs to office equipment or label food in the breakroom. The natural color of this tape allows it to blend in against neutral backgrounds.

Reliable and Durable
Strong enough to stay put yet flexible enough to tear by hand, this masking tape can stretch up to 9 percent in length before breaking, so there's no need to carefully measure the perfect length before tearing off a piece. The tape sticks securely to flat surfaces, so use it for painting projects without worry that paint will seep through.

Removes Cleanly
There's no need to deal with sticky residue when using this Scotch commercial-grade masking tape. It stays where you put it and peels off easily and cleanly when you're done without leaving any remnants behind.


Scotch
Beige
3
60
Masking & Painter Tape Pack Size
1-5
Masking & Painter Tape Width (inches)
1
Painter
Yes
Industrial
Beige