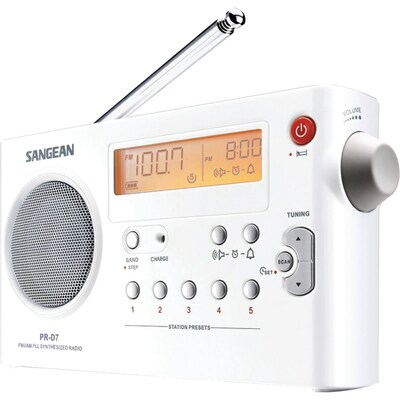 Sangean® PRD-7 FM/AM Compact Digital Tuning Portable Radio Receiver (SNGPRD7)
Sangean® PRD-7 FM/AM Compact Digital Tuning Portable Radio Receiver (SNGPRD7)
Item #: 901-1593697
Model #: SNGPRD7
Brand: Sangean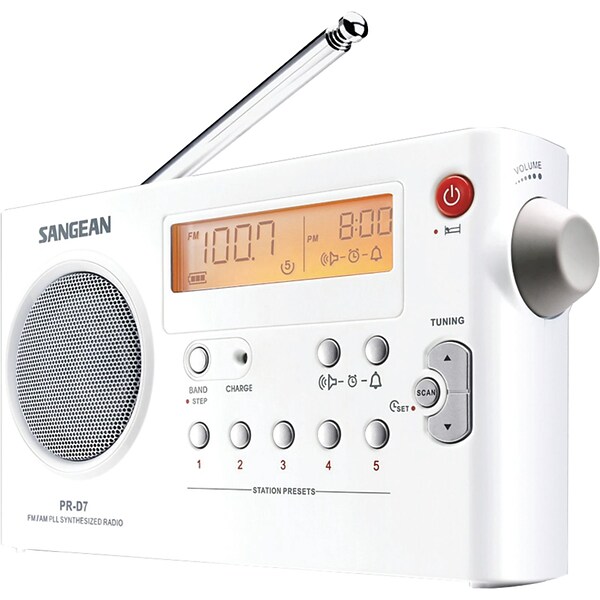 The Sangean® AM/FM compact digital tuning portable radio designed to offer clear and static free listening. Features 10 memory presets to help you zip right to preferred stations.
This Sangean® AM/FM compact digital tuning portable radio has compact/lightweight portable design. Feature sleep timer, snooze function and stereo headphone jack for optimal performance. Scans all available radio frequencies and finds the strongest AM/FM signal. Conveniently displays radio frequency and time of day at the same time. Humane wake up system gradually ramps up the alarm volume instead of abrasive jolt. You can power it with the included AC adapter or six -inch AA-inch size batteries for convenient operation. Provides great sensitivity/selectivity and will surprise you at its ability to pull in distant stations. Can be set to automatically turn off, so you can fall asleep to the sound of music, talk or news.
FM/AM Compact digital tuning portable radio receiver offers a clear and static free listening
Delivers speaker output power of 1 W (AC/DC), 600 mW (Ni - HM 7.2 V) battery and 5 + 5 mW earphone
Features headphone jack for easy connectivity
Dimensions: 4.57"H x 8.46"W x 1.57"D, comes in new white color
Features an easy to read LCD display, 3.19" x 0.83" view area and segment graphic/character type for effective use
Supports 87.5 - 108 MHz FM, 76 - 90 MHz CH 1, 2, 3 and 522 - 1629 (9k)/520 - 1710 (10k) kHz AM/MW
Has 3" speaker that produces an impedance of 8 ohms
Requires 12 VDC/500 mA and six 1.5 V (UM - 3) battery power supply for better operations
Has 10 memory preset stations of 5 FM and 5 AM stations
Works with both rechargeable and dry cell batteries
Features rechargeable battery with power indicator
Features PLL synthesized tuning system
Provides alarm by radio or HWS buzzer
Features auto seek station, sleep timer, snooze function
Weight: 4.2 oz.
No
Sangean
White
White
Type of Portable Speaker & Radio
Radio