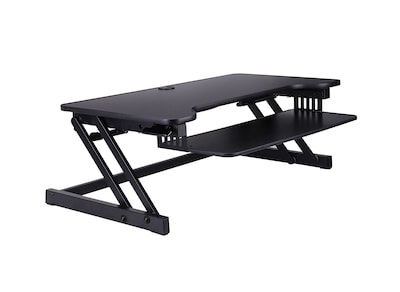 Rocelco 37.5" Height Adjustable Standing Desk Converter, Sit Stand Up Retractable Keyboard Riser, Black (R DADRB)
Rocelco 37.5" Height Adjustable Standing Desk Converter, Sit Stand Up Retractable Keyboard Riser, Black (R DADRB)
Item #: 901-2475069
Model #: DADR
Brand: Rocelco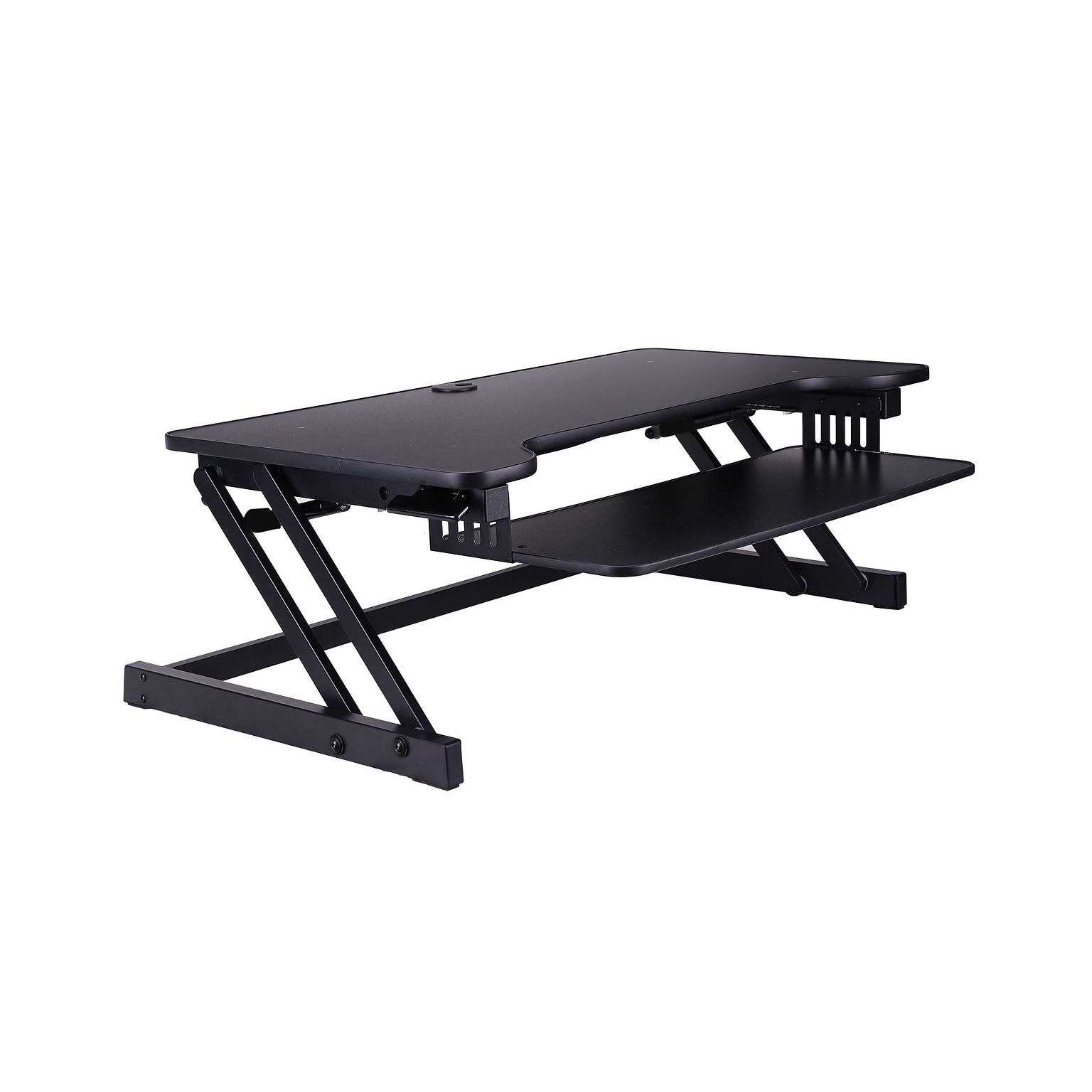 Frequently bought together
Sit or stand up with the Rocelco 37.5" Height Adjustable Standing Desk Riser.
Enjoy the health benefits using this Deluxe Sit-to-Stand Adjustable Desk Riser, DADR. The desk top is extra large, 37.5" x 20.5", comfortably holding 2-3 monitors and a laptop. Easy to use handles on the side allows continuous height adjustment from 5" up to 17". A retractable keyboard tray offers the ergonomically correct position whether you're sitting or standing.
Quick, easy, and stable height adjustment design: Sturdy metal frame with easy-grip side handle and gas piston assist, can raise and lower up to 35 pounds with continuous height adjustment from 5" up to 17" above desktop to optimize the ergonomic work position for people of most heights.
Large work surface: 37.5" wide by 20.5" deep desktop holds up to two 32" monitors and 29" wide by 11.5" deep retractable keyboard tray will hold a laptop if needed.
Retractable ergonomic keyboard tray: Keyboard tray extends and retracts while keeping a 4.5" spacing between keyboard tray and desktop which helps keep arms and wrists in an ergonomic position to prevent neck and back strain while sitting or standing.
Grommet Hole: For hassle free cable management, or to install a monitor mount for 1 or 2 monitors, such as the Rocelco DM1 or DM2.
No Assembly Required: Simply remove from box and place directly on existing desktop.
We've got your back: Our product comes with a manufacturer limited 1-year warranty as well as a customer service and tech support team that is always ready to help.
Health benefits: Easy and affordable solution to start enjoying the health benefits of standing while you work
Now Features 20% greater range of motion. The deluxe DADR Sit to Stand Desk is a newer, wider version of the classic ADR desk riser that lets you hold two or three monitors and/or a laptop. It gives you the best of both worlds. You can sit part of the day, as you always have, but you can also stand and take advantage of all the health benefits that come with standing and moving around. You, and your associates, will become healthier and more productive. Your DADR uses your current desk…….no need to buy all new furniture. You can sit as you always do and then easily raise the large 37.5" x 20.5" desk with up to 35 pounds using continuous height adjustment from 5" up to 17" above your desktop. This standing desk converter is perfect for an office workstation, a medical desk, a home office or a student desk. The DADR is a sit to stand workstation that offers a 29" wide x 11.5" deep retractable keyboard tray that allows you to get into the most comfortable ergonomic position and it is large enough to hold a laptop computer (with other risers you may have to move the laptop or the entire riser every time you change from sitting to standing). It also includes a grommet hole for a single (Rocelco DM1) or double (Rocelco DM2) monitor arm or to organize cables. The DADR Ergonomic workstation provides gas piston lift assist that allows you to easily raise up to 35lbs. Completely assembled and ready to go!
Adjustable Height Maximum (Inches)
17
Adjustable Height Minimum (Inches)
5
No Assembly Required
Rocelco
35
Black
25
Less than 30"
Quick Sit Stand Up Dual Monitor Riser, Gas Spring Assist Computer Workstation, Large Retractable Keyboard Tray
Less than 30"
Stationary
Other
Less than 40"
Electric
Wood
Non Gaming
Height Adjustable
5
Less than 30"
Desk Converter
Black
Not Wall-Mountable
1 Year
45.00 lbs. per Each
37.5