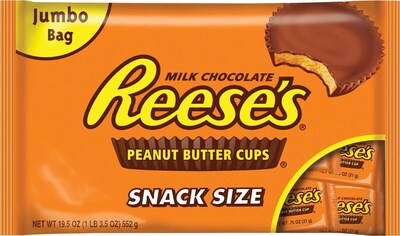 Reese's Snack Size Peanut Butter Cups, 19.5 oz. (246-00012)
Reese's Snack Size Peanut Butter Cups, 19.5 oz. (246-00012)
Item #: 901-184445CDY
Model #: 246-00012
Brand: Reese's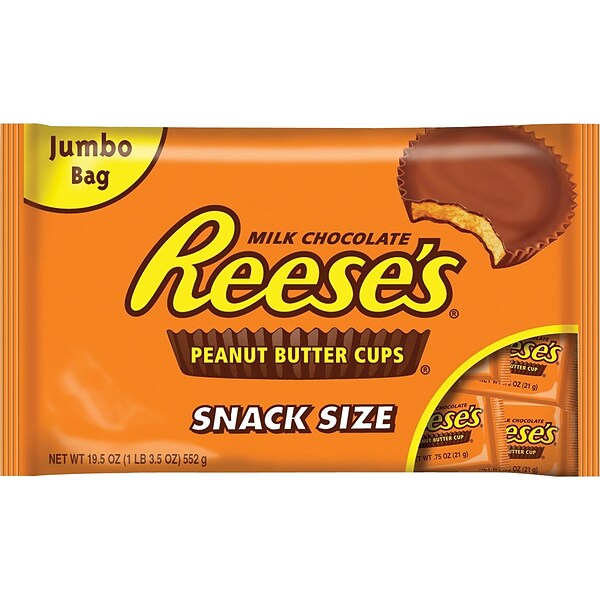 Sweeten your workday with the classic taste of HERSHEY'S Chocolate and REESE'S Peanut Butter!
Snack size gluten-free peanut butter cups are the perfect bulk chocolate for placing next to the coffee machine, stocking the break room, or stashing in your desk.
Perfect for workday snacking and sharing in the break room
Combination of HERSHEY'S Chocolate and REESE'S Peanut Butter
Please Note: This product may require special packaging to protect against temperature issues. Some deliveries may experience a slight shipping delay.
Deliciously sweet and salty flavor combination
A gluten-free and kosher candy
REESE'S Peanut Butter Cups are a great way to congratulate, or simply appreciate, your candy-loving coworkers!
Instead of the usual candy dish, delight office guests with a decorative box filled with these snack size peanut butter cups!
Hosting an office party soon? Buy this bundle of bulk candy so you're not without a sweet and satisfying treat guests will love!
About REESE'S Peanut Butter Cups
Do you love the classic goodness of a REESE'S Peanut Butter Cup? Well, you're in perfect company, because REESE'S products are the perfect combination of peanut butter and chocolate.

The original REESE'S Peanut Butter Cup was created in 1928 as a partnership between H.B. Reese and Milton Hershey. Since then, the REESE'S family has grown to include a variety of flavors and forms. Today, you can try REESE'S products in dark chocolate, white chocolate, snack-sized pieces, and candy bars.
No
Reese's
Peanut Butter
Snack Size
Milk
Contains Nuts
Dairy Free
No
Peanut Butter
Yes
Individually Wrapped
Yes
No
19.5
Everyday
1
Each
No
Cup