Sales
Limited-time discounts plus weekly events like Dollar Deals and Penny Days.
---
Dime Deals
Big deals for just a dime.
Limit of 2 Dime Deals per order when you spend $125.
Dime Deals limit does not apply to other sale items.
Members get the best price.
$36.49 10 reams
No minimum spend required.
Join Quill+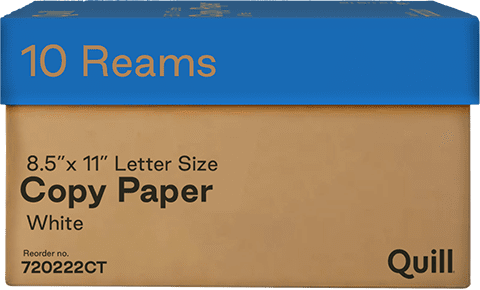 All sale items
(3 products)
Coffee, Coffee Makers & Supplies
Writing Supplies & Instruments

Tape, Fasteners & Adhesives

Desk Organizers & Accessories
Computer Accessories & Peripherals

Computer Monitors & Stands
Scanners & Scanner Accessories
Cleaning Chemicals & Wipes

Janitorial Paper & Dispensers
Custom Office Accessories

Custom Writing Instruments

Custom Calendars & Planners

Custom Home & Personal Care
Classroom & School Supplies

Classroom Storage & Organization
Pet Supplies & Accessories
Disposable Food Packaging
Hard Drives & Data Storage
Personal Protective Equipment (PPE)