Nescafe Dolce Gusto® Esperta 2.0 Bundle with 64 Coffee Capsules (CD24356723)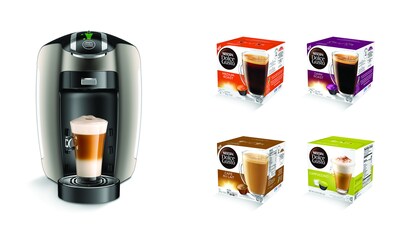 Limit one per customer. Multiple orders subject to cancellation. (Quantity limit 1)
Description
The automatic, ultra-compact NESCAFÉ® Dolce Gusto® Esperta 2 capsule coffee machine, is designed to perfectly fit your single cup brewing needs.
Enjoy 64 Coffeehouse Drinks in the comfort of your own home, including Premium Roast Coffees, Espressos, Macchiatos, Lattes, Iced drinks and more

Using the new scroll wheel and 8-level LED display, you can control the size (up to 12oz!) and intensity of your ideal cup

Brew both hot and iced beverages with a push of a button

Bundle includes 16 capsules of Cappuccino, Medium Roast, Dark Roast, and Café Au Lait Coffee.
Specifications
Flavoring

: Cappuccino

Single Serve Cup Pack Size

: 16

Fair Trade Certified

: No

Color Family

: Black

Series or Collection

: Dolce Gusto

Flavoring

: Café Au Lait

Single Serve Cup Pack Size

: 16

Fair Trade Certified

: No

Flavoring

: Medium Roast

Single Serve Cup Pack Size

: 16

Fair Trade Certified

: No

Flavoring

: Dark Roast

Single Serve Cup Pack Size

: 16

Fair Trade Certified

: No

Caffeinated or Decaf

: Caffeinated

Coffee Roast

: Light

Hot or Iced

: Hot

Kosher

: Yes

Organic

: No

Single Serve Cup Type

: Coffee

Caffeinated or Decaf

: Caffeinated

Coffee Roast

: Medium Dark

Hot or Iced

: Hot

Kosher

: Yes

Organic

: No

Single Serve Cup Type

: Coffee

Caffeinated or Decaf

: Caffeinated

Coffee Roast

: Medium

Hot or Iced

: Hot

Kosher

: Yes

Organic

: No

Single Serve Cup Type

: Coffee

Caffeinated or Decaf

: Caffeinated

Coffee Roast

: Dark

Hot or Iced

: Hot

Kosher

: Yes

Organic

: No

Single Serve Cup Type

: Coffee

Brand

: Nestle

Customizable

: No

Brand

: Dolce Gusto

Customizable

: No

Brand

: Nestle

Customizable

: No

Brand

: Nestle

Customizable

: No

Brand

: Nestle

Customizable

: No

Weight

: 1.00 lbs. per Deal