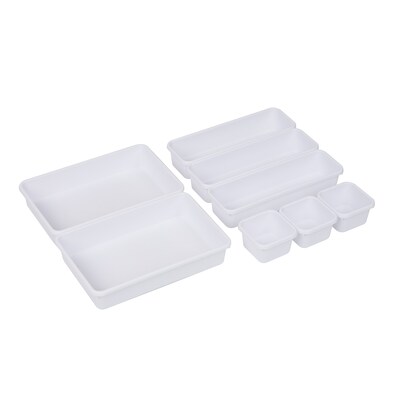 Mind Reader Anchor Collection 8-Piece Interlocking Multi Purpose Storage Compartment Organizer, White (8INTBOX-WHT)
Mind Reader Anchor Collection 8-Piece Interlocking Multi Purpose Storage Compartment Organizer, White (8INTBOX-WHT)
Item #: 901-24310617
Model #: 8INTBOX-WHT
Brand: Mind Reader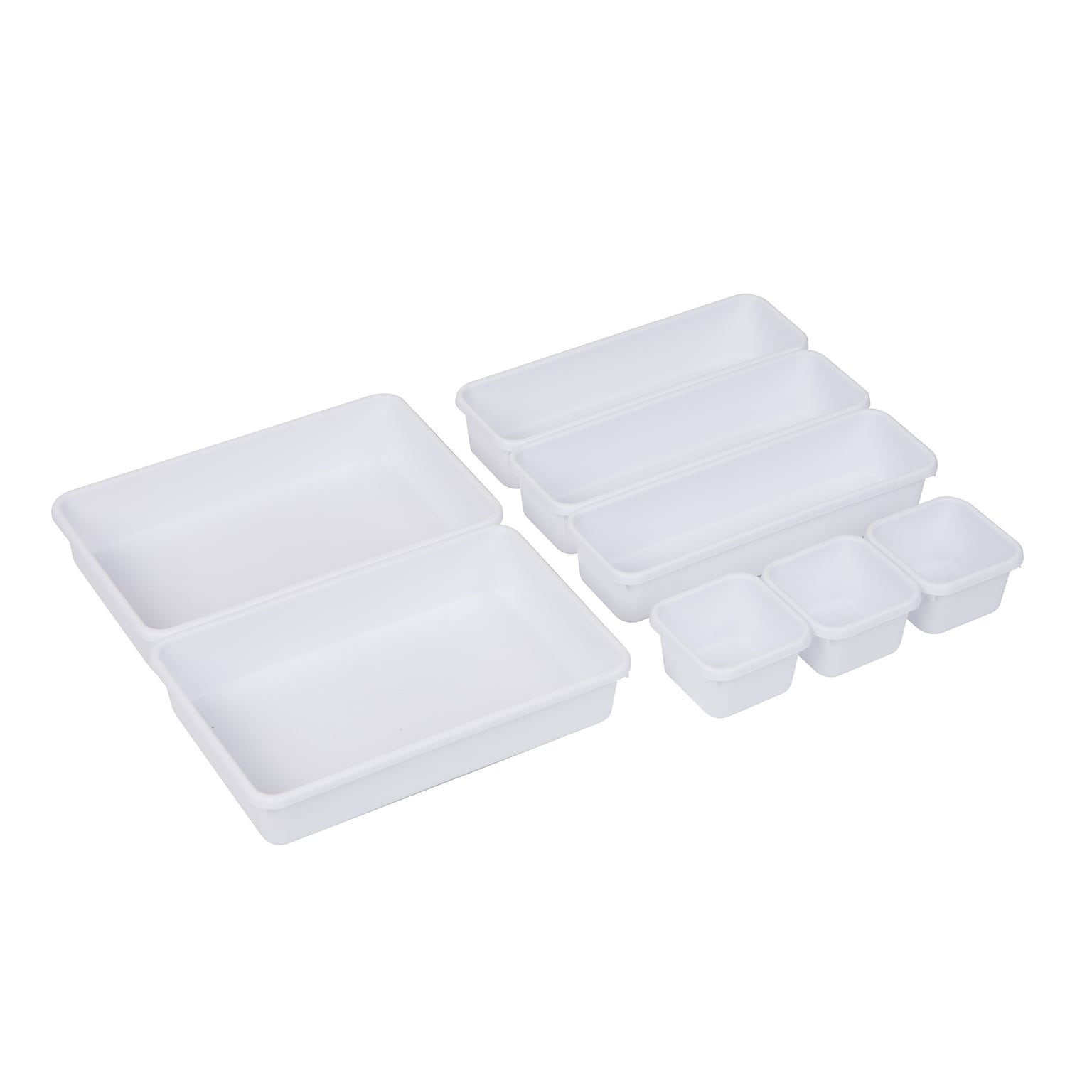 Frequently bought together
Flexible and Adaptable Modular Storage Bins: Your Ultimate Organizer
Embrace organized living with our 8-piece small storage bin set, your perfect solution to tidying up various spaces, from drawers and desks to kitchen counters and vanity tables. This modular bin set is not just practical but also adds style to your spaces, making organization a breeze. Ideal for a range of items, the bins provide a neat and orderly space for jewelry and makeup, small toys and hobby pieces, or even kitchen items like sugar packets, creamer, and straws. Transform your junk drawer into a tidy haven with these eight interlocking bins. One of the key features of this set is its adaptability. The bins, available in three sizes, can interlock with one another, providing a flexible storage solution that can be rearranged to fit various drawers, shelves, or surfaces. They can click together on each side and are also stackable, enabling you to optimize storage space, especially in deeper drawers.
Convenient 8-Piece Organizer Set of 8: This value set includes two large, three medium, and three small storage bins, providing you with ample options for organizing various items. A practical solution for organizing drawers in your kitchen, office, vanity, bathroom and more
Versatile Organization: These storage bins can be used to organize a wide range of items such as utensils, hair accessories, makeup, office supplies, kitchen tools, first aid kits, and craft supplies. They are designed to meet your diverse organizational needs
Flexible Modular Design: The 8 bins are designed to interlock in multiple configurations, allowing you to create a customized storage solution that suits your space and preferences. This modular design provides flexibility and adaptability
Easy to Clean and Durable: These bins are washable and can be easily cleaned with soap and water, ensuring hassle-free maintenance. The durable material is built to withstand everyday use, offering long-lasting performance
Dimensions for Every Need: The small storage bin measures 3 inches long x 3 inches wide x 1.75 inches tall (7.6 x 7.6 x 4.45 cm), the medium bin measures 9.25 inches long x 3 inches wide x 1.75 inches tall (23.5 x 7.6 x 4.45 cm), and the large storage bin measures 9.25 inches long x 6.25 inches wide x 1.75 inches tall (23.5 x 15.88 x 4.45 cm). These different sizes provide options to accommodate various item
Whether you are a crafter, a beauty enthusiast, a student, or a hobbyist, the 8-piece storage bin set is an excellent addition to your space. College students will appreciate their compact size, making them a perfect fit for limited dorm spaces. Seamstresses can keep buttons, ribbons, and threads well-organized in these versatile bins. For those seeking to declutter their office desk or home workspace, these bins are a game-changer. Offering a combination of style, convenience, and adaptability, these storage bins are a wonderful gift for any occasion. Revolutionize your storage solutions with our 8-piece small storage bin set.
8
Mind Reader
White
9.25
8 - 10 Inches
3.1 - 5 Inches
Less than 8 Inches
No
Modular
6 to 10
8
Plastic
Plastic
1
Each
Anchor Collection
White
6.12