Educational Insights BrainBolt Handheld Electronic Memory Game, Ages 7+ (8435)
Educational Insights BrainBolt Handheld Electronic Memory Game, Ages 7+ (8435)
Item #: 901-24414321
Model #: 8435
Brand: Educational Insights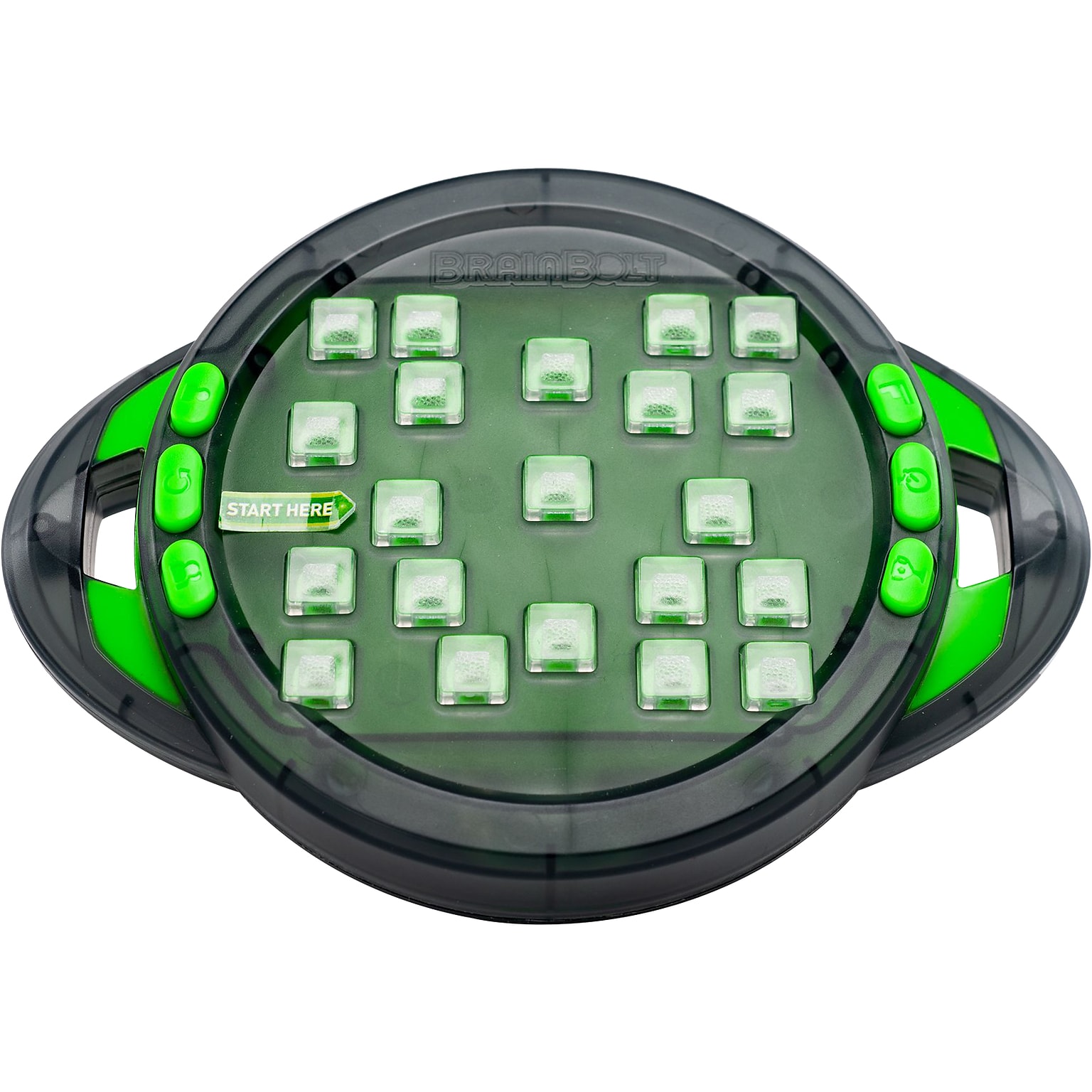 Frequently bought together
Spark more confidence, build problem-solving skills, and enhance your memory with BrainBolt, the ultra-addictive, mind-melting, light-up, memory game from the game experts at Educational Insights! Watch the lights, remember the pattern, and see how long you can follow along before making a mistake. With solo play and two-player modes, timed mode for quicker games, and advanced mode for expert players, portable, lightweight, BrainBolt is great for playing on the go, anytime, anywhere. Perfect for the classroom or fun at home, this hand-held electronic game also makes a great small gift or stocking stuffer for boys & girls ages 7 years, 8 years, 9 years – 99 years.

Educational Insights is a leader in brain puzzles and toy games for boys girls age 3+ to 100+ including 2D and 3D puzzle game sets, starting from early preschool matching games to advanced electronic speed games, solo and multi-player challenges with family and friends, both at home and while traveling! An exciting game for kids, teens, and adults is a fun fast way to keep the player on their toes!

Educational Insights BrainBolt games are the perfect cross-generational memory game. Its light-up, memory-boosting gameplay is designed to help everyone from juniors to seniors improve their memory skills, increase attention span, and stimulate their brains.. BrainBolt is for everyone age 7-107 (yes, seriously!) so it's the perfect game to play solo or share with friends and every generation of family.

At Educational Insights we've been helping kids learn through play for the last 60 years. We take great pride in working with experts in many distinct fields—from scientists to teachers to artists—to ensure that our products are always the very best they can be. Our award-winning, best-selling toys and games—Hot Dots, Design & Drill, Playfoam, GeoSafari, Kanoodle, BrainBolt, and more— introduce new interests, unleashing limitless possibilities and passions.
Build problem solving and sequential thinking skills, enhance memory, and grow confidence with this mind-melting, light-up, memory game
Challenge your brain by remembering the light sequence and following along for as long as you can without breaking the pattern. Sound easy? Not so fast! Take the challenge and see why Brainbolt is an addicting puzzle game to play until you win
Challenge yourself or go head-to-head with a friend to see who can remember the most
BrainBolt is for ages 7 to 107…yes, seriously! Its light-up, memory-boosting gameplay is designed to help everyone from juniors to seniors improve their memory and reaction skills, so kids and grandparents can have fun together or solo!
BrainBolt's handheld design is perfect to go anywhere you want to play. 3 AAA batteries come installed for instant game action
kids aged seven and up and even adults
Educational Insights
Across the Curriculum
Board Games
1
Multi-Grade
BrainBolt Game
STEM
Yes
Black/Green