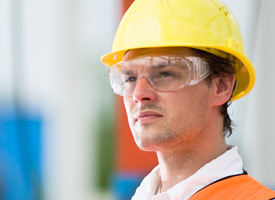 Cool Safety Glasses: Stylish Safety Solutions
Eye protection in the workplace is covered by several ANSI standards and OSHA regulations. But the biggest challenge to complying with CFR 1910.133 or CFR 1926.102 is getting workers to wear glasses and actually keep them on! OSHA requires that all employers provide safety glasses for their workers in hazardous environments. But 3 out of 5 reported eye injuries happen to workers not wearing them, costing over $300 million per year.
It makes no difference if the safety glasses an employer supplies meet the ANSI Z87.1 standard if their workers don't like the way they look in them or if they don't like the way they fit. Safety glasses sitting on the top of someone's head do nothing to protect their eyes and represent nothing more than wasted money and potential injuries.
Safety glasses are rated to protect the wearer from a 1/4" steel ball hitting their eye at 150ft/second. But, if someone doesn't have them on, that rating is not going to help anyone.
Safety glasses today come in styles that look as good on the weekend as they do in the work place. There are a multitude of coatings that provide superior anti fogging, scratch protection, anti-static, anti-UV as well as polarized features. There are safety glasses in all shapes, sizes and price ranges. They are available from a worker's favorite fashion designer, TV show character, hunting and fishing equipment manufacturer or motorcycle. Basically, there is no reason not to wear cool and comfortable safety glasses - not just because it's smart, but because it looks good!
Safety glasses are also readily available with prescription lenses or removable prescription inserts. Many styles are available with magnifying reader lenses. They can be shaded to provide protection from sunlight, welding, ultra violet light, infra red or the glare from halogen or fluorescent lights. There are even lenses used to increase a workers visibility in low-light environments.
Provide safety glasses that are not only beneficial, but that your employees will wear. Make wearing safety glasses something they want to do, protecting their eyes and your bottom line. Shop our full assortment here.