How to Inspire Creativity in Your Students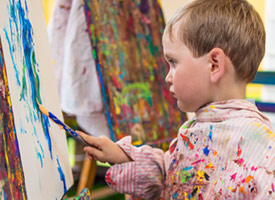 If you've taken a college course in education recently, odds are good that you're familiar with Bloom's Taxonomy. At its core, Bloom's Taxonomy is a means of assessing what specific lessons and activities are asking of students. The levels of taxonomy range from knowledge and comprehension (i.e. rote memorization, matching, or true-or-false questions) to more complex thought processes like synthesis and evaluation, which require students to adopt creative and unique approaches to open-ended questions.
Creative problem solving and creative thinking skills have always been an important part of education. Across the board, it seems that more and more teachers and students are aiming to incorporate higher level thought processes in the classroom—thought processes that ask students to create and participate in their learning. Undoubtedly, the creative classroom helps students to express themselves and problem solve with ingenuity–skills that are both personally practical and marketable in the long term. So, what can teachers do to implement a strong TLC (teaching, learning and creating) community? I'm so glad you asked!
Get Counterintuitive
Stringently organizing the classroom seems like a funny way to incite creativity, and yet, oddly enough, it's one of the most effective ways to do just that. Organized classrooms provide students with the structure that is necessary for them to feel comfortable taking risks and using their creative thinking skills. Studies also indicate that student creativity flourishes best when a student feels that the classroom is a learning community.
One way to organize your classroom to optimize creativity and community is by hanging posters that establish group norms and procedures. At the beginning of the school year, have students use markers or paint to create posters for the classroom that stipulate what will be expected of them in that space. For instance, next to the clock, you might choose to hang a poster that says, "Remember, you're not excused until you hear, 'have a nice day.'" Having students participate in creating class rules and visual reminders of said rules helps them to feel emotionally connected and involved in their learning, which in turn helps them to feel safe speaking up and taking creative risks.
Relinquish Control
It's long been the practice to dictate to students what activities, tests or assignments are most important, but what if we let students decide for themselves what they value and how they learn? Portfolio building allows students to compile a purposeful collection of their work, which acts as a sort of portrait of their accomplishments. By having students work on compiling physical pieces or descriptions of activities that they feel they did well on, you're giving the student an opportunity to demonstrate their abilities and self-evaluate their work. Allowing students to decorate "portfolio boxes" that showcase their unique personality can make the portfolio building experience an even more imaginative and personal process.
Be Manipulative
When in doubt, get students interacting with their environment. One of the most popular creative thinking activities is to use manipulatives in the classroom that inspire students to move around, collaborate with their peers and think divergently. Set up stations in the classroom that promote expressive freedom. For instance, one corner of the room can be the designated art area where students can help themselves to arts and craft supplies; another corner can be a stage where students can go to act out ideas. Integrate free time into instruction when students can choose which station they'd prefer to work at. Giving students stimulating choices of how they'd like to learn helps them to identify how they learn best and encourages them to inventively problem solve.
Krista Wolfe is a marketing project manager for Quill.com where she writes to help small businesses, teachers and healthcare professionals make more informed decisions on office essentials. She also writes on our new community blog, Café Quill, about a wide range of business matters such as leadership, productivity and work-life balancing. Krista lives in Chicago and you can find her on Google+ or LinkedIN.