Ways to Use Technology in the Classroom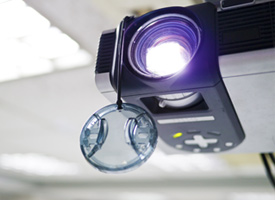 Integrating technology into the classroom is an ongoing process that provides students and teachers with more resources and tools to further learning. Advances in technology have completely changed how people communicate and learn from one another. This shouldn't be an exception for students. This generation of students is overwhelmingly tech savvy and is very capable when it comes to using new kinds of technology. It's not uncommon to even see a toddler using an iPad!
Tech as a Tool
When students are using technology as a tool in the classroom, they are placed in an active role rather than a passive one. Instead of simply receiving information and jotting it down, they are able to create and experiment with the information given to them. They are able to manipulate it and form it into a method that benefits them. Many students learn better with a hands-on approach. Technology lets students think actively about what they are learning.
Flip That Classroom!
There are countless ways to integrate technology into the classroom. One effective method is to use a flipped classroom setup. Instead of lecturing in the classroom and doing homework at home, the class is set up to listen to lectures on the web at home and spend time in class working on exercises and discussions based on the lectures. This allows students to participate in active learning while inside the classroom and gives the teacher a much more interactive roll.
Using Tech For a More Collaborative Classroom Approach
Many schools utilize online education services that allow students and teachers to communicate on message boards and chat rooms dedicated to specific classes. Teachers can assign shared collaborative projects using GoogleDocs to evaluate how students contribute to group projects.
Tech for Teach: How Teachers Can Benefit, Too
Some teachers will supplement their classroom lessons with web links and video presentations that students can access at home. Integrating an online grading system is also a much more efficient way to keep track of student grades. Technology can easily benefit both teacher and student!
Tech Takeaways
An important thing to keep in mind when creating a classroom lesson plan is that not all students learn the same way. Technology can be used to help all types of students overcome their weaknesses and hone in on their strengths. A teacher may record a lecture and upload it for audio learners to better comprehend material when studying. Copies of graphs, notes, and projections can be uploaded for the visual learners to refresh and retain information. Actively using technology in class is a great way for the hands-on learners to develop their skills. Implementing technology is a great way to impact the study and learning habits of all students.
As technology continues to advance and improve, there are devices being specifically designed to help enhance the classroom experience for teachers and students. Multimedia projectors are an excellent and inexpensive way to portray a computer screen for the entire classroom to see. This is perfect for giving multimedia presentations, showing videos, or studying charts and diagrams. Websites like Quill.com are ideal for determining which pieces of technology would work best for your classroom and your budget.
Krista Wolfe is a marketing project manager for Quill.com where she writes to help small businesses, teachers and healthcare professionals make more informed decisions on office essentials. She also writes on our new community blog, Café Quill about a wide range of business matters such as leadership, productivity and work-life balancing. Krista lives in Chicago and you can find her on Google+ or LinkedIN.