Celebrating Valentine's Day in the Classroom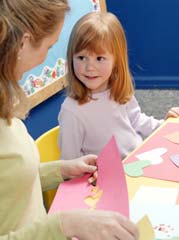 Valentine's Day is a holiday for love, but it's also a good opportunity to teach your students about gratitude, appreciation, and caring. Though your pupils might be too young to make their way on to the dating scene, it is never too early to talk about the importance of showing affection towards the people you care about. Here are some fun and educational Valentine's Day ideas for school:
Valentine's Day Vocab Activities
Valentine's Day is an excellent opportunity to teach kids in older grades about vocabulary concepts like synonyms. To begin this activity, first guide your class in coming up with a list of words that mean the same thing as love. Your list might include words like affection, fondness, adoration, and more. Once your class has brainstormed a list, challenge your students to work independently to create word games using the words. Crossword puzzles and word finds are just two of the activities that students might consider. Once your students have finished making their puzzles, have students challenge a fellow classmate to complete their puzzle.
Valentine Swap
Kids in younger grades can practice sharing and caring by participating in a valentine swap. First, start by stocking your classroom with a wide variety of Valentine's Day supplies, such as Valentine's Day stickers, sign kits, and fun cutouts. A few weeks before the holiday, send home a letter asking students to bring in a shoebox from home. In class, guide students in decorating their shoebox as a personalized Valentine mailbox. On the day of the holiday, encourage your pupils to bring in valentines to share with the class. If kids choose to bring in candy, be sure to be mindful of any food allergies in your class. Kids will have fun walking around the room filling each other's mailboxes with loving treats.
Love Poems
Nothing says Valentine's Day like a poem that begins, "Roses are red, violets are blue." Kids in any grade can practice their rhyming skills and show their creativity by completing the end of this famous four-line poem. For younger kids, work together to brainstorm a list of rhyming words that can be used to complete the poem. For older students, this activity is a great opportunity to demonstrate how to use a rhyming dictionary. Have your students write their poems neatly inside a card, and then add illustrations. This Valentine's Day activity for kids makes a great take-home gift for parents or caretakers.
What is love?
Sometimes, kids offer wisdom that adults have lost touch with. For this activity, create a sweet and sentimental keepsake by asking the students in your class to help define love. Cut out paper hearts from construction paper and ask each student to complete the sentence, "Love is..." Whether the answer is "cutting the crust off a grilled cheese sandwich" or "tucking me into bed at night," parents are sure to be touched by their children's surprising responses.
Valentine's Day for kids can be just as special as Valentine's Day is for adults. Use these activities in your classroom to start a discussion about love, friendship, and caring.
Krista Wolfe is a marketing project manager for Quill.com where she writes to help small businesses, teachers and healthcare professionals make more informed decisions on office essentials. She also writes on our new community blog, Café Quill, about a wide range of business matters such as leadership, productivity and work-life balancing. Krista lives in Chicago, and you can find her on Google+ or LinkedIN.