How to Set Up a Classroom Writing Center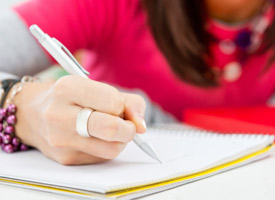 Almost every child that I've ever come across has possessed the same two traits that make for a great writer: honesty and imagination. Do not trust your seven year old not to tell anyone that you haven't washed your hair in two days, because they're inevitably going to blurt it out to the cashier at the supermarket without a second thought. Likewise, don't be surprised when that kid spends multiple hours inside of a cardboard box under the pretense that they're harpooning Great Whites or serving invisible people tea and cookies. Kids have a lot of strange and amusing thoughts going on in their heads, and as an English teacher, you may be interested in how to teach children to write out those observations and inventions in new ways. Below are a few writing ideas for kids that encourage their inherent creativity and candor while also developing their ability to communicate effectively.
Learning Centers in the Classroom
Learning centers offer a place for kids to go to work independently and act as cues to keep kids on task. So, if Jane finishes a task before everyone else, instead of heading to the Shriek Like a Wild Animal and Put Gum In That Other Kid's Hair Center, she can head to the Writing Center where she knows she's expected to be writing. If it sounds daunting to implement a learning center in your classroom, take comfort in knowing that all this really means is that you will be dedicating one particular space to one particular activity. One extremely easy way to create a Learning Center is by being mindful of furniture selection and organization. For instance, to create a functional Writing Center I might start by lining a corner of my room with kid-sized bookshelves on top of which I might place wire baskets for housing paper and writing utensils. Perhaps I'd have a spot on the bookshelf where students could borrow clip-boards for more flexibility concerning where they might choose to write. I might place a "sharing rug" at the center of the classroom where students can take the stage and share things that they've already written.
Classroom Activities
Another awesome way to harness the rambunctious energy of students into productive outlets is by offering plenty of classroom activities for kids. Sometimes students can be delicate little geniuses; they're full of novel ideas and capable of communicating them, but without some entertainment and prodding you could be in for a true meltdown. I provide you with my two favorite writing activities for kids. The first activity requires that every student be provided with a dictionary. Before opening the dictionaries the teacher writes an unfamiliar word on the board and students are asked to guess what the word means by writing down a definition and then by drawing an example of their definition. Next, the students look up the word in the dictionary and provide a true definition of the word in their own words or through illustrations. This activity is fun because it encourages kids to think creatively while helping them to expand their vocabulary.
The second activity necessitates the teacher print a series of pictures which the students will later be asked to explain. Generally, the weirder the image is, the better the result for this one. A picture of a guinea pig is okay, but a picture of a guinea pig eating corn on the cob in outer space leaves room for a story. The images then can be glued to pieces of colored paper and kept face down in a folder in the writing center. When students are stuck on a creative writing piece they can draw a card from the folder and incorporate the image into their story, or they can make up whole stories based on the images alone. You can later have the students share stories they've written based on the same image and see what each person came up with as a kind of testament to how unique everyone's thoughts are.
Krista Wolfe is a marketing project manager for Quill.com where she writes to help small businesses, teachers and healthcare professionals make more informed decisions on office essentials. She also writes on our new community blog, Café Quill, about a wide range of business matters such as leadership, productivity and work-life balancing. Krista lives in Chicago and you can find her on Google+ or LinkedIN.