Decorating for Back to School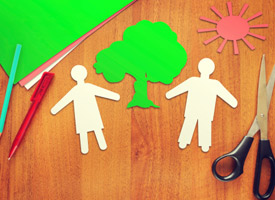 Any minute now, our Facebook feeds are going to start filling up with the annual crop of "First Day of School" photos. Some kids sport gap-toothed grins as they hold up a prized lunch box. Others are dwarfed by giant, shiny new backpacks, or seem to swim in perfectly coordinated outfits they'll outgrow within the semester. What all of these adorable pictures have in common is a great sense of possibility. All of the preparation that has gone into that one photo speaks to the unstoppable feeling of potential, adventure, and change that comes with the beginning of each new school year.
As teachers, we're not immune to that excitement and we do our best to capture that energy for the benefit of the whole class. We've spent hours on preparation of our own, with lesson plans and library books and all of the serious work that goes into putting the year together. Most of that behind-the-scenes effort will go unnoticed by our students, with one exception: back to school decorations.
It's no secret that this is one of our favorite tasks (so much cuteness!), but it can also be intimidating. You need your decorations to do double duty. If your decor is purely educational, it runs the risk of being boring. If it's merely decorative, you're introducing distraction and missing an opportunity to squeeze a little more learning into the environment. Finding the best of both worlds isn't easy or automatic, and creating an engaging and exciting environment for learning is a constant challenge, especially on a budget.
But remember, your classroom doesn't need to be decorated from floor to ceiling on the very first day. In fact, intentionally leaving blank areas — which the class will fill up together — is important. It's one of the reasons why having great bulletin board ideas for back to school is so important. Whiteboards, blackboards, and bulletin boards are some of the most alive and dynamic areas in your classroom. Intentionally frame these areas to create a welcoming space. Great borders, posters and decals will mark them out as someplace special, and build up anticipation for all the great work you're going to do together.
Beyond the Apple: Back to School Themes with a Difference.
Don't get me wrong. The old back to school standbys are fun. That bespectacled worm poking out of an apple, those fall leaves and the perennial yellow pencils are all friendly, familiar places to start. But it's worth taking the time to focus on a more specific message for your students. What would you like them to know about you, and about your expectations for the class?
For example, say you'd like the class to focus on community. That doesn't sound as if it has much to do with decorating, but wait — ! What about a neighborhood theme? Workstations can be named and decorated for important places in a neighborhood, and bright wall charts for "community helpers" who have special jobs each week will set the scene for cooperation and a sense of belonging. A cardboard post office and mailbox allows the children to send you (and each other!) notes. You could devote wall space to a giant "community newspaper" with "featured article" space to show off exceptional student work, room for photos of happy class moments, and stories about accomplishments you've achieved together.
And that's just one example! You are limited only by your imagination. Think of it as a way to tell a story through the environment. Carrying a single, meaningful theme throughout the room gives a feeling of cohesiveness. It becomes a part of the class identity, and gives everyone a sense of ownership in the space.
The moment this year's class walks into your room is a special one. Whatever their hopes and anxieties may be, these few minutes when they are taking it all in can do a lot to set the tone for the year ahead. Is it going to be fun? What are they going to learn? What is the teacher like? When you're thinking about how to decorate a classroom, it's a good idea to imagine creative ways to answer those questions.
Krista Wolfe is a marketing project manager for Quill.com where she writes to help small businesses, teachers and healthcare professionals make more informed decisions on office essentials. She also writes on our new community blog, Café Quill, about a wide range of business matters such as leadership, productivity and work-life balancing. Krista lives in Chicago and you can find her on Google+ or LinkedIN.