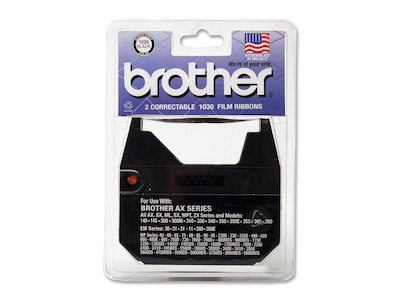 Brother AX/GX/SX/WPT/ZX Black Print Ribbons, 2/Pack (1230)
Brother AX/GX/SX/WPT/ZX Black Print Ribbons, 2/Pack (1230)
Item #: 901-BRT1230
Model #: 1230
Brand: Brother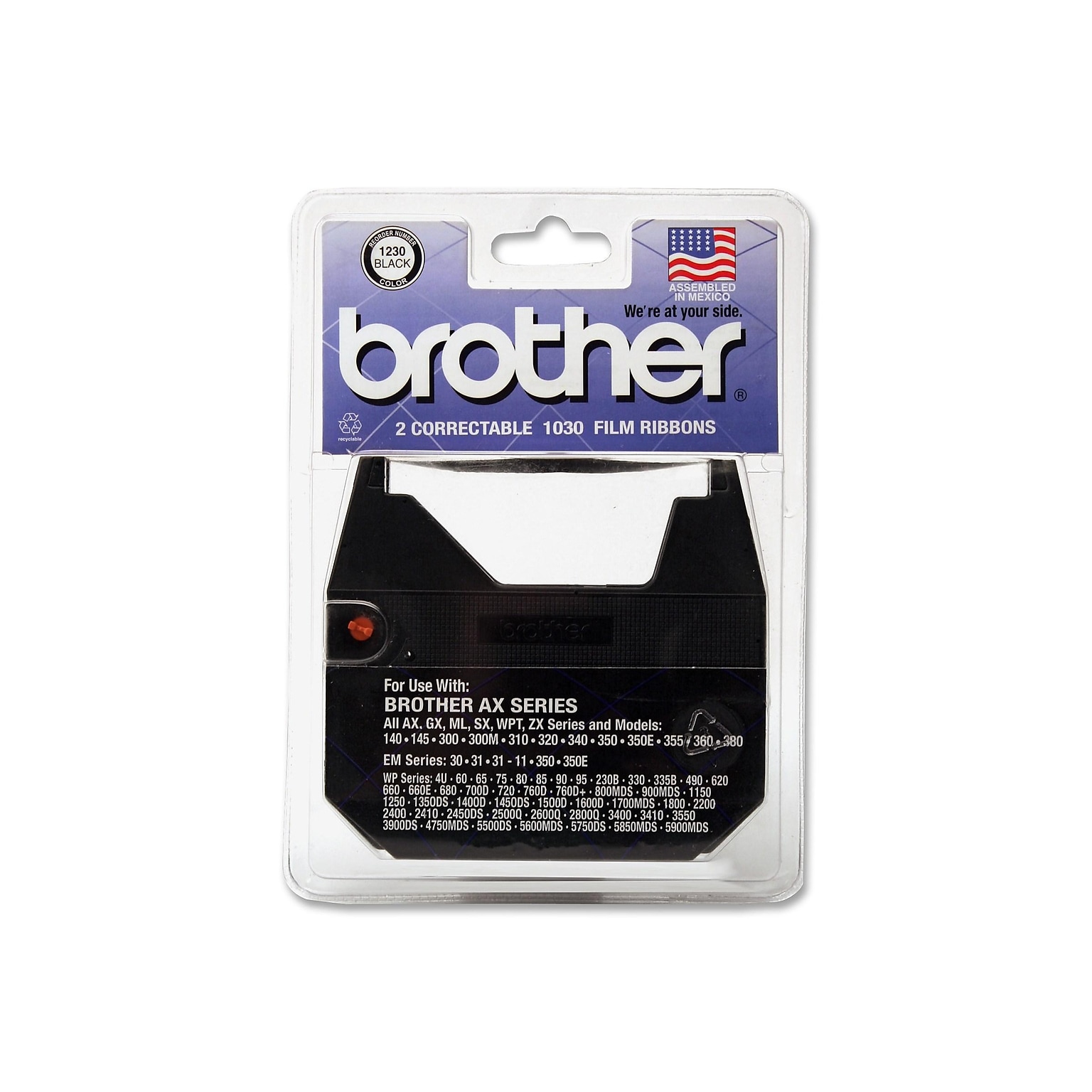 Frequently bought together
Improve typing efficiency with these Brother 1230 correctable film ribbons.
Enjoy double productivity when typing documents with these correctable film ribbons. An innovative design lets you quickly erase typos and spellings errors, while compatibility with various Brother typewriters and word processors gives you the freedom to use them on different devices. This pack of two Brother correctable film ribbons helps produce characters with fine detail and clearly defined points that stand out against varying backgrounds.
For use with electronic typewriters: AX, GX, SX, WPT, ZX series
Prints in black
Dimensions: 11.2"H x 14.5"W x 2"D
Two ribbons per pack
Each ribbon types up to 50000 characters for an extended period between ribbon changes
This typewriter ribbon is easily correctable


Compatibility
Enjoy the convenience that Brother correctable film ribbon offers. Brother 1230 film ribbon is designed for the EM30, EM31 and EM30-11 models and is compatible with many other Brother typewriters and word processors. This ribbon makes reordering easy by fitting most of your Brother typewriting and word processing machines. Having just one ribbon model in stock ensures most of the machines in your office have a refill nearby. Brother 1230 correctable film ribbon is compatible with AX, GX, SX, WPT and ZX series typewriters and word processors, along with the following models: EM30, EM31, EM31-11, GX6750, WP60, WP680, WP75, WP760D, WP80, WP85, WP90, WP95, WP1150 and WP1400.

Performance
Print your documents with the crisp, sharp text that Brother 1230 correctable film ribbon provides. It prints characters with incredibly fine detail and clearly defined points that stands out against many different background colors. Use this film for account statements, reports and general correspondence to leave an indelible impression.

Efficiency
Increase your typing and word processing efficiency by using the 1230 correctable film ribbon in your compatible Brother machines. This ribbon makes it easy to correct mistakes, leaving no trace and avoiding the need to start typing your document all over again from scratch.


Brother
1.20
2
Yes
Black
Ribbons
Typewriter Printing System
Daisy wheel
0.13
4.90
This product is compatible with these printers:
Brother
AX 10
AX 12
AX 12M
AX 15
AX 18
AX 20
AX 22
AX 24
AX 25
AX 26
AX 28
AX 30
AX 33
AX 35
AX 40
AX 45
AX 100
AX 110
AX 120
AX 130
AX 140
AX 145
AX 210
AX 220
AX 230
AX 240
AX 245
AX 250
AX 300
AX 310
AX 320
AX 330
AX 340
AX 350
AX 355
AX 370
AX 400
AX 410
AX 425
AX 430
AX 440
AX 450
AX 475
AX 500
AX 550
AX 600
AX 625
Compactronic 300
Compactronic 300M
Compactronic 310
Compactronic 320
Compactronic 340
Compactronic 350
Compactronic 360
Compactronic 380
Correctronic 140
Correctronic 145
Correctronic 320
Correctronic 333
Correctronic 340
Correctronic 360
Correctronic 380
EM 30
EM 30 II
EM 31
EM 31 II
EM 350
EM 350 e
GX 6000
GX 6500
GX 6750
GX 7000
GX 7500
GX 7750
GX 8000
GX 8250
GX 8500
GX 8750
GX 9000
GX 9500
GX 9750
LW-10
LW-20
LW-30
LW-35
LW-100
LW-200
LW-350
LW-400
LW-450
ML-100
ML-300
ML-500
Student-Riter II
SX-14
SX-16
SX-23
SX-4000
WP 4U
WP 5
WP 60
WP 65
WP 70
WP 75
WP 77 S
WP 80
WP 85
WP 90
WP 95
WP 230 B
WP 330 MDS
WP 335 B
WP 490
WP 620
WP 660
WP 660 E
WP 680
WP 700 D
WP 720
WP 760 D
WP 760 D Plus
WP 800 MDS
WP 900 MDS
WP 1150
WP 1250
WP 1350 DS
WP 1400 D
WP 1450 DS
WP 1500 D
WP 1600 D
WP 1700 MDS
WP 1800 Neowriter
WP 2200
WP 2400
WP 2410
WP 2450 DS
WP 2500 Q
WP 2600 Q
WP 2800 Q
WP 3400
WP 3410
WP 3550
WP 3600 D
WP 3650 D
WP 3900
WP 3900 DS
WP 3950
WP 4750 DS
WP 5500 DS
WP 5550
WP 5600 MDS
WP 5750 DS
WP 5750 MDS
WP 5850 MDS
WP 5900 MDS
WPT-470
WPT-480
ZX 50
ZX 1700
ZX 1900
ZX 3000
Olivetti
Olympia
Carrera I
Carrera I DE Luxe
Carrera III
Prestige MD
Prestige MD 40
Splendid
Splendid MD
Splendid MD 40
Prestige 378
Prestige 379
Panasonic
KX-R Series
KX-R190
KX-R191
KX-R193
KX-R194
KX-R195
KX-R196
KX-R200
KX-R210
KX-R250
KX-R300
KX-R310
KX-R315
KX-R320
KX-R330
KX-R335
KX-R340
KX-R350
KX-R355
KX-R375
KX-R430
KX-R435
KX-R440
KX-R445
KX-R520
KX-R530
KX-R535
KX-R540
KX-R550
KX-R560
KX-R800
KX-W900
KX-W905
KX-W955
KX-W1000
KX-W1025
KX-W1030
KX-W1500
KX-W1505
KX-W1510
KX-W1525
KX-W1550
KX-W1555
KX-WD55
KX-WL45
KX-WL50
KX-WL55
Pers. Wordproc. W1500
W900
W1000
W1025
W1500
W1510
W1550
Royal
Samsung
SQ-1000
SQ-1020
SQ-3000
SQ-3020
SQ-W1000
Sears
Swintec