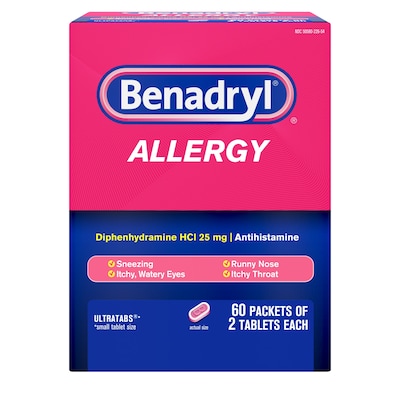 Benadryl Allergy Ultratabs Tablets, 2/Pack, 60 Packs/Box (24489863)
Benadryl Allergy Ultratabs Tablets, 2/Pack, 60 Packs/Box (24489863)
Item #: 901-24489863
Model #: 17060
Brand: BENADRYL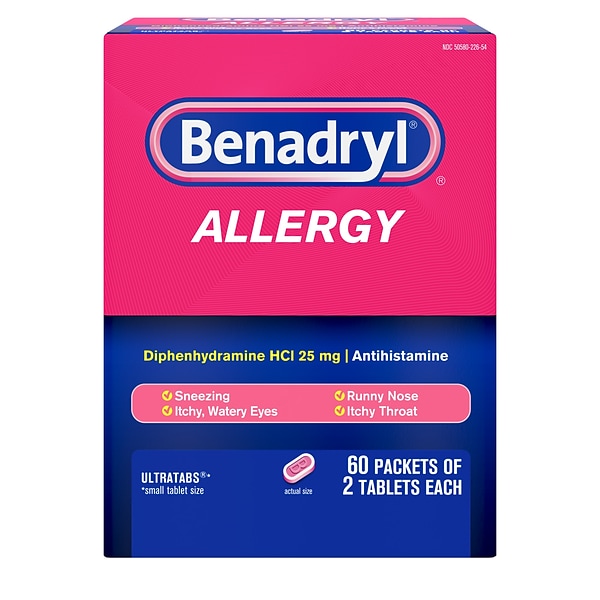 Frequently bought together
Get powerful allergy relief from upper respiratory allergy and common cold symptoms while traveling and on-the-go.
Benadryl Allergy Ultratabs Antihistamine Allergy Relief Tablets that offer effective cold & allergy relief from hay fever, upper respiratory allergy & common cold symptoms in one small, oval shaped coated tablet.
60 packets of 2 tablets, 2 boxes, Benadryl Allergy Ultratabs Go Packs provide convenient allergy relief that works when you need it most. Ideal for travel and on-the-go, they are the perfect size to carry in a purse, backpack or travel bag.
Each allergy medicine tablet contains 25 mg of diphenhydramine HCl antihistamine active ingredient for effective relief of both allergy and cold symptoms
Provides temporary relief of allergy symptoms like sneezing; runny nose; itchy nose or throat; and itchy, watery eyes and cold symptoms like sneezing and runny nose
This allergy medicine is suitable for use by adults and children ages 6 and up for multi-symptom allergy relief
These small, yet powerful antihistamine tablets offer effective relief to put your allergies to rest
An essential item for your breakroom or supply closet.
These Go Packs come in convenient packets with 2 tablets per packet, making it easy to bring with you when you are on-the-go or traveling. Each easy-to-swallow tablet contains 25 milligrams of the antihistamine diphenhydramine HCl to temporarily relieve allergy symptoms due to hay fever & upper respiratory allergies like sneezing; runny nose; itchy throat & nose; & itchy, watery eyes & the common cold symptoms of runny nose & sneezing. A trusted allergy brand, Benadryl Ultratabs with diphenhydramine HCl 25 mg are intended for adults & children ages six & up. The allergy tablets from a doctor recommended brand provide safe & effective allergy relief when used as directed.
BENADRYL
Cold, Flu & Allergy Symptom
Allergy Relief
Cough, Cold & Allergy Pack Size
101-500
Cough, Cold, Flu & Allergy Type
Tablet
Milligrams of Main Active Ingredient
25mg
OTC Pharmaceutical & Supplement Form Factor
Tablet
OTC Pharmaceutical & Supplement Ingredient
Diphenhydramine HCl
120
UltraTabs
Pink