KIT KAT® King Size Wafer Bars, 3 oz., 24 Count (HEC22600)
KIT KAT® King Size Wafer Bars, 3 oz., 24 Count (HEC22600)
Item #: 901-226009
Model #: 22600
Brand: Kit Kat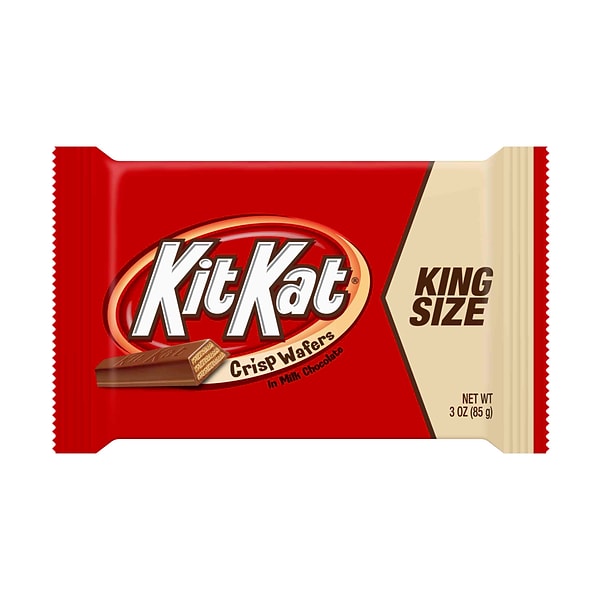 These bulk candy bars are perfect for break time at the office.
If your coworkers have king size appetites, treat them to KIT KAT® King Size Wafer Bars!
The perfect bulk chocolate bars for the office
Sectioned for sharing with coworkers or saving for later
Please Note: This product may require special packaging to protect against temperature issues. Some deliveries may experience a slight shipping delay.
A kosher bulk candy bar
Individually wrapped
Ditch the candy dish and offer these king size candy bars to office guests!
KIT KAT® Wafer Bars are the perfect break time snack, so leave some by the water cooler and get everyone talking!
Try freezing KIT KAT® Wafer Bars in the office freezer for a uniquely frosty treat!
About KIT KAT® Wafer BarsKIT KAT® Wafer Bars are a delicious combination of smooth milk chocolate and light, crispy wafers. Enjoy them in milk chocolate, dark chocolate, snack size, minis, and other varieties. Especially good when paired with coffee, KIT KAT® Wafer Bars can also be incorporated into your favorite recipes. Break Time. Anytime.
No
Kit Kat
Chocolate
Contains Nuts
Dairy Free
No
milk chocolate and light, crispy wafers
No
Yes
No
Number of Chocolates Included
24
1
No