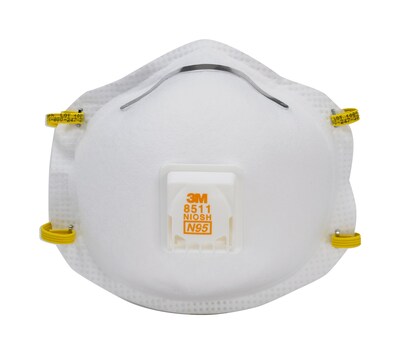 3M™ N95 Disposable Respirator with Cool Flow™ Valve, 10/Pack (8511P10-DC-PS)
3M™ N95 Disposable Respirator with Cool Flow™ Valve, 10/Pack (8511P10-DC-PS)
Item #: 901-24478401
Model #: 7100111199
Brand: 3M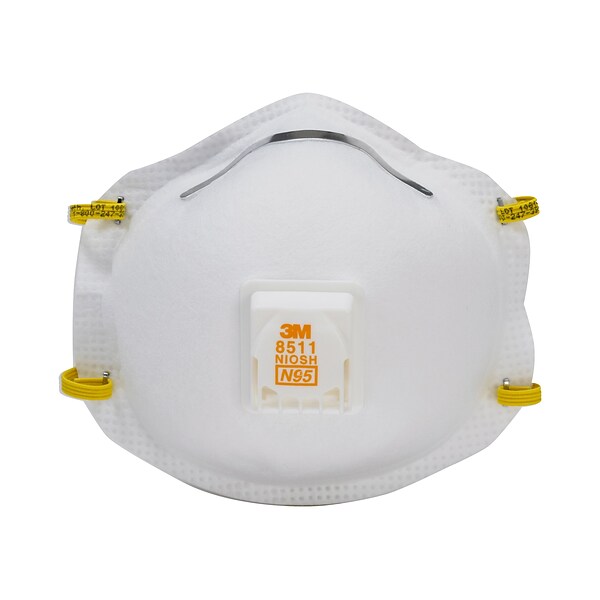 Part of our Pro Series, the 3M 8511 Respirator with Cool Flow Valve is designed with the pro in mind to help bring you protection and comfort.
Our most popular valved disposable respirator, it is equipped with a Cool Flow Valve, which helps reduce heat build-up inside the respirator, helping to enhance your comfort during longer jobs.
Face masks are not returnable or refundable

NIOSH-Approved N95 for at least 95 percent filtration efficiency against certain non-oil-based particles and aerosols
3M cool flow valve helps reduce heat build-up inside the respirator
Breathe 30% easier compared to 3m 8200, breathe easier is defined as initial pressure drop
Advanced filter media for easier breathing
Adjustable m-noseclip helps ensure a custom, secure seal with fewer pressure points
Stretchable, braided headbands for comfort
Lightweight design for comfort
Comfortable for long periods of wear
Convenient, dispoable design
Recommended for relief from dusts and certain particles encountered during sanding projects (bare wood, non-lead painted surfaces, or drywall), grinding, sawing, sweeping, installation of fiberglass insulation
Contains no components made from natural rubber latex
Package contents: 10
DIY/home use: use only in non-harmful environments. Occupational/hazardous use: use under a government regulated (e.g. Osha) respiratory protection program. Warning: limitations apply; misuse may result in sickness or death. See product packaging and inse
They are not suitable for use in a surgical setting or where there would be significant exposure to liquid bodily or other hazardous fluids, use in a clinical setting, or use in the presence of a high-intensity heat source or flammable gas
This N95 respirator features Advanced Electrostatic Media that enhances the capture of airborne particles while allowing you to breathe easier. An adjustable M-noseclip helps provide a custom, secure seal. Whether you're hanging drywall or sanding a floor, rely on the trusted protection of the 3M 8511 Respirator with Cool Flow Valve.
Not Rated
3M
Disposable
Face Mask & Respirator Item Type
Respirator
Face Mask & Respirator Shape
Cone
Face Mask & Respirator Style
Half Mask
Yes
Dual Elastic
N95, Nuisance Acid Gas, Organic Vapor, Ozone
Metal Nose Clip
10
Yes
Adult
White